Where At Duke Is The Blue Devil?
Flat Blue Devil visits Duke's Basketball Museum in time for this week's Duke-UNC matchup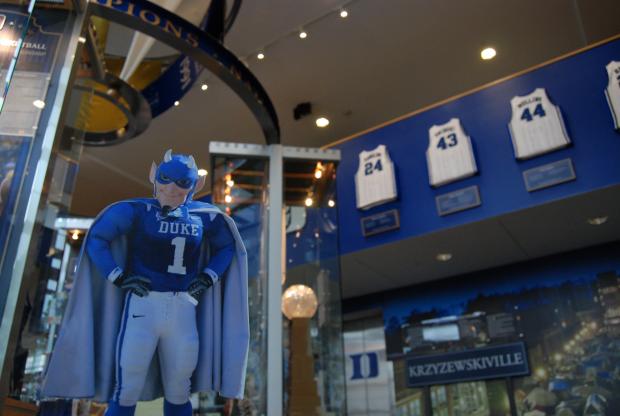 Flat Blue Devil has stopped by one of the most "crazy" places on campus, visiting the Duke Basketball Museum in the Schwartz-Butters Athletic Center. Located next to Cameron Indoor Stadium, the museum features trophy displays, interactive videos and memorabilia, which can be seen by students, employees and visitors to campus. Next to the museum, Flat Blue Devil and other visitors can check out the accomplishments of athletes from all Duke sports at the Duke Athletics Hall of Fame, which features portraits of all its Hall of Fame members and celebrates all of Duke's NCAA sports teams.
About the "Flat Blue Devil"
The "Flat Blue Devil" makes appearances to showcase locations, resources, services and events of interest to the Duke community. You may also find Flat Blue Devil making stops at a global destination, or other places that hold importance to the community or history of Duke.
Part of the fun is faculty and staff can take Flat Blue Devil on an adventure - he can go anywhere, as long as there's a strong Duke connection.
Let us know where you'd like to take Flat Blue Devil, and we'll send him your way. Then please send him back to us or pass him to friends and co-workers who can show off more of Flat Blue Devil's journey.