Open House For New Duke Cancer Center
Duke staff, faculty and students invited to tour center Feb. 21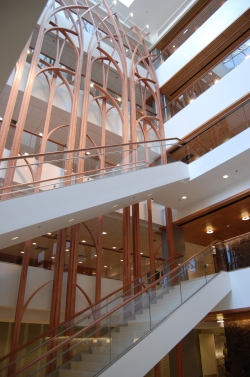 Duke faculty, staff and students are invited to tour the new seven-story Duke Cancer Center during an open house celebration from 4 to 7 p.m. on Feb. 21.
Read More
The $235 million Cancer Center includes unique and state-of-the art features such as a five-story atrium and a rooftop garden where patients can receive chemotherapy treatments. There's also a circular quiet room for personal reflection and meditation, a resource center, boutique and cafe.
"At the Duke Cancer Institute, we are committed to providing the most advanced multidisciplinary care in a comfortable, healing environment," said Dr. Michael Kastan, executive director of the Duke Cancer Institute. "Our new building was designed from the ground up with the needs of our patients and their families in mind."
The 267,000-square-foot building is dedicated solely to the care of patients with cancer and brings together a vast array of services, including imaging, mammography, radiation oncology, pharmacy and support services, all in one location. The multidisciplinary environment will allow the Duke Cancer Institute's teams of specialists to collaborate more effectively and offer added convenience for the patients. The first patients are expected to use the new facility beginning Feb. 27.
The Feb. 21 open house is from 4 p.m. to 7 p.m. with a short formal program at 5 p.m. Tours of the new building will be available, and volunteers will be stationed throughout to provide information about the new facility. Light refreshments will be offered.
"The synergies that will be created by having nationally recognized clinicians and care teams together in a state-of-the-art facility designed specifically for optimal multidisciplinary care delivery will take the care we provide to a new level," said Kevin Sowers, president of Duke University Hospital.
Staff and faculty not located on campus are encouraged to take the Bull City Connector or Duke buses to the Duke Clinics stop to attend the open house.