Real Time Bus Locations Now Available
Duke launches GPS system that tracks Duke bus locations
Duke has launched a public beta phase of a new GPS system that offers up-to-the-second location data on buses as they move along Duke transit routes.
All 28 Duke transit buses have the system, which can be accessed from personal computers at parking.duke.edu/track and mobile devices through text messaging or apps for iPhone, Android or
BlackBerry.
Read More
The system, which is run by TransLoc, also serves Triangle Transit, Capital Area Transit, Durham Area Transit Authority, North Carolina State University and more.
"TransLoc has proven to be reliable and popular among local transit agencies, so it was an easy decision," said Kyle Cavanaugh, vice president for administration. "The system gives us a unique opportunity to not just offer all our students, employees and visitors an easy way to find a bus on campus, but to make sure bus service is on time and efficient."
That's important to August Burns, who rarely uses Duke buses because she said it's hard to know the exact time when she'd be able to catch one. Because Burns has about an hour commute into work each day from Pittsboro, she welcomes the bus tracking system as a way to avoid having to drive while at work because it gives reliability to taking a Duke bus.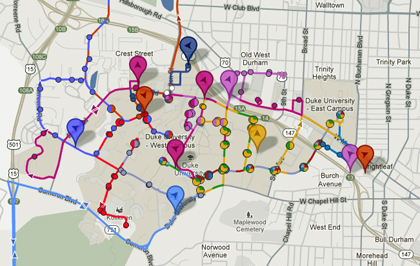 On Duke's TransLoc website, a Google map highlights all the buses in service. Click here to watch buses move in real time.
"Staff will probably use the system on their desktop computer the most because we're often sitting at our desks, but if I have to run an errand, I can use my iPhone to track the bus as I walk over to a stop," said Burns, departmental business manager for the Fitzpatrick Institute for Photonics. "If you can look online and see you've got time to catch a bus, you're more likely to use the bus system."
Erin Russell, a first-year Duke student, is looking forward to using the system.
"Just the other day I was standing in the cold with my friend at the East Campus bus stop and we commented that we wished we had a way to find out when the bus was coming because sometimes the schedules are not entirely accurate," she said. "With a bus tracking system, it'll make travel much more convenient, especially on the weekends when you may have to wait for a bus when the schedule becomes a bit unpredictable."
In addition to being able to track buses in real time, bus riders will also be able to receive alerts via Duke's TransLoc website. With this function, if an accident slows or alters a bus route, riders will be alerted as the change happens. Buses are also being outfitted with automated passenger counters, allowing Parking and Transportation to collect more accurate counts of riders.
"The real-time data obviously saves riders time by finding a bus whenever they need one," said Sam Veraldi, director of Parking and Transportation, "but it also means we can better evaluate our services based on the predictability of bus arrivals at any of our 113 stops on and around campus."