Mary Semans, Champion of Duke and Durham, Dies
Semans "was our principal link to Duke's founding generation," says President Brodhead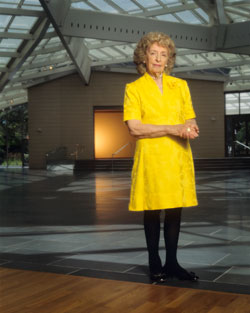 Mary
Duke Biddle Trent Semans, the scion of the family that founded Duke University,
died on Wednesday. She was 91.
Although
small in physical stature, Semans was a towering figure in progressive causes
throughout her life, championing education, human rights and the arts.
"Mary
Semans occupied a unique place in the life of this university," said Duke
University President Richard H. Brodhead. "She was our principal link to Duke's
founding generation and continued her family's tradition of
benevolence throughout her life. She supported every good thing at this
university, and she was a powerful force for good in Durham and the Carolinas.
Above all, she had a generosity toward others and belief in human possibility
that made every encounter an inspiring event. Duke mourns the passing of one of
its greatest friends." (An email from President Brodhead to the Duke community about Mrs. Semans' death can be read here.)
Semans'
connections to Duke University were deep and varied, ranging from art history student
in the 1930s to serving on the Board of Trustees from 1961-1981.
She
also spent decades as a trustee, vice chair and chair of the Charlotte, N.C.-
based The Duke Endowment, a private foundation founded by her great uncle James B.
Duke when he gave the monies that transformed Trinity College to Duke
University. The Duke Endowment supports higher education, health care, children's welfare and spiritual life in
North and South Carolina.
Semans'
love for Duke University was matched by her commitment to her adopted hometown
of Durham. The great-granddaughter of industrialist-philanthropist Washington
Duke, for whom Duke University is named, Semans served as mayor pro tem of Durham from 1953-1955. She
was a trustee of Lincoln Community Hospital from 1948 to 1976, a facility the
Duke family started in 1901 to serve the needs of black patients in Durham.
"My
feeling is that we are all here for each other," Semans told Duke Magazine
in 1987. "I take very seriously this
business of treating your neighbor as yourself, trying to be your brother's
keeper. They're solid maxims for life. You've got to be interested in what
besets other people, what their needs are."
Durham
Mayor William V. "Bill" Bell said Semans "was responsible for making Durham a
community that is admired throughout the state, nation and world."
"Many
have said that when they met Mary Duke Biddle Trent Semans, they felt an
immediate connection, as though they knew her," Bell said. "It was obvious
that throughout her life, she felt that same connection to Durham. She
knew our community, and had an undying devotion to it, to the benefit of
everyone who calls our great city home.
"We
are grateful for her leadership over the years on many civic and academic
boards, and for her contributions to health care, to civil rights and to the
arts. Those along with numerous other contributions will be her legacy for
generations to come. Truly, Mrs. Semans represented the heart, the
goodness, of Durham."
Remembering Mary Semans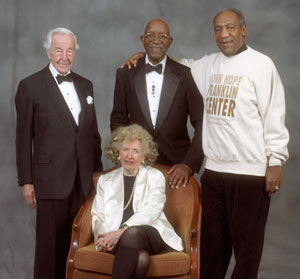 Watch a slideshow of images from Mary Semans' long and remarkable connection to Duke University.
Semans
was born Mary Duke Biddle on Feb. 21, 1920, the daughter of Mary Lillian Duke and
Anthony J. Drexel Biddle Jr., who was U.S. Ambassador to Poland when Hitler
invaded that country in 1939 and later U.S. Ambassador to Spain. She was raised
in Manhattan, where her awareness of the world was shaped by trips to museums,
the theater and mornings spent listening to political news on the radio with
her father. She also learned about problems faced by ethnic and racial
minorities in the city, which would influence her work against social injustices
later in life, according to the Duke Magazine article.
At
age 14, Semans moved to Durham to live with her
grandmother, Sarah P. Duke, for whom the gardens at Duke are named.
Semans enrolled
at Duke University when she was 15 and graduated in 1939.
While
at the university she met Josiah Charles Trent, a medical student at Duke and
later a surgeon and chief of Duke Hospital's division of thoracic surgery. The
couple married in 1938 and had four children. They developed a passion for rare
books, including books about the history of medicine and many by and about Walt
Whitman. (Their Whitman collection is housed at Duke Libraries' Trent Room.) Ten
years later, Dr. Trent died of lymphoma at age 34.
In
1953, she married Dr. James Semans, a surgeon and associate professor of
urology at Duke who pioneered rehabilitative and urinary surgery. The couple
had three children and dedicated much of their time and resources to philanthropy
and the arts. Dr. Semans helped start the North Carolina School of the Arts in
Winston-Salem (now the University of North Carolina School of the Arts) in the
1960s, and chaired the school's board of trustees for its first 17 years. Mary Semans established the school's International
Music Program in 1967. She and Dr. Semans regularly travelled across the world
to support performances by School of the Arts students. Dr. Semans
died in 2005 at age 94.
As
with medicine and social justice, Semans believed the arts could improve
people's lives, a belief she shared with her mother. "I don't think my interest
in the arts is any more overriding than my interest in human rights," she told
Duke Magazine. "I think it all goes together."
The
10,000-square-foot atrium at Duke's Nasher Museum of Art is named the Mary
D.B.T. Semans Great Hall. And the 100-year-old Roney Fountain, the
centerpiece of the Sarah P. Duke Gardens' rose garden, was restored and moved
from East Campus in 2011 as a bequest in Semans' honor from the late Dr. J.
Robert Teabeaut II (T '45, M.D. '47).
Semans
also supported the university and Duke Medicine through the Mary Duke Biddle
Foundation (begun by and named after her mother),
the Josiah Charles Trent Memorial Foundation, the Josiah Charles Trent
Collection of the History of Medicine, and the Mary Duke Biddle Scholarship, among
other efforts, according to the Duke Medical Center Archives.
Semans
received numerous awards, including the University Medal
for Distinguished Meritorious Service, which is Duke's highest
honor; the National Brotherhood Award presented by
the National Conference of Christians and Jews; the University Award from the
University of North Carolina; and the John Tyler Caldwell Award for the Humanities,
awarded by the North Carolina Humanities Council.
She
received honorary degrees from universities and colleges including Davidson
College where she served as a trustee, North Carolina Central, Elon University,
Campbell University, UNC-Chapel Hill, Pfeiffer University and N.C. Wesleyan.
In
2009, she was inducted into the North Carolina Women's Hall of Fame.
Dr. Victor J.
Dzau, chancellor for health affairs and CEO for Duke University Health
System, said Semans "has truly been the heart and soul of Duke Medicine."
"Her passion
and personal involvement in the everyday life of Duke Medicine has been a
source of inspiration to everyone," Dzau said. "She spoke often
of the importance of humanity in the practice of medicine and effectively
modeled her conviction through personal actions and by sharing her unwavering
support and encouragement to Duke physicians and health care providers. She was
a very special friend to me, the faculty and employees across Duke Medicine.
She will be greatly missed."
Semans
is survived by seven children: Mary Trent Jones of Abingdon, Va.; Sarah Trent
Harris of Charlotte; Dr. Rebecca Trent Kirkland of Houston; Barbara Trent
Kimbrell of Sullivan's Island, S.C.; Jenny Semans Koortbojian of Durham; James
Duke Biddle Trent Semans of Chapel Hill, N.C.; and Beth Semans Hubbard of Los
Angeles; 16 grandchildren and 29 great-grandchildren.
A funeral service is planned for 2 p.m. Monday, Jan. 30,
at Duke Chapel. Funeral arrangements are being handled by Howerton-Bryan
Funeral Home. For parking and traffic information for the funeral, click here.
The family requests that memorial donations be made to:
-- Semans Art Fund, c/o University of N.C. School of the Arts, 1533 S. Main St., Winston-Salem, N.C., 27127;
-- The Duke Medicine Heart Center, 512 S. Mangum St., S-400, Durham, N.C., 27701;
-- The Duke Medicine Pulmonary Division Fund, 512 S. Mangum St., S-400, Durham, N.C., 27701;
-- The Duke Hospital Wound Management Fund, 512 S. Mangum St., S-400, Durham, N.C., 27701;
-- Duke University, Josiah Charles Trent Memorial Foundation Endowment, Box 90600, Durham, N.C., 27708;
-- Frank Neelon Fund for Literature in Medicine, c/o Triangle Community Foundation, 324 Blackwell St, S-1220, Durham, N.C., or
-- Duke Medicine Dermatology Division Wound Management Care Fund, 512 S. Mangum St., S-400, Durham, N.C., 27701.