Raggedy Ann, Andy Win Halloween Photo Contest
Nearly 500 vote in 'Blue Devil Halloween' photo contest
Raggedy Ann and Raggedy Andy tugged a lot of hearts on Halloween. 
Among 26 photos of carved pumpkins, colorful costumes and creepy cubicles submitted in the 'Blue Devil Halloween' photo contest, the runaway winner is the photo of Lora Griffiths and Connie Tubiolo dressed as the familiar pair of storybook characters.
"It was fun being nostalgic rather than scary," Griffiths said.
Griffiths and Tubiolo, who work in the Office of Sponsored Programs, donned their outfits for most of Halloween before a colleague suggested they enter the photo contest. After submitting the photo, they did a bit of lobbying: they sent a group email to the office to let co-workers know about the contest. 
"I'm thrilled we got so many votes," said Griffiths, a research administrator. "I guess I owe a lot of thank-yous to people who voted for us."
As first place winners, Griffiths and Tubiolo chose to have the winning photo reprinted on a mug.  "I've never had a mug with my face on it before," she said. 
Working@Duke also awarded Working@Duke mugs to the photographers who submitted the three runner-up photos: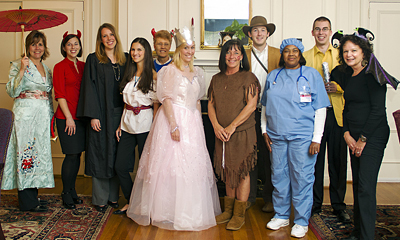 Jeff Williams submitted the above photo of costumed staff at the Office of Undergraduate Admissions (52 votes)
Franziska M. Korb submitted the above photo of pumpkins carved by members of Dr. Tobias Egner's lab (35 votes)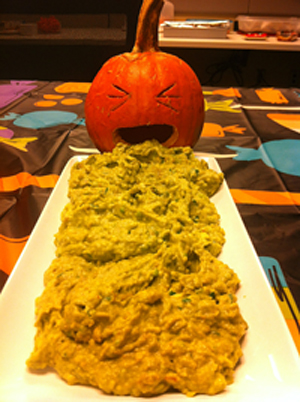 Shawn Miller submitted the photo at left of a pumpkin and guacamole from the CIT/Library staff Halloween potluck (31 votes).
Miller's photo of the pumpkin appearing to regurgitate guacamole was prompted by a photo sent to him by a colleague. 
"Folks I work with basically dared me to try the same thing," he said. "The tricky part was carving the pumpkin, but luckily I'm married to a first-grade teacher who knows a thing or two about pumpkin carving."
See The Contest Photos
Thank you to everyone who submitted photos and voted in the Blue Devil Halloween photo contest.  
Voting on the 26 photos submitted by the noon deadline on Nov. 2 was fast and furious: 304 people voted in the first 24 hours, and by the time voting closed Tuesday, Nov. 8, the vote tally climbed to 450. The winning photo of Raggedy Ann and Raggedy Andy recieved 170 votes.
View the final voting results online, or view all of the photos on the Working@Duke Flickr page.