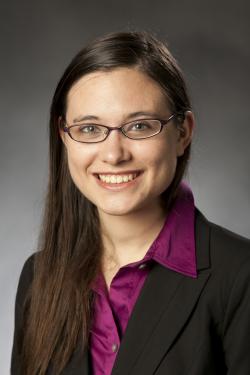 Daphne Ezer, a Duke University senior who has already developed into a full-fledged computational biologist, has won a Marshall Scholarship to complete two years of graduate study in the United Kingdom.
Ezer, 21, of Norfolk, Va., plans to use her award to pursue a doctoral degree in genetics at the University of Cambridge.
"Daphne is the epitome of the deep intellectual accomplishment and potential that the Marshall Scholarship program seeks to recognize and cultivate," says Duke computational biologist Alexander Hartemink, who supervised Ezer's undergraduate research.
The Marshall Scholarships, which were established in 1953 to commemorate the Marshall Plan, are awarded each year to up to 40 "talented, independent and wide-ranging" young Americans to finance their study at institutions in the U.K.
After graduating from Duke in 2012 with a double major in biology and computer science, Ezer will work under the supervision of Cambridge researcher Boris Adryan to develop predictive models of how genes are turned on and off. 
She said she hopes to use artificial intelligence technologies to "predict the biological impact of a genetic mutation that we have never observed before."
Before Ezer entered Duke in 2008, she had already completed research in computational and mathematical biology, and had asked Hartemink if she could join his lab.
"I can assure you that's the only time that has ever happened," Hartemink says, adding that he has come to know Ezer as not only a scholar in the classroom and lab, but also as a leader in building and engaging different types of communities.
As an undergraduate, Ezer was an AB Duke Scholar and Faculty Scholar, president of the Duke chapter of the Association for Computing Machinery, an organizer of the 2011 National Undergraduate Bioethics Conference and a winner in the undergraduate division of the Duke Start-Up Challenge, which promotes student entrepreneurship. She also served as a teaching assistant in computer science and taught English to Tibetans in China. 
She says the overseas experience was difficult because of language and cultural barriers. But it proved valuable in broadening her horizons and strengthening her ability to communicate her research to both computer scientists and biologists.
These disciplines speak two different languages, she says, just as she and her Tibetan students did. Ezer discovered in China, however, that she could successfully work through the language barrier challenge over bubble tea and by using role-playing, illustrations and creative analogies -- techniques that have also helped her communicate her scientific discoveries.
"Research is only half of the process of science. For science to have any impact, research must be shared with others," Ezer says. "Once knowledge is communicated, it is public knowledge. It can be used and misused by anyone. Therefore, scientists must consider the ethical or policy implications of their work."
Ezer has already been thinking about the implications of her own work because, one day, it may be translated to humans, providing physicians with new tools to diagnose and treat diseases.