Duke In The Bull City
Nearly 2,000 employees work downtown, boosting revitalization efforts
When Natalie Spring read the email with the first clue in a scavenger hunt hosted by Bull City Burger and Brewery, she acted on a hunch: She paid a visit to the public art sculpture on Parrish Street in downtown Durham.
As she walked from her office on Main Street to a meeting several blocks away with Duke colleagues, she stopped at the sculpture of a coat and hat, peered inside the coat flap and retrieved the prize - a small brass bull that would later entitle her to a weekly free burger for a year.
Read More
"I never would have won that contest if I hadn't been working in downtown Durham," said Spring, a statistician at University Development on Main Street. "Working downtown gives me the chance to combine the energy of Duke with the energy of downtown Durham."
She's not alone. Nearly 2,000 Duke University and Duke University Health System employees from 16 departments work in 13 buildings downtown, up from approximately 50 employees in the early 90s. Duke is the largest leaser of space in downtown Durham, renting approximately 535,000 square feet. In July, Duke signed a contract to purchase its first downtown property, the 93,000 square-foot Carmichael Building, a former tobacco drying and storage warehouse.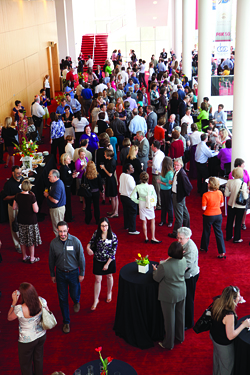 In May 2011, hundreds of Duke employees who work downtown gathered at the Durham Performing Arts Center for a Duke employee appreciation reception. Photo by Duke Photography.
At a gathering of downtown Duke employees at the Durham Performing Arts Center in May, President Richard Brodhead and other city leaders thanked Duke employees for their presence downtown.
"You are the urban pioneers and the fuel that keeps downtown thriving," Brodhead said. "What has happened here is really nothing short of astounding. We have theater, restaurants and all these amenities that enrich the lives of everyone who lives in Durham, and everyone who works at Duke."
Duke has been a catalyst for many projects that helped revitalize Durham over the past 15 years, including the renovation of the American Tobacco Campus (the largest historic renovation in North Carolina) and the creation of the Durham Performing Arts Center (the largest theater between Atlanta and Washington, D.C.).
Durham officials say Duke's presence and partnership helped the city center recover from what The New York Times described as "a place best avoided after sundown" to a town that placed in the paper's 2011 list of the top 41 places in the world to visit.  
"Duke provided the tipping point," Durham Mayor Bill Bell said during an interview with Working@Duke. "By bringing a large portion of the workforce downtown, Duke has shown others what the possibilities are. As a result, others are joining the downtown family."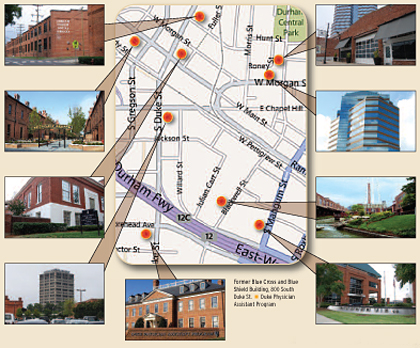 Click here for an enlarged version of this map.
Changing Downtown's Trajectory
In 1998, Mel Adam, business manager for Medical Center Development, toured the newly built Diamond View Building to scope out the offices where the first large group of employees would move downtown. Looking out the fourth-floor window, he was delighted but dismayed. 
"The office had a beautiful view of the new Durham Bulls Athletic Park," he said. But beyond loomed one million square 
feet of the abandoned American Tobacco warehouses with broken windows and barbed wire fencing symbolizing a downtown struggling against decay. 
"It was hard to view moving downtown as a step up in the world because downtown was so dead," Adam said. 
The view, and Adam's outlook, changed dramatically with the opening of a renovated 16-acre American Tobacco Campus (ATC) in 2004 with Duke as one of the first tenants.
"We saw ATC as an opportunity to change the trajectory of Durham," said Tallman Trask III, Duke's executive vice president. "Having an abandoned downtown was not in Duke's interest. Duke needed new space, and we wanted to invest our money where it could make a substantial difference."
But Duke didn't want to overwhelm downtown. To that end, Duke officials told American Tobacco developers they would sign a lease for 100,000 square feet only if at least three for-profit tenants agreed to lease an equivalent amount of space. 
"It worked," said Scott Selig, Duke's associate vice president of Capital Assets and Real Estate. "We were the first to sign a letter of intent, but the fourth company to make the formal commitment that made building ATC possible." 
Duke now leases approximately 225,000 square feet at the American Tobacco Campus for seven Duke departments and shares the complex with 72 other businesses and retailers, from Burt's Bees to the American Tobacco Barber Shop.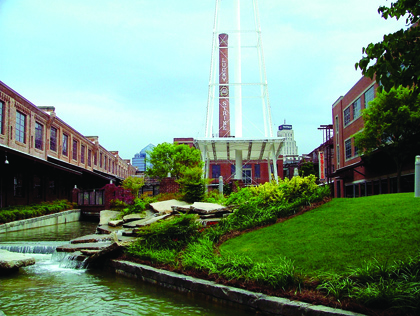 Duke was a pivotal player in the renovation and development of the American Tobacco Campus, which now houses employees from seven Duke departments. Photo courtesy of Durham Convention & Visitors Bureau.
Mixing Work and Play 
Ben Kimmel, information architect for Duke Web Services, is a regular at the American Tobacco Barber Shop. 
Once a month, he takes a two-minute stroll from his Duke office overlooking the Lucky Strike water tower stage at the American Tobacco Campus and settles in the barber's chair for a quick clip. After, he ducks into nearby Mellow Mushroom for a slice of pizza. Kimmel finds mixing work and leisure downtown invigorating. 
"I love that there is always a lot of activity here, no matter what time of day," he said. "And the Bull City Connector makes it really easy to get back to campus when I need to." 
On the north side of downtown, Kristina Sigmon, director of statistical operations for the Duke Clinical Research Institute, is able to enjoy another slice of Durham.
At 6:15 p.m. on a summer afternoon, Sigmon left her office in the Durham Centre and walked two blocks to the farmers market in Durham Central Park to stock up on organic vegetables and goat cheese before the market closed at 6:30 p.m.
"I could never make it to the farmers market on time when my office was over by the hospital," she said.
Sigmon is one of approximately 400 clinical research employees with offices on six floors of the Durham Centre. Working downtown, she said, makes it easier to fit personal errands into her workday. She's even scheduled two half-day vacations to attend the Full Frame Documentary Film Festival at the nearby Carolina Theatre. 
"It was my own little personal vacation, right next to work," she said.
'Jewel of downtown'
Duke's downtown investment stretches beyond office space to the performing arts. In 2006, Duke donated $7.5 million to the city to help create the Durham Performing Arts Center (DPAC).
Duke had originally planned a new theater as part of a renovated Central Campus, but when Duke's administration learned of Durham's plans for DPAC, they chose to eliminate the campus theater and collaborate with Durham.
"It made more sense to invest our money with Durham and ensure there was one top-notch theater," Trask said.
With its stunning three-story glass lobby and Broadway show-sized stage, the performing arts center has been a roaring success since it opened in 2008. In fiscal year 2011, it ranked second in the nation among theaters of its size for number of tickets sold.
"Its success is beyond what any of us expected," Trask said. "It is the jewel of downtown."
Trask, who has lived downtown since 2005, experiences firsthand the success of the performing arts center and other venues in bringing people back to the center of Durham. During the recent American Dance Festival season, he arranged to meet friends for a late dinner downtown at Revolution. As Trask walked through the glass doors of the restaurant, he was relieved he had a reservation. 
"It was mid-week, 9 p.m. and DPAC hadn't let out yet, but the restaurant was jam-packed," he said. "That's what downtown Durham is like now. There are people there day and night."
Economic Engine
Duke's latest downtown venture is the $6.8 million planned purchase of the Carmichael Building at 300 North Duke St. Constructed in 1926 by Liggett and Myers, the building is currently used by Durham County Social Services.
Duke will lease the building back to the county until the new Human Services Complex on East Main Street is completed in late 2012. Duke officials have not decided yet how to use the old warehouse but made the offer as a hedge against rising lease prices and a lack of large areas of office space downtown. If Duke doesn't need the space, one option is to sell it to a large for-profit company that would bring new jobs to downtown Durham.  
"I've always seen our investment downtown as an economic development engine for Durham," Trask said. "Durham needs more employment and more employers." 
He has considered the option of moving some Duke employees out of downtown if a top-notch for-profit company wanted to move in and needed room.
"But that would make a lot of Duke people really mad at me," Trask said. "Folks really like working downtown. Nobody wants to leave."