As Taylor Mingos neared his graduation from Duke in 2007, he approached a handful of friends with a proposal: I'll buy you a plane ticket to Germany, if you'll work for the summer at my startup company in Berlin. 
He found about eight takers, Mingos recalled, most of them Duke classmates.
Read More
Thus Shoeboxed.com was born. The company, now based in Durham with more than 40 employees, digitizes and organizes paper records  for small business owners.
Mingos won't give financial details, but he says the company is "cash flow positive" and recently opened an office in Australia.
"I got a couple of great consulting offers," Mingos said about his career options during his senior year at Duke. "I was like, 'Well, maybe I'll just do my own little startup until my start date for those.' Then the startup got funding and before I knew it, it was kind of its own thing."
Mingos is not the only Duke student to start his own business. Across the campus, a culture of entrepreneurship has been taking shape among undergraduates, as suggested by these statistics: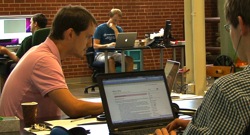 Sonny Byrd '08 (left) and Taylor Mingos '07 (center) at work at Shoeboxed.com, a company Mingos founded while at Duke. 
-- 150 student teams competed in the university's most recent Duke Start-Up Challenge, a business plan competition; 
-- 123 startup companies affiliated with Duke alumni, students or patents have been identified by the Duke Global Entrepreneurship Network (DukeGEN);
-- More than 3,000 people have joined the DukeGEN LinkedIn group;
-- At least 15 groups on campus  address some aspect of entrepreneurship, including a new student residential group called InCube.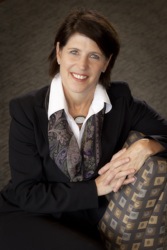 Kimberly Jenkins is leading a new campus-wide entrepreneurship initiative
Citing "a tremendous amount of interest" in innovation and entrepreneurship, university leaders last fall announced a campus-wide effort to better support students with ideas for new businesses or nonprofit organizations. Leading the effort is Kimberly Jenkins BA '76, PhD '80, an accomplished entrepreneur at Microsoft and other companies who later served as a Duke trustee and founder of two nonprofit groups.
"This is now a legitimate career path," said Jenkins, senior advisor to the president and provost for innovation and entrepreneurship. "Students want internships with startup companies; they want internships with venture firms; they want to be inside a company or social venture that's innovative. They want to have courses, co- curriculars and support activities that help them become leaders in this field."
Some students in Duke's growing entrepreneurial community arrive on campus with an existing drive to create a company. Others are recruited into startups because of their technical skills. Still others develop artistic or humanitarian passions that lead them to form organizations. Often the entrepreneurial spirit is sparked by several of these and other factors.
Mingos, from Kansas City, Mo., says he had business in his blood, as well as an aptitude for technology. He started a video-editing business in high school. While at Duke, he created dating websites. His sophomore year he studied abroad in Berlin and later returned to the city as one of the first employees of the early German social networking site studiVZ.net, which was bought out during his senior year.
 Patent Pending
A recent Duke graduate's invention may change television viewing and put an end to family squabbles over who gets to control the remote.
Read more about Alex Edelsberg's invention here.
"Probably my best experience was going to work for someone else's startup," said Mingos, a triple major in biomedical engineering, electrical engineering and German. "I think a lot of people with more of a technology background sometimes underestimate what's involved in marketing, so it was very good to help round me out."
Tito Bohrt got the entrepreneurship bug at the end of his freshman year, when he tried unsuccessfully to sell his textbooks for enough money to make a serious dent in his book budget. Disappointed with the buy-back offers he found, Bohrt held onto his books over the summer and tried to sell them directly to other students at the start of the next year. He discovered they'd already bought their textbooks for the semester.
So Bohrt, a junior from Bolivia with a customized major in behavioral economics, said, "Damn, there must be a way to put them for sale before I go on [summer] vacation and then when I get back I just need to spend like one minute giving the book to the person who has the money and can buy it."
Teaming up with his friend Fabio Berger, a junior computer science major from Switzerland, Bohrt created the website ShelfRelief for students to buy and sell textbooks. The two describe the site as a cross between Amazon.com and Craig's List and say it has facilitated the sale of more than 227 books, mostly at Duke, with another 1,000 still listed for sale. The site won the audience choice award in the undergraduate-led startups category at last year's Start-Up Challenge.
Like Mingos and Bohrt, Duke's budding entrepreneurs often base their business plans on Internet strategies.
Howie Rhee, who has reviewed many of these plans as the Start-Up Challenge's adviser, says undergraduates gravitate online naturally. 
"They think 'Wouldn't it be cool if we created a website that sold textbooks on campus, or matched favors among people on campus or did a better job scheduling classes,'" said Rhee who himself took a leave from college at age 19 to pursue a business idea.
"Like a lot of the best entrepreneurs, they're trying to solve a problem they have," said Rhee, now the managing director of the Center for Entrepreneurship and Innovation at Duke's Fuqua School of Business. 
Even if they don't come up with their own ideas, Duke undergraduates may still find themselves pulled into entrepreneurial ventures by classmates, especially if they have computer skills.
"Being in the computer science community, we're bombarded by either alums from Duke or students from Duke constantly looking for web developers to help them with their ideas," said Joe Levy, a senior computer science major from Chevy Chase, Md. "There's a ton of underground ideas flowing that just lack the resources to be implemented."
Watch students compete with their "elevator pitches" in the 2010 Start-Up Challenge finals.Rachel Weeks '07 started a collegiate clothing company that seeks to pay textile workers a fair wage.
Levy himself was recruited into a startup by Jonathan Lee, a 2011 Fuqua MBA graduate, whom he met through the club wrestling team. Together they created the website BuyWithCause, which matches local stores with nonprofits, which receive a percentage of a store's sales promotion. The site launched in April with an offer from the campus Panda Express restaurant to donate a portion of its sales to the Duke Ski Club.
The site is still more of a concept -- a 2011 Start-Up Challenge social enterprises semifinalist -- than a going concern. Instead of working full-time on the company this past summer, Levy interned at Microsoft. However, he says he continues to enjoy the challenge of growing BuyWithCause.
"I find entrepreneurship much more fascinating than some of the required courses," said Levy who took an independent study course in entrepreneurship from Carl Nordgren, who has been teaching courses on entrepreneurship at Duke for 11 years as a visiting associate professor of markets and management studies.
A fellow computer science major, Wei Gan '11, went to entrepreneurship lectures at Duke, won the undergraduate category in the 2010 Start-Up Challenge elevator pitch competition (watch his pitch) and interned for a summer at the startup Box.net (which is co-owned by Dylan Smith '08). Gan also created an iPhone application, WeiWatch, and two websites, Askapade.com and GroupWorked. None of his own ventures has blossomed yet into a money-making business, but his first job out of college is with a startup, the Burlingame, Calif.-based, data-mining company TellApart.
"When I was looking for where to work, it was more, which one can set me up best for when I actually start a company," said Gan, a native of Singapore. "Who is the most well connected? Which kind of space am I most interested in? What kind of skills will I pick up that will serve me well when I try to start my own company?"
An entrepreneurial career can also grow out of a personal passion, as it did with Dan Piech '09, who "always had an inkling, a desire, a passion for film, photography and design."
While at Duke, Piech pursued a certificate in Film/Video/Digital in addition to his economics major, and he shot a promotional video about Duke for a senior project. Word spread about the video and eventually the Office of Public Affairs and Government Relations commissioned an edited version to appear as the university's official public service announcement during nationally televised basketball games.
As money came in from that video and some web design projects, Piech  realized, "Wow, I can actually turn my passion, my hobby, into a money-making operation."
He is now doing freelance video and design work under the company name evoxio, hiring crew members onto projects as needed. Piech says he makes more than ten thousand dollars a year at the venture but so far hasn't quit his day job as a consultant at the web audience measurement company comScore.
Senior Lina Colucci has also been pursuing a personal passion, namely dancing, which she is combining with her interest in inventing.  
"The ballet pointe shoe -- the shoes that ballerinas use to stand on their toes -- was developed two hundred years ago and they pretty much remained unchanged," said Colucci, a mechanical engineering major and Robertson Scholar from Lexington, Mass. "Having been a dancer, I knew the issues with existing ballet shoes and I wanted to make something better."
Colucci's DANZA shoe design was the winner of the women-led category in the 2010 Start-Up Challenge competition and runner up in the products and services category. She is continuing to improve it before starting a business with it. Last fall, she took an independent study course with professor Neal Simmons to work on the design. This past summer, she interned in Nike's Sports Research Lab.
"For me, engineering is a way to be extremely creative with that technical mindset," Colucci said. "I think the spirit of innovation and invention can be brought to any field. For me, it was dance."
Even students who expressly seek to start a business sometimes mix in a mission beyond profit. Levy and Lee's BuyWithCause website aims to help nonprofits in raising money. Berger and Bohrt hope to direct profits to support an orphanage in Bolivia. Mingos has become a booster for the City of Durham with his company sponsoring the Downtown Durham Startups website to attract other new businesses to the area.
(This list doesn't even touch upon the scores of students inspired to create nonprofit organizations while taking Professor Tony Brown's leadership courses at the Sanford School of Public Policy.)
While there is a diversity of motivations among students starting businesses, one theme recurs among both teachers and practitioners of entrepreneurship at Duke: the necessity of trial-and-error,  or "iterating" as it's called in the startup crowd. 
Occasionally a student finds relatively rapid and visible success. Howie Liu '09, for example, conceived of a web-based contact management tool during his senior year and sold the software and a related company within a year and a half of graduating to Salesforce.com. However, most students are more likely to experience smaller victories and frequent disappointments, at least initially, as they learn the lessons that move them beyond being what one student calls a "wantrepreneur."
"Entrepreneurship is a skill," said Rhee, the Start-Up Challenge advisor, "so you just have to try it."
"Part of our task is to create opportunities [for students] to feel entrepreneur-like, so that you actually try it, you make a mistake, then you reflect on it and [another] person helps you think," agrees former Fuqua dean Blair Sheppard.
"One of the first things that I'm asked by a very large majority of these young entrepreneurs is when in the process do you ask somebody to sign a nondisclosure, confidentiality or noncompete agreement," says Nordgren, the markets and management professor. However, "the idea is rarely, rarely, rarely the valuable asset that students consider it to be. It's really their subsequent execution around that idea that's going to make a difference. You really have to open up and relax."
"The good news [for students] is this is a really good time to start a business because they've got the time and they've got resources," said Larry Boyd, associate director of Duke's Center for Entrepreneurship and Research Commercialization and faculty advisor for the Pratt School's student entrepreneur center DUhatch. "The bad news is that when they graduate they need income."
"School is the best time in life to be an entrepreneur," agrees Mingos of Shoeboxed.com. "You have no bills to pay -- maybe you do have student loans and things like that -- but you basically can do whatever you want and there's no mortgage bill that's left over, you don't have kids, you're probably not seriously in a relationship. 
"It's a great time to fail."