Duke Doctor Offers Tips On Kids, Stress
Dr. Michelle Bailey shares from her new book, "Parenting Your Stressed Child"
Headaches. Trouble sleeping. Irritability.
These are commonly recognized reactions to stress among adults and children, but Dr. Michelle Bailey, a pediatrician at Duke, has some tips to help families manage these symptoms.
Read More
"Parents can help by learning to talk about and model stress reduction techniques with their kids," Bailey told about 100 adults, including Duke employees, at a May 31 seminar at Duke Integrative Medicine. The seminar was a special addition to a monthly series of free health related talks at Duke Integrative Medicine in honor of the May publication of Bailey's book, "Parenting Your Stressed Child.
The book comes at a good time. A recent study by the American Psychological Association found that about one-fifth of children reported worrying a great deal or a lot but only 3 percent of parents rate their children's stress as extreme (an eight, nine or 10 on a 10-point scale).
"There's definitely a disconnect there," Bailey said.
Bailey has found that mindfulness practices - exercises that help people pay attention to thoughts and emotions without judging them - work for children, as well as adults.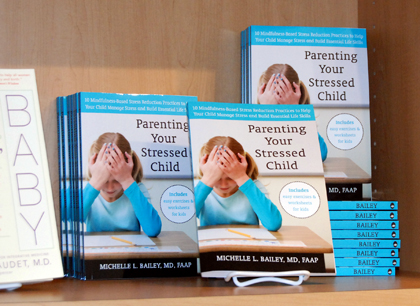 "A lot of stress is not a reaction to actual danger, but a reaction to our thoughts," she said. "Being mindful gives children time to deliberately notice their thoughts and choose how to respond, rather than moving automatically into a stressful state." 
During the seminar, Bailey introduced several mindfulness-based stress reduction practices from her book that parents can practice alone but also teach their children.
Mindful Walking. Pay attention to all of your senses as you walk, from the way your foot feels as it touches the ground, to the detail of a leaf's shadow or the scent of the breeze. "This can be done as a family," Bailey noted. "It is fascinating to compare results."
Mindful Mind. Notice a stressful thought or situation, visualize putting it in a balloon or a boat, and watching it float away. "Kids can be very creative with this," Bailey said. "I've had young boys who put their thoughts into race cars."
Progressive Muscle Relaxation. Deliberately clench and relax muscles to remind the body and mind what relaxation feels like.
Awareness of Breathing. Focus on breath going in and out, and when the mind wanders, bring it gently back to the breath. "People mistakenly think this is about clearing the mind," Bailey said. "But it is really just about being mindful."
Practicing Gratitude. Take time to be appreciative of what is good in life, even if it is just being grateful for life itself.
Carolyn Lekavich, a nurse practitioner at Duke who has started the process of adopting a child, found it reassuring that what is taught to adults through the Mindfulness-Based Stress Reduction classes at Duke Integrative Medicine is true for children and families.
"I want to be proactive, to create the best environment for a child," she said. "I can see that this approach of being mindful, connected and appreciative is broad enough to apply to many activities."