A Talent for Teaching
Trinity College Teaching Award winners share an interest in challenging students
From his high school years through his
work in graduate school, Richard
MacPhail enjoyed solving complicated problems and explaining his answers to
others.
It wasn't until he became a college professor, however, that
the associate professor of chemistry realized that good teaching involved a lot
more than that.
Read More
"I learned very quickly that students have to find
their own way on solving a problem," said MacPhail. "Brains respond
to different cues.  Before I taught
in college, the thrill was coming up with my own understanding and explaining
it to someone else. But as a teacher I found out students won't always see it
in the same way I do."
For pushing his students to develop thinking skills that
lead to a deeper understanding of core chemistry concepts, MacPhail has been named
one of Duke's finest teachers by both faculty colleagues and students.  This year he is recipient of the Robert
B. Cox Award, one of the Trinity College Teaching and Distinguished Service
Awards for 2010-2011.
Other recipients were Christina
Williams, psychology & neuroscience, who received the David and Janet
Vaughan Brooks Award; Michelle Connolly,
economics, who received the Howard D. Johnson Award; and Elena Maksimova, Slavic and Eurasian Studies, who received the
Richard K. Lublin Award. (For a full listing of Trinity College awards, see list left.)
The teaching award winners use different approaches in
different fields, but students and faculty colleagues said all share a passion
for teaching, interest in innovative methods and give priority to developing
their students' capacity to think. Three of them -- Williams, MacPhail and
Maksimova -- all have also shown their commitment to undergraduate education by
serving as director of undergraduate studies in their respective departments.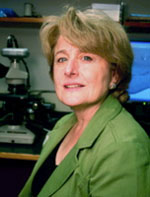 Christina Williams
Williams said her interest in teaching came from her own
days as an undergraduate at Williams College.  She recalled an animal behavior class that shaped her later
interest in psychology and neuroscience.
"The class was team-taught by a biologist and
psychologist who staged in class what seemed to be real rip-roaring arguments
about the interpretation of empirical work in the field," said Williams,
who is also a member of the Duke Institute for Brain Sciences faculty.  "One day in class, I suddenly
realized that they were showing us that science was a dynamic, creative
discipline that required interpretation of data in light of current theories
and was not just the memorization of facts. Their enthusiasm, flair for
performance and ability to reveal something unexpected, important and memorable
are the teaching skills I try to bring to the classroom."
Many of Williams' current students supported her
nomination for the teaching award, but some of her most valued recommendations
have come from past students who have gone on to academic careers.
"Knowing that I've ignited an interest that will be long pursued is one of
the thrills of teaching," Williams said.
Maksimova has taught Russian for 22 years at Duke, during
which time foreign language instruction has begun linking foreign language
instruction with a strong understanding of the language's culture.
Elena Maksimova
"I have discovered that students best learn how to
understand and function in other cultural spaces through courses that are
intellectually stimulating, challenge unanalyzed notions of self and other, and
are rich in primary cultural texts," Maksimova said in a statement of
teaching philosophy.
"Students entering one of her advance level courses
anticipate that they will improve their Russian language skills, and soon
discover that they are experiencing Russian and communicating like a Russian as
never before," said Beth Holmgren, professor and chair of Slavic and
Eurasian Studies.
Connolly, associate professor of the practice of economics, is
a former chief economist with the Federal Communications Commission who taught
honors research classes for juniors and seniors this semester.  In teaching research methods, Connolly
said one of her pleasures is getting off-track, with a purpose. 
"One thing I always joke about is my ability to go off
on material that is tangential in some way," she said.  "The material may not be directly
relevant to what they are doing right then, but I feel people learn the process
of research that way.  They learn how
to think about things and work through difficult questions. 
"I think one of the marks of a good course and a good
university is when you're done, you should be able to think on your feet rather
than memorize formulas that 10 years later you forget."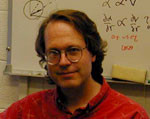 Richard MacPhail
MacPhail said he was honored to receive the teaching award,
but more pleased that he is just one in a long line of chemistry professors who
have received a Trinity College teaching award.
"I love doing this," he said.  "I would do it teaching award or
not.  But it's wonderful to know
that someone is noticing.  The list
of past honorees includes people like Jim Bonk and Al Crumbliss, whom I look at
as mentors and role models.  Just
to be listed with them is a great honor."
Economics also has had several previous teaching award
winners, Connolly said.  "It's
a nice tradition here," she said with a joking laugh.  "I got to see the secret
handshake."