Graduates Urged to Take Risks in Life
Cisco CEO John Chambers tells them at graduation ceremony to not be afraid to fail
In a ceremony that combined new details with familiar rituals, Duke's Class of 2011 graduated Sunday with encouragement from their commencement speaker to be courageous in life.
For the first time, graduates wore environmentally friendly caps and gowns produced from recycled plastic bottles, and a narrator -- Duke sports announcer Bob Harris -- described the proceedings in Wallace Wade Stadium.
The changes complemented a ceremony filled with tradition, with graduates entering the stadium to the sounds of "Pomp and Circumstance" and assembling before a stage set resembling academic towers built with Duke stone. They were followed by faculty members wearing academic regalia and campus officials bearing a shiny mace and other university symbols.
President Richard H. Brodhead presided over the 10 a.m. ceremony, at which Duke awarded degrees to about 1,582 undergraduates and 1,995 graduate and professional students. An additional 944 students who graduated in September or December 2010 were also invited to participate. Among those honored were the first 23 students to receive medical degrees from the Duke-NUS medical school in Singapore, which was established in 2005.
"Do not be afraid to fail," John Chambers, the chairman and CEO of Cisco Systems, told the graduates in the commencement address. "Have the courage to take risks."
Chambers said a great education, proficiency with the Internet and social media such as Facebook are driving forces in the world today. Describing the lessons he has learned within his company and by working with world leaders, Chambers urged the graduates to listen carefully, learn constantly, embrace change and help others.
Earlier, graduating senior Mike Lefevre, the outgoing president of Duke Student Government, praised his fellow students for their loyalty and "natural tendency" to enjoy being with other people.
"Is there any other student body in the country that cares so much about being together?" Lefevre asked. "We choose to sleep in tents for two months for a game we know we could walk into on game day. We come back early from summer break to carry mini-fridges upstairs for incoming students. We join 17 different listservs so that even when we're not together, we're talking."
Lefevre, who received a bachelor's degree in public policy studies, described his recent trip to Russia with student body leaders from other U.S. universities. He met there with Arkady Dvorkovich, a leading Russian economic advisor whose Duke diploma hangs in his office, which Lefevre visited. "Mr. Dvorkovich showed me that as Duke graduates enter the world, they turn their tradition of sticking together into a commitment to teamwork and empathy. Mr. Dvorkovich transformed his affection for his comrades at Duke into a dedication to helping the citizenry in Russia," said Lefevre, who was selected to speak by a committee of students, alumni, faculty and administrators.
The deans of Duke's schools presented the graduates for Brodhead to formally bestow their degrees, with each group rising in the stadium. The largest group was Trinity College graduates receiving their undergraduate degrees, who cheered loudly with their parents and guests when their turn came near the end of the ceremony. "Go forth and make us even more proud of you than we are today," Brodhead told them.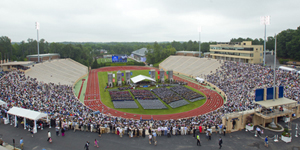 4,500 students received Duke degrees Sunday during commencement.  Photo by Jon Gardiner
The university also awarded honorary degrees to Chambers and six other recipients, with Brodhead describing the accomplishments of each. The others were Rita Dove, an English professor, author and former U.S. poet laureate; James B. Hunt Jr., a former North Carolina governor and public education advocate; Alan Page, an NFL Hall of Fame member, judge and education activist; Lisa Randall, a professor of theoretical physics and a leading expert on particle physics and cosmology; Eric Shinseki, secretary of the U.S. Department of Veterans Affairs, former Army chief of staff and a Duke graduate; and Tan Chorh Chuan, president of the National University of Singapore and an international leader in biomedical sciences, public health and higher education.
The event was webcast live on Duke's Ustream channel and on Duke Today. Twitter users were able to follow it by using the hashtag #dukegrad11. Archived video from the event will appear on Duke on Demand, the university's video site.
Sunday's ceremony in Duke's football stadium highlighted a weekend of commencement events across the campus. Speakers at other ceremonies ranged from W. Stacy Rhodes, chief of staff for the U.S. Peace Corps, who spoke to graduate students at the Sanford School of Public Policy, to Mike Lamach, the CEO of Ingersoll Rand, who spoke at the Fuqua School of Business.
On Friday afternoon and Saturday, Brodhead delivered his baccalaureate address to graduates in a colorful series of ceremonies in Duke Chapel. He reminded them that previous graduates "used Duke as a springboard; but not a single one of them could foresee the life that awaited them when they sat where you sit now. They found their chances by applying their intelligence and creative energy to the emerging needs and opportunities of their times, and having the courage to follow their talents, and take some risks.  Their turn then; your turn now."
About 14,000 people were expected to visit the campus for the various activities, according to the Office of Special Events and University Ceremonies, which oversaw  the weekend planning. The Durham Convention & Visitors Bureau estimated the economic impact on Durham of all of the hotel rooms, celebratory meals and other activity to total about $3.1 million.
A special university website has additional information about Duke's commencement weekend.