Duke University Junior Wins Morris K. Udall Scholarship
Megan Morikawa will travel to Arizona this summer to meet policymakers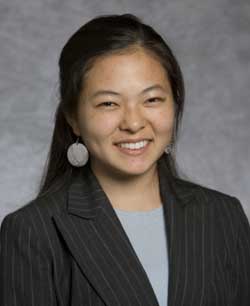 Megan Keiko Morikawa, a member of Duke's class of 2012, has received the Udall Scholarship, which recognizes students who have demonstrated a commitment to careers in the environment, health care or Native American tribal public policy or health care. Scholars must also demonstrate leadership potential and academic achievement.
Eighty students from 61 colleges and universities were selected this year from a pool of 510 candidates. Seventy Udall scholars intend to pursue careers related to the environment, five plan to pursue careers in tribal public policy, and five intend to study health care.
"While I am interested in policy concerning the assessment and protection of biodiversity, I am more interested in the ways in which applied sciences can effectively and efficiently inform policy, bringing science beyond the academic journal," Morikawa said. 
Morikawa is Duke's first Udall scholar since 1999. Each scholarship provides up to $5,000 during the scholar's junior or senior year. The 2011 Udall Scholars will assemble Aug. 3-7, in Tucson, Ariz., to receive their awards and meet policymakers and community leaders.
"It appears it will be much more than a casual gathering; we'll actually be debating some important issues in environmental policy," Morikawa said. 
Morikawa is a Robertson Scholar at Duke who is pursuing a degree in environmental sciences with a focus on conservation biology and genetics. She hopes to use "genetics and genomics to better understand the diversity of life on earth and help communicate scientific findings into concrete policy for protecting biodiversity." She is currently conducting research at Duke's Marine Lab in Beaufort, N.C., on the underlying mechanisms of size distributions in blue crab populations.
 Morikawa is also a member of the a cappella group "Duke Lady Blue" and is president of a local chapter of "Roots & Shoots," a primate conservation group. She has conducted independent research on the genetics of biodiversity in Madagascar and served as a researcher at the Duke Lemur Center. Morikawa also conducted research in New Orleans at the University of New Orleans and as a media and research intern at the Gulf Restoration Network.
For more information on the Morris K. Udall Scholarship, visit www.udall.gov.