Service-Learning Course Puts Face on Homeless
Students develop relationships and produce documentaries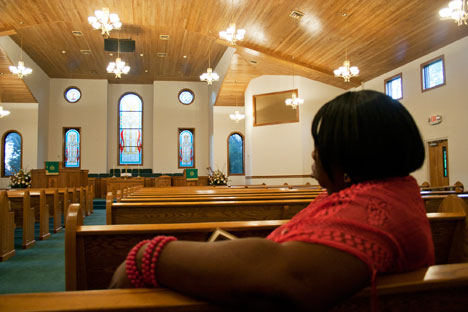 Thanks to a service-learning course at Duke, sophomore Ashley Tsai has a new understanding of who the homeless are and what she has in common with them.
"It's been a huge learning experience," says the Houston native.
She learned about homelessness from Gloria Ann Burch, who became pregnant with her first child at age 19 then ended up on the streets of Durham. The two once shared the same dream: college, marriage, a nice home.
"My dream was to go to college and have a nice brick house, a husband, kids and being outside painting the environment and just loving life, but it didn't happen that way," says Burch.
Stories of Finding Home Again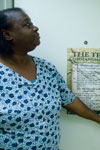 Gloria, told to Ashley Tsai
Angel, told to Caitlin Johnson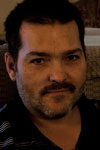 Joseph & Bronwyn, told to Lucy Goodson
Tsai and Burch would not have met if it weren't for "Documentary Engagement," a service-learning course that required 10 Duke undergraduate students to gain a better understanding of the complex causes of homelessness.
The course was supported by The Hart Leadership Program at the Sanford School of Public Policy and the Center for Documentary Studies at Duke.
In addition to classroom work, the students visited each week with people associated with Housing for New Hope, an organization that for nearly 20 years has helped the homeless in Durham and Orange counties. The Durham-based nonprofit provides care for the most needy through outreach and crisis assistance, transitional housing and permanent housing.
Students spent more than 20 hours during the semester at a Housing for New Hope site, where they built relationships and captured stories through photographs and audio recordings of their story "subjects."
The course provided Housing for New Hope with materials to tell its story and raise more than $10,000 in its recent fundraiser, said Liisa Sinikka Ogburn, director of the Lewis Hine Documentary Fellows Program and one of the instructors for "Documentary Engagement."
The students each produced a six-to-eight-minute audio slideshow that presented the story of the person they met.
This week, the students unveiled their documentaries in a meeting room at the Williams Square Apartments in Durham, one of five housing facilities operated by Housing for New Hope.
In the documentaries, their story subjects, men and women, talk about their life on the streets and some of the struggles they faced: poverty, drugs, abuse, being ripped off, hopelessness.
In Tsai's piece, Burch talks of the difficulty she faced as a homeless teen. "Even though I was working I wasn't making enough, so for a time I had to get food from the churches and I had to bring it back on the bus.
"For me that was embarrassing because I never thought I would see myself doing anything like this."
The success of Housing for New Hope's assistance is evidenced by the opening of Tsai's documentary on Burch, when talks about how "nice it is" to now cook and play her music "when she wants."
"It's so nice to have your own," she says.
For Tsai, the course gave her an inspirational friend.
"There was just something there," Tsai says of getting to know Burch. "I can say that we became friends ... she's a source of inspiration to me.
"All the dreams she has are the same I have for my life."
All of the documentary stories can be found here.