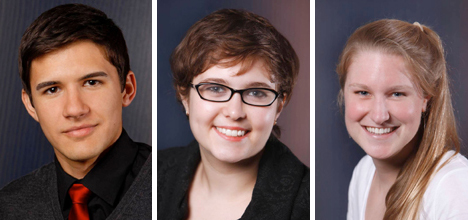 Three Duke University seniors -- Nicolas Altemose, Katherine Buse and Alessondra (Allie) Speidel -- have been awarded Marshall Scholarships to continue in their respective fields of study after graduation.
Altemose, a biology major from Temecula, Calif., has been engaged in research in genomics since his first year at Duke under the mentorship of Huntington Willard, director of the Institute for Genome Sciences & Policy. He intends to continue research in this area at the University of Oxford.
Buse, from Chapel Hill, N.C., is an English major studying the role of catastrophe in contemporary fiction. She will pursue a degree in science fiction and contemporary literature at the University of Liverpool.
Speidel, a biomedical engineering major from Manlius, N.Y., plans to study biomedical research and translational medicine at Imperial College London.
Established in 1953 to commemorate the Marshall Plan, the scholarships are awarded each year to a maximum of 40 "talented, independent and wide-ranging" young Americans to finance graduate level studies at a college or university in the United Kingdom.
"Duke is proud that Nick Altemose, Katherine Buse and Allie Speidel have been named winners of one of the highest of academic honors, the Marshall Scholarship," said Duke President Richard H. Brodhead. "They have enriched our campus life immeasurably and will have a major impact on the world in years to come."
An A.B. Duke Scholar, Altemose is particularly interested in understanding the functioning of heterochromatic regions of human chromosomes. These segments have such complex structures that they were excluded from the 2003 Human Genome Project's sequencing report.
At Duke, he co-founded an organization dedicated to fostering interest in science and research for high school students. He also served as a teaching assistant in the computer science department, and as a member of the Duke LGBT Center Advisory Board. He previously received a Goldwater Scholarship in Science, Mathematics and Engineering.
"I am drawn most to questions of structural and functional variation in the human genome," Altemose wrote in his Marshall application, "whose answers will enhance our understanding of human evolution and human health."
Altemose ultimately hopes to pursue a career in academia as a biology professor and continue research on the human genome.
Buse, also an A.B. Duke Scholar, served as editor of "The Archive," Duke's literary magazine. She organized a speaker series on "The Future of the Human Body" involving faculty from across the humanities and medical sciences.
She has received several awards for her work in literature, literary criticism and theory at Duke, and is one of three Duke seniors this year to win the Faculty Scholar's award, the highest award given to students by the faculty in recognition of their exceptional record of undergraduate research and scholarship.
She plans to pursue one of only two master's programs in science fiction studies in the English-speaking world at the University of Liverpool, where she will study science fiction and contemporary literature.
"The tools of literary criticism allow me to understand the global problems I thought unsolvable," she wrote in her application. "Literature is not just a vehicle for escapism: it documents the stories we tell ourselves to make sense of our lives and our environments."
A Baldwin Scholar and a Pratt Fellow at Duke, Speidel has studied the effects of surface topography on normal human dermal fibroblasts. Fibroblasts, the most common cells of connective tissue in animals, play a critical role in wound healing.
Speidel ultimately hopes to become a physician-scientist, performing cardiac regenerative stem cell research and clinical work that could be put into practice by doctors.
"There is a distinct difference between knowing a person and appreciating that person's perspective," she wrote in her application. "I believe this is why I am drawn to a career in medicine; a doctor not only treats the body, but must be able to heal the entire person."
A member of the women's varsity swim team, Speidel is involved with the Collegiate Athletic Pre-Medical Experience (CAPE) Program, a joint initiative between the Duke University Medical Center and the Preston Robert Tisch Brain Tumor Center which exposes female varsity athletes to various medical clinical experiences.
She also serves as a mentor with the First Year Advisory Counselor Program and as a chemistry and calculus tutor with the Duke Peer Tutoring Program.
_ _ _ _
For more information about the Marshall Scholarship program, visit http://www.marshallscholarship.org/.