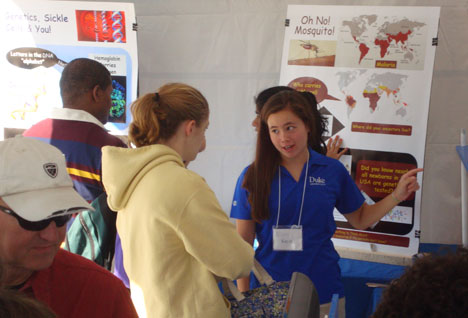 DNA, the wonders of dry ice and Dan Ariely's decision-making investigations were among Duke exhibits and activities that attracted thousands of visitors in Washington D.C. over the weekend at the inaugural USA Science and Engineering Expo. Forty university students, faculty and staff showcased Duke research in colorful booths located on Freedom Plaza, near the Washington Monument.
"The people running Duke's booths are doing a great job engaging kids. I can't get my son to leave," said Sonia Shelton, a D.C. resident attending the expo with her husband and two sons.
Shelton's 7-year-old son, Justice, watched as undergraduate Ellen Litkowski and Ken Lyle did chemistry tricks with dry ice, making the solid CO2 bubble, pop and fizz. Shelton also checked out how his genetic traits, like a hitchhiker's thumb or dimples, compared with those of other event-goers at the Institute for Genome Science & Policy's station, which Tomalei Vess and students from the institute organized.
"Justice likes science. But sometimes we don't make it exciting enough, especially at the fundamental level, which leads to the fun stuff. Here he is learning the basics, and he is learning that science is fun. This expo is a great way to get kids, especially young girls, excited about science," Shelton said.
Sara Kunaish, 7, and her sister Maya, 9, said they had the most fun "playing with bubbles." They held bubbles filled with water vapor and CO2 and watched as bubbles filled with their own breath hovered above chunks of dry ice exposed to air. Normal bubbles sink, the girls said, but these did not, which surprised them. They learned that the solid CO2 was changing directly to a gas, creating an invisible layer where the bubbles seemed to float. This happened because the insides of the bubbles were almost the same as the air, they explained.
Ares Pappas, a 12-year-old New Yorker, walked away from the chemistry demo grinning after Litkowski blew the lid off a small canister. The dry ice sublimated, or changed state from a solid directly to a gas, in an enclosed chamber. As the CO2 gas increased in the canister, enough pressure built up to pop the top. "It was cool," Pappas said.
"We've had a steady stream of kids and adults on both days. But, the kids' faces, they're priceless. It's been awesome to stand back and watch," said Duke's director of research communications, Karl Bates, who coordinated the university's participation in the expo along with Duke Center for Science Education executive director Christine Adamczyk. Bates also filmed two live webcasts of the event, which aired at 1 p.m. and 3 p.m. on Saturday. The webcasts, including Dan Ariely's students conducting original research, are also available on Duke on Demand.
Ariely's students were trying to determine how people rate specific foods based on the labels that define the food. They also tested how two people given a chance to win and split $50 or $100 decided to allocated the money. They wanted to see if the relationship between married and dating couples or friends affected whether money was split evenly or donated to a charity, or both. The expo is a perfect place to do science and show people how it is done, Ariely said. He and his team plan to post the results and the winners of the cash prizes soon.
A few steps away, at an exhibit organized by biology professor Fred Nijhout, Shelton's 2-year-old son Jameson studied the bright colors and patterns of assorted butterflies and then colored in pictures. Shelton, who earned her master's in sociology from Duke, said she was "really happy" her son was receiving so much attention from the faculty and students running the university's exhibits.
Festival organizers designated Nijhout's butterfly exhibit as among the most kid-friendly of the more than 1500 interactive activities, which also included Derek Leadbetter's physics demos and Brian Hare's "Are you smarter than an ape?" games on display at Duke's site during the two-day event.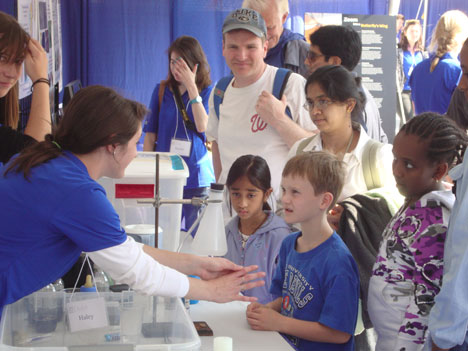 Above, Haley Barrier helps children learn about CO2 and chemistry. Below, Kanchan Chauhan teaches young students about the principles of physics.