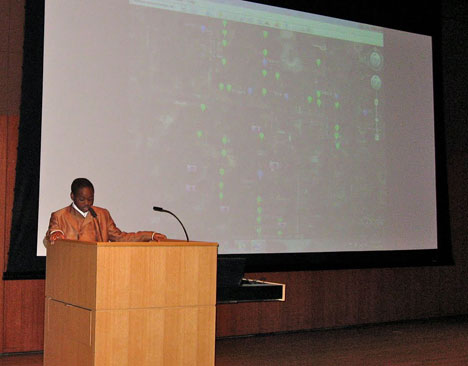 Sharply dressed middle school students from the Walltown-based Carter Community Charter School fidgeted in the first row of the Nasher Museum auditorium this past Thursday. For several weeks, the young students had become historians and computer scientists to resurrect Walltown's past.
Now, as the auditorium filled with dozens of community members, Carter staff and students, and Duke faculty and employees, the students prepared to make that past come alive again.
Using a mix of Web 2.0 narration and an old-fashioned microphone, the students walked their audience through the Walltown Neighborhood History Project, a Duke-sponsored summer camp that taught them how to use tools such as census data, property records and mapping technology to create a digital representation of Walltown as it was 80 years ago.
"We wanted to use historical materials to re-create what this neighborhood was like in 1930, to get a sense of who was in the neighborhood in the last year that George Wall, founder of Walltown, was living," said Trudi Abel, the Duke faculty member who led the project. "It's incredibly gratifying to see the breadth of support this project has received, and to see now the product of the hard work on the part of these incredibly gifted students."
Abel, the creator of Digital Durham, pulled together support from Duke's Office of Durham and Regional Affairs and other sources to turn her idea for the camp into a reality. She also enlisted DukeEngage intern Casey Dunn, a mechanical engineering student
Dunn, a rising sophomore from Idaho, said the Walltown Neighborhood History Project allowed him to learn more about Durham, especially this small neighborhood bordering East Campus. He designed curriculum to teach the middle school students Excel, Voicethread, Google Maps,and Google Earth skills as well as lead the Science Thursday classes.
"We love looking at census data, but I would be lying if I said we wanted to do that every day," Dunn said during the presentation. "And I think the kids would agree with me."
Dunn encouraged the students to think critically during the camp, challenging them to make things such as propeller-powered cars and devices to keep eggs safe when dropped from a high distance. A slideshow demonstrated how the students rose to those challenges.
The presentation at the Nasher closed with a thank you from Carter Principal Gail Scott Taylor, who said the Walltown Neighborhood History Project had inspired her and her staff to continue challenging their students.
"How can we continue to engage the community? How can we challenge ourselves to continue to extend the learning for our students, not just the ones sitting here, but K through 8?" Taylor asked of her staff members in the audience. "We have some great ideas going in to this school year."