Nobel Laureate Yunus Urges Duke Graduates to Serve Others
Muhammad Yunus called on the graduates to dedicate their lives to addressing social problems instead of focusing solely on personal profit.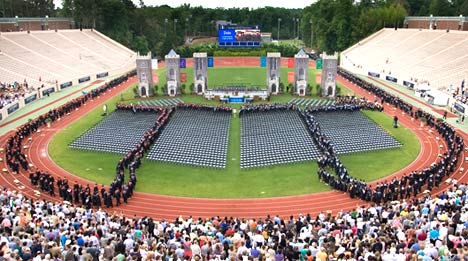 A Nobel laureate who says "yes" to the world's poor and a graduating student who embraces "yes, and -- " as an approach to life sent Duke University's Class of 2010 out into the world Sunday at the university's annual commencement ceremony in Wallace Wade Stadium.
Speaking under an overcast sky, Muhammad Yunus called on the graduates to dedicate their lives to addressing social problems instead of focusing solely on personal profit. "Each individual, each human being, has enormous power to change the world. You have it. Are you going to use that power to change the world?" he asked.
Yunus, a Bangladeshi banker and economist who won the 2006 Nobel Peace Prize for his pioneering use of microfinance to assist the poor, urged Duke's graduates to measure their lives not by how much money they earn but by how much they help others.
"Poverty is not created by poor people," he said. "Seeds of poverty are not in the person; seeds of poverty are in the system."
Saying he was pleased to receive an honorary degree in a year when "not many universities are giving honorary degrees to bankers," Yunus described how his organization expanded recently into New York City, opening a branch in Queens that has successfully made multiple micro-loans to people of modest means, even as a financial crisis rocked large banks that rarely make such loans. "You tell me who is not credit-worthy now," he said.
Yunus, 69, is the author of several books, including the recently published "Building Social Business: The New Kind of Capitalism that Serves Humanity's Most Pressing Needs."
His speech highlighted the annual ceremony in which the turf of Duke's football stadium is transformed into a stage set of faux towers seemingly built with Duke stone. Graduates wearing caps and gowns entered the stadium to the sounds of Edward Elgar's "Pomp and Circumstance" and cheers from their families and friends. Cameras continued flashing around the stadium as the graduates were followed by faculty members wearing academic regalia and university officials bearing a shiny mace and other traditional symbols.
President Richard H. Brodhead presided over the 10 a.m. ceremony, at which Duke awarded degrees to about 1,500 undergraduates and nearly 2,100 graduate and professional students who graduated this spring. An additional 900 students who graduated in September or December 2009 were also invited to participate.
The deans of Duke's schools presented the graduates for Brodhead to formally bestow their degrees, with each group rising in the stadium. The largest group was Trinity College graduates receiving their undergraduate degrees, who cheered exuberantly when their turn finally came near the end of the ceremony. "Not so fast, it's still not official," Brodhead joked before conferring their degrees.
"As you write the story of your life, I hope you will build on the hopes and aspirations that you built on this magical campus," Brodhead told them. "Now it's your turn to help build the world as you think it should be."
The university also awarded honorary degrees to Yunus and four other recipients, with Brodhead describing the accomplishments of each. The others were Temple Grandin, an autism expert and professor of animal science at Colorado State University; Joel Klein, chancellor of the New York City Department of Education; Alasdair MacIntyre, senior research fellow at the University of Notre Dame's Center for Ethics and Culture; and Sir John Pendry, an English theoretical physicist.
Prior to the degrees being awarded, graduating senior David Distenfeld spoke humorously about how graduates might learn from the improvisational technique of saying "yes, and -- "
" 'Yes, and -- ' teaches us to not just accept the world as given but also to make it a better place," said Distenfeld, a psychology major and Duke University Improv member from Rockville, Md., who was selected to speak by a committee of students, alumni, faculty and administrators.
Describing how Improv actors build on each other's comments by saying "yes" and then adding their own "and -- ," Distenfeld said Duke promotes the concept by providing "an amazing opportunity to challenge ourselves academically, and just as important, a chance to build on it outside the classroom."
He cited Duke examples ranging from American Idol judge Kara DioGuardi to the development of an engineering "invisibility cloak," joking in the latter case that "You may not believe this, but Coach K has been standing next to me here the entire time. Hi Mike."
Distenfeld closed by saying, "Wherever we go and whatever we do after graduation, our fellow 2010 Duke graduates will always be there, always ready to chime in with that 'yes, and -- ' "
The ceremony in Wallace Wade was webcast live and will be available for subsequent viewing on Duke's online video site, Duke on Demand. A live Twitter feed during the event included comments from proud parents and others, such as one from "LdotFish" who tweeted, "may be tearing up a bit picturing all of the 2010ers at commencement. FOREVER DUKE."
The ceremony highlighted a weekend of graduation activities across the Duke campus. Duke's graduate and professional schools held commencement ceremonies with speakers ranging from F.B.I. Director Robert S. Mueller III at the law school to L. Gregory Jones addressing the divinity school for a final time as its dean. In his baccalaureate speech delivered Friday and Saturday, Brodhead called on the 2010 graduates to embrace the "perpetual push toward broader engagement and deepened understanding that will be your life after Duke."
Additional information about Duke's commencement ceremonies is available at http://web.duke.edu/commencement.