Studying Sociology Through Service-Learning
Duke and NCCU pair up for hands-on learning and collaboration in the community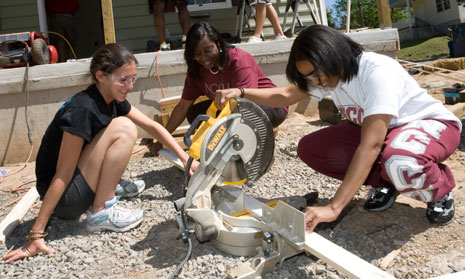 How do you teach students at an elite institution like Duke University about critical social problems such as poverty, health disparity and economic inequality? One solution is to go outside the classroom and directly into the community where students can make connections between the concepts they're learning in class and the realities of life.
That's what sociology professor Rebecca Bach did with students in her class, "Contemporary Social Problems." But she took it one step further and sought out collaboration with Dana Greene, a colleague and sociology professor at nearby North Carolina Central University. Bach and Greene wanted to introduce sociology students from the two universities to each other through specific service-learning programs in the Durham community.
Bach says the collaboration was an opportunity to forge ties between Duke and NCCU, and start a dialogue between the universities and the greater Durham community.
"We can both benefit from the sharing of ideas and resources," she says.
Bach and Greene met in the fall to talk about how they might collaborate for the spring semester. Greene's class, "Environment, Economy and Society," covers similar issues as Bach's, but due to scheduling differences the courses are held at separate times. However, the two professors selected four service-learning sites where students from Duke and NCCU could meet and work together: the John Avery Boys & Girls Club of Durham, Walltown After School Program operated by Durham Parks and Recreation, the Habitat for Humanity ReStore and a Habitat House in Durham.
Bach, who had not previously taught her course as a service-learning class, felt that adding the service component helped drive home theoretical concepts for her students. Her course was supported by a grant from Duke's Service-Learning Program.
"The course is about really serious, major social problems and we haven't been successful as a society or community to make much headway on them," she says, explaining that her course covers issues such as poverty, homelessness, racism and inadequate schools. "I wanted students to feel a sense of empowerment in that they could make a small difference and I want them to begin to think about how to turn these problems around."
Greene has always taught her class as a service-learning course, but this was the first time she combined it with Bach's students from Duke at four locations in Durham.
"It has broken down barriers between our departments and helped the students to realize there aren't as many differences between each other as they thought there were," Greene says.
Greene says her students have genuinely appreciated the collaboration with Duke and seen the impact their work has had in the community.
"The kids (at John Avery Boys & Girls Club) have been telling my students that 'look, we didn't think we could go to college, and now we can,'" she says, adding that children see a predominantly black university partner with a predominantly white university and realize they can do this, too.
Ashley van Arkle, a student at NCCU, agrees.
"The students will see Duke and Central students together and say, 'You are both here. If I can go to Central, I can go to Duke just as easily,'" she says.
Blaire Steiger, a first-year student at Duke from California, says taking Bach's class gave her a unique opportunity to get to know Durham and a group of students outside Duke.
"Even though we're at different schools, we're similar and both want to help out the community," she says. "Having the service-learning to solidify the topics we're talking about in class -- to see the real life application -- is really rewarding and it takes all the subject matter to the next level."
Dolores Byrd, a third-year sociology major at NCCU, says not only did the service-learning class give her the opportunity to give back, but to learn something from the children she worked with.
"You think you're going to go and teach the kids something, but in reality you end up learning a lot more from the kids," she says.
The feedback from their students and success of the course this semester has led Bach and Greene to want to teach the course again in the fall term.
"When (the students) get the exposure in the community and see the lack of resources and kids struggling with their schoolwork, they begin to have a better understanding of the influence of the social structure on individuals," says Bach. "I think the service-learning component of the class has been very successful and I'm definitely going to continue with it."
"As a whole, this experience has really made my class experience a whole lot richer," says Greene. "It has brought the course materials to light and my students are having that 'aha moment' a lot earlier, being in the community, seeing and doing and putting sociology into action."