David Malone Talks Service-Learning in 'Office Hours' Webcast Interview March 26
The director of Duke's Service Learning Program will take questions about the intersection of classroom and community during the online conversation at noon Friday.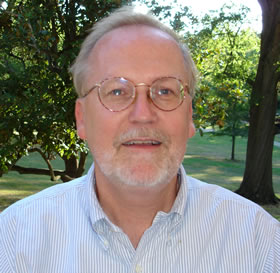 David Malone, director of Duke's Service-Learning Program, will take questions from online viewers about the "learning" that takes place in service-learning during a live "Office Hours" webcast interview beginning at noon Friday, March 26, on the Duke Ustream channel.
Viewers can submit questions in advance or during the session by e-mail to live@duke.edu, on the Duke University Live Ustream page on Facebook or via Twitter with the tag #dukelive.
As the head of service-learning, Malone supports faculty in developing the more than 50 Duke courses that use community service work as part of their curricula. He was a member of the committee that recently produced the report "Engaging Excellence: A Report Concerning Civic Engagement at Duke University" that applauded service-learning initiatives such as DukeEngage, but said civic engagement should be more coherently and explicitly linked with the university's core missions of research and education.
Malone also teaches courses on literacy and educational psychology in the Program in Education, where he is an associate professor of the practice and director of undergraduate studies.
Office hours at a university are times when professors leave their doors open for individuals to stop by and discuss issues ranging such as current events and developments in their fields. Duke's "Office Hours" series aims to bring the expansiveness and sparkle of these conversations to anyone with an Internet connection and an interest in the ideas bubbling up at Duke. To date, topics have ranged from race and medicine to the New Testament, the legacy of Michael Jackson and the state of Muslim Americans since 9/11. You are invited to join the conversation.