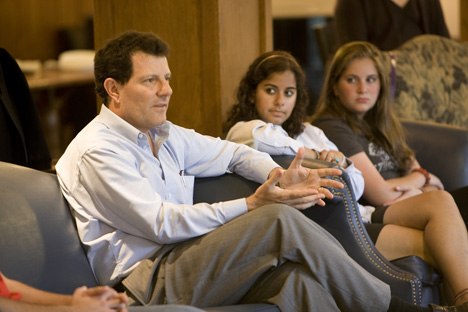 Pulitzer Prize winner Nicholas Kristof told a group of students Thursday that he didn't intend on writing about the status of women. It's just that women's empowerment proved to be at the center of every topic that he cared about.
"I am interested in human rights," he said, speaking to a group of about 30 Baldwin Scholars and students involved with WISER (Women's Institute for Secondary Education and Research), a women's education project in Kenya. "And it appeared to me that many of the worse abuses have a gender component. I don't see many men getting acid thrown in their faces.
"And I am interested in global poverty, and I kept seeing all this evidence that raising the education and status of women was essential to reducing poverty.
"I also think there is a specific value about a man reporting on women and saying this is important. If only women write about women's rights, it will remain a marginalized issue."
Kristof met with the students in the Mary Lou Williams Center prior to his Thursday night speech in Page Auditorium. (For the Chronicle story on his talk, click here.)
The New York Times columnist reports on global issues. With his wife, Sheryl WuDunn, he has written Half the Sky: Turning Oppression into Opportunity for Women Worldwide, which argues that boosting the status of women is one of the easiest and most effective ways of fighting global education.
The talk was sponsored by the Baldwin Scholars, which promotes women's leadership on campus, and WISER, a student group that collaborates with a women's organization in Muhuru Bay, Kenya, to support women's education there.
Kristof took questions from the students ranging from the ethics of identifying women in the stories to his thoughts on effective development work.
"One of the areas where I probably differ from many people with interest in these issues is on globalization," Kristof told the students. "I'm for whatever works, and in general the rise of manufacturing in these countries has improved the status of women there. I have concerns about working conditions, but in large, these jobs give women economic power and transform the way they are seen."
He also said praised WISER for approaching women's education on the ground in Kenya. Kristof said one concern he had with Western aid groups is too often they are less effective and more expensive than similar work done by groups within the country. WISER was co-founded by Rose Odhiambo, a Muhuru Bay native and a faculty member at Egerton University in Kenya.
"One of the benefits of WISER is that you are out there in Muhuru Bay doing something," Kristof told the students. "That's a great way to learn what works."