Oprah Winfrey Urges Duke Graduates to Help Others Move to 'Higher Ground'
"You really haven't completed that circle of success unless you have helped someone else to move forward," Duke's 2009 graduates were told.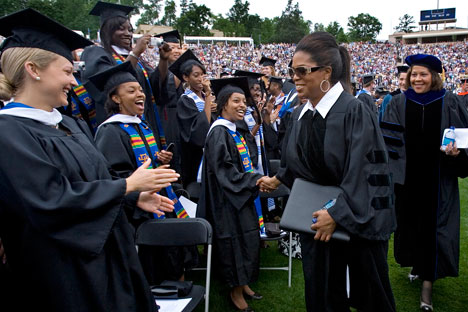 Cameras flashed across Wallace Wade Stadium Sunday as media entrepreneur and philanthropist Oprah Winfrey urged graduates at Duke University's 157th commencement to "trust your gut to help you stand proudly in your own shoes while you help others stand in theirs."
"Of all of the wonderful things that have happened to me, including receiving an honorary degree from Duke -- you really haven't completed that circle of success unless you have helped someone else to move forward," Winfrey told a larger-than-usual crowd of graduates, families and friends under an overcast sky. "How can I help somebody else move to higher ground? That is success. That's it. That's why we're all alive." (For the full text of Winfrey's address, click here.)
She appeared to cheers and a shout of "We love you, Oprah," to which she responded: "You love me even though I'm a doctor now?" She then urged mothers in the audience to rise for Mother's Day and extended personal congratulations to her godson, William Bumpus, a graduating senior and son of Winfrey's friend Gayle King. "Will never wants people to know he knows me," Winfrey joked. "I'm like his crazy aunt that they let out at commencements."
In her speech, which was carried live on CNN.com and Oprah.com as well as on Duke's website, Winfrey shared stories about interviewing celebrities as diverse as Hugh Jackman and Nelson Mandela, as well as ordinary people who she said often inspired her even more. She returned repeatedly to her theme that "one of the best ways to enhance your own life is to enhance somebody else's."
She also emphasized the need to make wise choices daily, saying, "Each of us has to stand in our own shoes. Will you stand in them in humility and compassion and courage? Every day will give you a chance to make that choice."
Duke President Richard H. Brodhead awarded Winfrey an honorary doctor of humane letters degree. He also conferred honorary degrees on economist-educator Susan Athey, Nobel geneticists Michael Brown and Joseph Goldstein (a team who received one degree), higher education leader James Moeser, Nobel chemist Mario Molina, business executive Indra Nooyi and pianist Murray Perahia.
Winfrey was preceded by student speaker Robert Paul Jones, who teased her about her celebrity. Pretending to be interrupted by a cell phone call as he began his remarks, Jones said, "Ms. Winfrey, apparently your limousine is double-parked in front of the chapel. Duke Parking wanted me to let you know they won't release your honorary degree until you pay your parking fine."
A 2002 Duke graduate and St. Louis native who returned to Duke to receive his medical degree, Jones went on to describe Duke as a special place where students can learn from inevitable failures and grow as scholars and people.
"We all have past embarrassment, but we ultimately recover," Jones said. "I think there is empowerment in acknowledging one's imperfection. -- In my time at Duke, I've learned that my failures of action do not equate to my failure as a person."
"Duke has served as the frame in which we write our stories. [It] has simply asked that we never paint by numbers," said Jones who was selected from one of the largest pools in years by a committee of students, alumni, faculty and administrators.
Held against a backdrop of faux towers in Duke stone, the ceremony proceeded more quickly than in previous years as the schools awarded all their degrees at once rather than in program groups.
"Through the years, Duke graduates working in every field have made the world a better, smarter, more humane place through the application of their powers," Brodhead said in his opening remarks. "Now it's your turn. Today we celebrate the end of your preparation and release you to make your contribution to your times."
For the first time, Duke presented the ceremony live on Twitter. It also took special precautions in response to the H1N1 influenza outbreak, offering hand sanitizers and preparing contingency plans to deal with the possible health care needs of graduates and guests. More information about Duke's preparations can be found at www.duke.edu/flu2009.
The ceremony highlighted a series of weekend activities that began Friday afternoon with the first of three baccalaureate services in Duke Chapel. President and Mrs. Brodhead hosted a reception in the Sarah P. Duke Gardens on Saturday afternoon, and individual schools and departments held ceremonies across the campus, several of which included talks by notable speakers. Details are available on a commencement website; additional information about this year's graduates is available here.