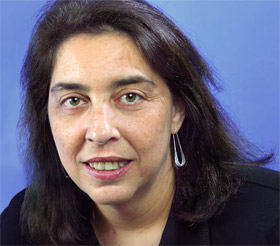 Sarah Cohen, a Pulitzer Prize-winning reporter and expert on computer-assisted investigative journalism, has been named to the Knight Professor of the Practice of Journalism and Public Policy at Duke University.
Cohen, database editor at The Washington Post since 1999, will lead a computational journalism initiative spearheaded by Duke's DeWitt Wallace Center for Media and Democracy (DWC). The center is focusing its scholarship and teaching on exploring new models for news organizations in the Internet age. DWC is a program of the Sanford Institute of Public Policy, which is slated to become Duke's 10th school on July 1.
"Watchdog journalism is increasingly at risk in the media marketplace," said DWC Director James T. Hamilton. "We hope that the Knight Chair will help sustain investigative reporting through the emerging field of computational journalism. This holds the promise of combining traditional public records and database work with new methods and tools adapted from other disciplines to help renew watchdog coverage. Sarah Cohen is the ideal person to fill this chair."
In addition to teaching undergraduate courses, Cohen will help lead the development of open-source reporting tools that will help lower the costs to journalists of discovering and researching stories, Hamilton said.
Cohen shared the Pulitzer Prize for Investigative Reporting in 2002 for The Post series, "The District's Lost Children," which uncovered failures by child welfare agencies that contributed to dozens of children's deaths. In 2007, she was a finalist for the Pulitzer Prize in Public Service for her role in "Harvesting Cash," a series of more than 20 articles that spotlighted abuses of the U.S. farm subsidy system.
She also shared the 2009 Goldsmith Award for Investigative Reporting for a series about landlords driving tenants out of rent-controlled housing and then redeveloping the properties. She has taught journalism courses at the University of Maryland and is the author of "Numbers in the Newsroom: Using Math and Statistics in News."
"I'm thrilled to contribute to Duke's ambitious effort to preserve and expand investigative journalism," Cohen said. "Reducing the cost and difficulty of accountability reporting is a crucial element of that mission."
Before joining The Post, Cohen conducted more than 100 sessions as training director for Investigative Reporters and Editors, a nonprofit dedicated to improving the quality of investigative reporting through training and sharing newsgathering techniques. She also was a reporter at the St. Petersburg Times and The Tampa Tribune. She earned her undergraduate degree in economics at the University of North Carolina at Chapel Hill, and was an economist at the U.S. Bureau of Labor Statistics before earning her master's degree in journalism at the University of Maryland in 1992.
Cohen is the second Post journalist tapped in the last two weeks to join the DeWitt Wallace Center. Philip Bennett, former Post managing editor, also will teach at Duke beginning in the fall of 2009.
Eric Newton, vice president of Knight Foundation's journalism program, said, "We need a constant stream of new, powerful digital tools to help us know what we need to know in the 21st century to run our communities and our lives. We're delighted that a brilliant journalist and an extraordinary university are going to take on the task of creating them."
The Knight Chair at Duke was established in 1990 by a gift from Knight Foundation. Washington Post columnist William Raspberry held the post from 1995 until his retirement in June 2008. Knight Foundation has established two dozen endowed chairs in journalism at top universities nationwide to teach innovative classes, create experimental projects and new programs and help lead journalism excellence in the digital age.