Duke Appoints New Campus Police Chief
Former officer John Dailey to return April 1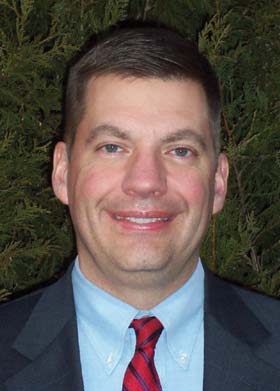 John H. Dailey, a Durham native who began his law enforcement career at Duke, will return to Duke as chief of police April 1.
Dailey, 44, succeeds former Duke Police Maj. Robert H. Dean, who retired as director last year.
Dailey was selected through a national search, led by a committee comprised of Duke undergraduate and graduate students, faculty and staff, including Duke police officers, the vice president for institutional equity and the assistant vice president for student affairs.
"John has a strong affinity for Duke and a good understanding of Duke and our police department," said Kemel Dawkins, vice president for campus services. "The search committee was impressed by his commitment, credentials and energy, and believes he will be an asset for the Duke community."
Dailey joins Duke after serving as assistant police chief at North Carolina State University since 2001. He worked at Duke from 1993 to 2001, working his way up from police officer/sergeant to lieutenant and police team leader, then captain for administrative services.
"I am honored to be part of this great institution and look forward to working with the talented members of the Duke police department," Dailey said. "Duke is an amazing place. I met my wife at Duke, and my children were born at Duke Hospital."
When he was first at Duke, Dailey worked with students to develop an alcohol education program designed to teach students about impairment and the relationship between alcohol and behavioral choices.
"John has always been someone who has looked out for the best interest of the students and the institution," said Sue Wasiolek, assistant vice president for student affairs and member of the search committee. She met Dailey more than 20 years ago when he worked at Duke as a high school student. "Duke will be greatly enhanced by his presence because I don't think he views his job as a job; he considers it a way of life."
While at Duke, Dailey also sought ways to enhance the professionalism within the Duke police department, including encouraging customer service. He won the Commitment to Excellence Award from the North Carolina Association of Campus Law Enforcement Administrators in 1998.
Dailey's interest in police work began at an early age, which prompted him to start work as a security officer for Duke Police over the summers while he was in high school and college.
After graduating with a bachelor's degree in business from Wake Forest University in 1987, Dailey spent six years in the U.S. Army, serving in Germany and Virginia. He received a master's degree in public administration from North Carolina State University.
The search committee was impressed with his credentials and prior experience, particularly his work with students.
"He cares a tremendous amount about Duke," said Jordan Giordano, the Duke Student Government executive vice president who served on the committee. "He has a good understanding of the needs of Duke students and the Duke community. Duke is a very unique place and Durham is unique, so it's important that the police chief have experience with both, and he already does."
Dailey is married to Kimberly DiDonato, who served as Duke's assistant dean of student development from 1997 to 2001. They have three sons, ages 3, 6 and 8 and reside in Apex.