Marshaling the Troops
New organization supports Duke military vets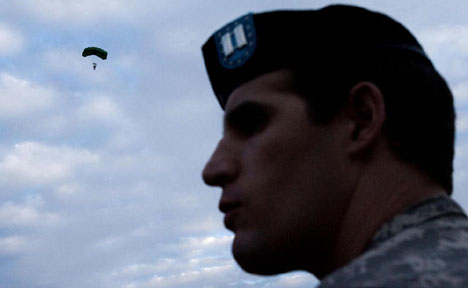 U.S. Army Maj. Mike McInerney knows how to marshal the troops -- even when they're Duke staff members and fellow students.
Before the Duke-Navy football game last September, McInerney and more than 100 other Duke students with military backgrounds gathered for a tailgate party outside Wallace Wade Stadium. That simple gesture by Duke's ROTC, student affairs and athletics departments to honor students with military affiliations may have forever changed campus life for Duke's student veterans.
"I realized there were quite a few veterans at Duke that I didn't know existed," said McInerney, a graduate student. Before the tailgate party, he said, "I was one of only two at Duke I knew about."
The gathering inspired McInerney, a West Point graduate and 10-year Army veteran, to do something about the long-standing disconnect among veterans at Duke.
Within weeks of the event, McInerney had designed and posted a website to recruit Duke vets. The West Point graduate began collecting information about services and benefits for Duke students now or previously affiliated with the military. And he met with Duke administrators about getting official approval for a student veterans group, which resulted in the newly formed Student Veteran's Association at Duke University.
While military veterans have largely existed under Duke's radar, McInerney's efforts reveal a larger initiative at Duke to meet the needs of students with military backgrounds. Those needs will likely grow as a more comprehensive GI Bill takes effect this August. The Post-9/11 Veterans Education Assistance Act of 2008 increases the tuition benefit and adds a housing stipend for those who served in the military after Sept. 11, 2001.
The Student Veterans Association will help get the word out about the aid, as well as other services to aid student veterans.
"The new GI Bill increases the benefits to student veterans immensely," McInerney said. "A lot of vets are not even aware that that's happened."
McInerney also wants the group to act as an informal support network. For many of his graduate school colleagues, he said, "I'm the first person in the military they've met. -- It's hard to find someone to talk to."
Strengthening that support network is increasingly important among war veterans. The Army is investigating a drastic increase in suspected suicides in January, with seven confirmed cases and another 17 under investigation. The Army reported only five suicides in January 2008.
More than a year ago, an Iraq war veteran working on his Ph.D at Duke committed suicide, leaving a wife and toddler to grieve. That touched many at Duke deeply, among them Larry Moneta, vice president of student affairs.
"I erroneously presumed that veteran support issues were at institutions with more non-traditional undergraduate learners and wouldn't be a Duke issue," Moneta said. "I discovered that's not the case."
The Office of Student Affairs is pushing to formalize veterans' programming as part of Duke's new student orientation and is working to add military status to the admissions information collected by Duke's schools. Dean of Students staff members are designing a campuswide half-day workshop on serving veteran students.
Moneta's office has collaborated with Col. Mark Tribus, the Army ROTC leader at Duke, on how to reach student veterans. Moneta has also connected with the VA Hospital and Counseling and Psychological Services at Duke to come up with an organized approach to serving students with military backgrounds. McInerney has been part of some of those meetings.
"Duke does want to support veterans," McInerney said. "Duke needs to know how to do that most effectively."
For more information on the Student Veteran's Association, visit dukevets.org. There is no cost to join the organization.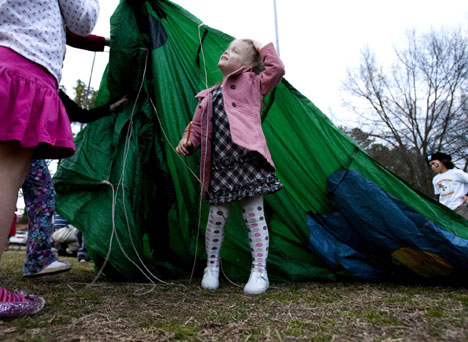 Three-year-old Lucy Miner frees herself from under one of the parachutes used during the Duke Armed Forces Club parachute drop. After being under the chute for a while and having other children billow the chute, she exlaimed, "Hey somebody put ropes in here!" Lucy is the daughter of a 2nd-year Fuqua student. Photo by Jon Gardiner