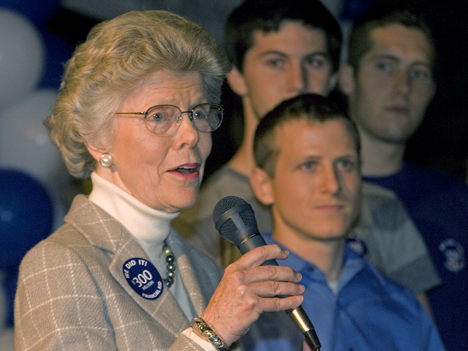 Duke University's Financial Aid Initiative, publicly launched three years ago to raise at least $300 million in new endowment for financial aid, has reached its overall goal, President Richard H. Brodhead announced Friday evening.
 "Through this campaign, generous donors have invested in Duke students for generations to come," Brodhead said. "Duke has a fundamental commitment to selecting students on grounds of talent and character, not their family's ability to pay. The uncertainty in the economy makes it more important than ever that we be able to stand by this commitment. Thanks to the success of the initiative, we have ensured that a Duke education will remain affordable and accessible to all students and families."
 As of Nov. 7, gifts and pledges to the initiative totaled $301.1 million: $221.4 million for need-based undergraduate scholarships, $19.2 million for athletic scholarships, and $60.5 million for support of graduate and professional students.
 Brodhead made the announcement at a student celebration on the West Campus Plaza organized by members of the Financial Aid Initiative's Student Advisory Council. Said senior Andrew Tutt, one of the celebration's chief planners and a member of Duke University Improv, which emceed the event, "This is a celebration of the role financial aid plays in the life of the university and a way of allowing the whole campus to show solidarity with the cause of making college accessible to anyone."
 "We're so proud of Duke and its supporters for strengthening Duke's financial aid program to benefit today's talented students and generations of students to come," said Sally Dalton Robinson, who attended the celebration. She and fellow alumnus G. Richard Wagoner Jr. serve as co-chairs of Duke's Financial Aid Initiative.
 As part of its ongoing commitment to make high-quality undergraduate education more affordable, Duke last December introduced a series of enhancements [http://news.duke.edu/2007/12/financialaid.html] to its need-based undergraduate financial aid program that took effect in the 2008-09 academic year. These enhancements included eliminating the parental contribution for families with incomes less than $60,000; eliminating loans for families with incomes less than $40,000; reducing loans for students from families with incomes up to $100,000; and capping loans for eligible families with incomes above $100,000.
When announcing the enhancements, Brodhead said the increased investment in financial aid was made possible because of contributions to the Financial Aid Initiative and earnings on the university's endowment.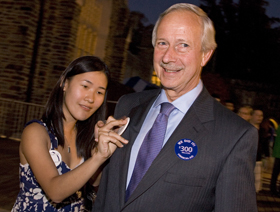 Duke junior Jennifer Kim, secretary of Duke's Financial Aid Initiative Student Advisory Council, places a pin on President Richard Brodhead's lapel prior to his announcement that the initiative had surpassed its $300 million goal. Photo by Chris Hildreth
Duke's current budget includes $86 million -- a 19 percent increase from the 2007-08 budget -- to support Duke's undergraduate financial aid program and fund these enhancements. About 45 percent of undergraduates receive financial support to attend Duke; about 40 percent receive need-based aid. For more than a decade, the percentage increase of Duke's financial aid support has far outpaced the percentage increase of tuition.
Duke is among a small number of schools across the country with a need-blind admissions policy that admits students without regard to their ability to pay. It commits to provide a full financial aid package to every student enrolled at Duke who demonstrates need.
In his 2004 inaugural speech, Brodhead identified increasing the university's endowment for financial aid as one of his highest priorities. Duke's Financial Aid Initiative was launched in December 2005. In support of this effort, The Duke Endowment of Charlotte contributed $75 million and a small group of donors contributed another $25 million to create a $100 million challenge fund that matched many new financial aid endowment gifts dollar for dollar. Duke still needs to raise $8.6 million to reach the largest component of its $300 million goal: $230 million for need-based undergraduate scholarships. The initiative is scheduled to end on Dec. 31, 2008.
To learn more about Duke's Financial Aid Initiative, visit http://development.duke.edu/fai.