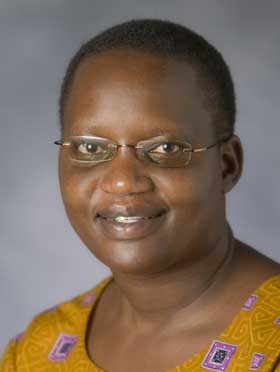 It has been more than two decades since Rose Odhiambo left her small Kenyan village against her family's wishes to get an education. Young girls must still walk two hours to bring water back to the family before they can head to classes. Teachers still attempt to take female students as second or third wives.
Odhiambo co-founded WISER to help the girls of Muhuru Bay, Kenya, so that their futures can be different. And Duke faculty and students are helping to make that vision come true.
The director of the Institute for Women, Gender and Development Studies at Egerton University in Kenya, Odhiambo was recently on campus to discuss WISER, her own story and why promoting women's education is one of the great hopes for development in Africa.
The program started when Odhiambo met with Duke biologist and global health faculty member Sherryl Broverman. The two envisioned WISER as a multifaceted program using students from Duke and Egerton to address health, community development and education issues in Muhuru Bay.
In one case, Duke students raised money to get one promising student out of an arranged marriage so she could continue her education. Their main current project is raising funds for a new girls school, community center and HIV education program in Muhuru Bay.
During her visit, Odhiambo talked with Geoffrey Mock of Duke Today:
Question: Can you tell us a little about your personal story and how that has influenced your work with WISER?
Odhiambo: The WISER program is in the same village where I grew up. Each day, before I went to school, I had to fulfill all the chores that girls were expected to do. This includes walking two hours to Lake Victoria to bring water back to the home. It's the only source of water for the family, and you would not be allowed to go to school if the family didn't have water. I would also have to prepare lunch for the family members before I headed to school.
One thing I did have is support from several of my teachers. Several of them kept telling me I was an exceptional student and encouraged me to keep studying. My father was a leader in the community, so the teachers respected me. I didn't suffer the kind of harassment that a lot of the girls received in school from the teachers. From grade four on, many girls were molested by teachers. That didn't happen to me.
When I finished at the local school, I got government support to go to a top school, an international school in Kenya. That was the first time I was surrounded by girls who were interested in learning and had been supported in their education. They wanted to become doctors and lawyers and I realized that I could have a profession.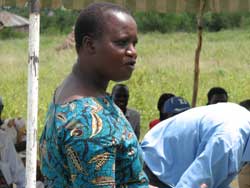 Rose Odhiambo in Muhuru Bay.
But after I had finished high school, my parents, who had supported sending me to the school, said it was time for me to come home and get married. I asked them "To whom?" because I had never given it any thought. And they told me they had arranged for me to marry someone as a second wife. He was much older than me.
The day of the wedding, I woke up very early. A big ceremony was planned and everyone in the community was expected to come. I got up at daybreak and went out and got on a vehicle -- public transportation -- and left. My parents didn't realize I had left until it was time for the visitors to arrive.
It was the worst experience of my life. For almost five years, I was not on talking terms with my parents. I had the hardest life. I lived in a slum.
With support from friends, her boyfriend and a government scholarship, she was able to graduate from college and get an advance degree even as she got married and had a child -- the first of four boys. When she graduated from college, her parents, having reconciled with her, came to watch her get her degree.
Q: How is WISER changing that kind of story for the young girls there?
Odhiambo: The problem is still very large, but WISER is helping to bring change. People believe it is their culture that girls are a source of livelihood. The area is dry, poor and marginalized. It has one of the highest rates of HIV in Kenya. So most parents, whenever someone is sick, whenever things are tough, they see the girls as a source of income. They try to link her up with a teacher, someone who has an income. That's the way they are able to take care of themselves.
When I come to the school there with the WISER students, the girls that are there come to me, and they ask, "Where did you go to school?" And I tell them, "Right here." And the next question is "Did your father support you?" because most of them really want to go to school, but they don't get the support of the parents.
WISER has been important. When the Duke students first came, our children saw the boys interacting positively with the female Duke students, and they, not just the village's girls but also the boys, saw possibilities of a different life. The girls saw it was possible to have a profession, to have careers and not just planning on getting pregnant. And the teachers learned more to start restraining themselves.
WISER also teaches the girls about health issues, about how to care for their bodies. In a village that had no electricity, WISER has brought solar panels (for a computer lab at a local secondary school). We're able to get electricity, and students are getting used to computers.
The girls still have to go every day to the lake to get water. (Note: WISER is planning a community pipeline.) A lot of things haven't changed. But WISER has opened the eyes of the children. The future will be different.