This fall, 17 Duke students and 14 students in Shanghai, China, are journeying together through a "metaverse" of online virtual worlds. Their goal: designing and building their own three-dimensional worlds using technology being developed at Duke.
The class -- "Constructing Immersive Virtual Worlds," part of the Information Science and Information Studies program -- started in August and connects Duke students from engineering, visual studies and computer science with a class from East China University of Science and Technology (ECUST) via web and video conferencing.
"We're knocking down the wall between our classrooms, using conferencing technologies available to anyone at Duke," said Julian Lombardi, a senior research scholar and assistant vice president of Duke's Office of Information Technology. "We're experimenting with classroom virtualization as a way of fostering connections between students that lead to cross-cultural dialogue about emerging virtual worlds."
From this shared "virtual classroom" -- based in the new teaching and learning center at the Link in Perkins Library -- Lombardi and his fellow instructor Mark McCahill act as guides on a Matrix-like tour through different cyberspace cultures and the technologies that make them possible.
"At any given time, there are tens of millions of people in virtual worlds," Lombardi said, noting places ranging from Second Life, Club Penguin and The Sims Online to fantasy realms set everywhere from medieval Europe to J.R.R. Tolkien's Middle Earth.  "Right now these worlds don't interact with each other, but eventually they will."
The class takes an unusual approach, described by Lombardi as "technological immersion." He encourages students to "pass notes" during class via instant-message "chats." The class shares links to video clips on their computer screens; the web is their only textbook. Their homework is to venture into new virtual spaces, look for those who are "pushing the edge," and document their experiences through chat, online discussions, videos and machinima -- animated "movies" they create within 3-D virtual worlds such as Second Life.
The mission is to use technology to encourage interactivity with students half a world away.
"One of our goals is to push the technology as far as we can," said McCahill, an OIT systems architect. "It's a grand experiment. How do we ship this experience to people on the other end of the wire and have them interact with us?"
Xunlei Wu, a senior visualization scientist at the Renaissance Computing Institute (RENCI) center at Duke and an East China University of Science and Technology alumnus who worked with Lombardi and Chinese professor Shandong Tu to arrange the class. The Chinese university invested more than $32,000 in microphones, cameras and other computer and audio-visual equipment for the class. At Duke, Wu and OIT staff help troubleshoot during class sessions.
Challenges include the 12-hour time difference (the class starts at 7:15 a.m. in China) and ensuring the occasional technical difficulty doesn't stifle students' enthusiasm.
"They're still a little bit scared, worrying about their English and not sure when to raise their hands," said Wu, who acts as an occasional translator. "But they're very enthusiastic. Our goal is to try to get the platform as smooth as possible so we don't kill their passion."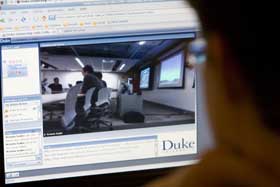 The ISIS class is using technology in the new Link classroom space to help students create virtual worlds and communicate with students in China.
Though the Chinese students are accustomed to a much more traditional classroom experience, they've embraced the technology so far.
"They really, really want to participate and explore it," said Rafael Cordero, a senior chemical engineering major at Duke.
Online "chats" and interaction in 3-D virtual worlds in class have facilitated impromptu international discussions among students. "If the professor wants to steer the class in another direction but we didn't feel we were finished with that particular discussion, we could just continue that branch (in a chat or virtual world)," Cordero said. "It's neat to be running around in Second Life, talking with them and interacting with them, as opposed to watching them on a webcam and having them ask a question once every 10 minutes."
By semester's end, students from both countries will work in teams to construct their own virtual spaces using Croquet, an open-source platform for creating three-dimensional online environments.
Lombardi and McCahill, two of Croquet's architects, are working on a National Science Foundation grant to develop a test version of the platform, envisioned as a 3-D version of the web.
Cordero, who constructed a model of Cameron Indoor Stadium in Second Life last semester, is eager to get started on what could become a full-scale virtual Duke University.
"Students interested in visiting campus could log into (an online campus) and take a virtual tour," he said. "Nothing will ever replace the real thing, but just in the way the Internet was better than brochures, these 3-D web pages will take that a step further."
The class is one of several experimenting with new video and web conferencing technologies this semester as part of the Duke Digital Initiative (DDI).
To find out more about DDI, click here.