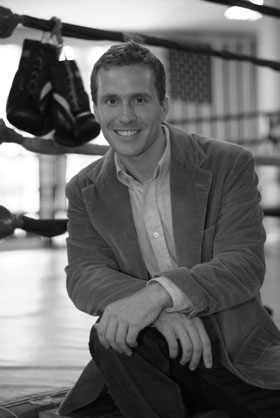 When Eric Greitens visited Rwanda in 1995, during the summer after his junior year at Duke, he intended to conduct interviews and gather information on how well international aid organizations have helped refugee children there. But he came back with much more than data. "Working with unaccompanied children in Rwanda forced me to question very basic beliefs about the world and helped me to understand the incredible difference that we all can make," he said.
Since that time, Greitens has made his actions count in work around the world. His time at Duke played a role in shaping his character and building a desire for service that has carried through to this day.
An A.B. Duke scholar studying ethics, philosophy, and public policy, Greitens used opportunities provided by Duke to feed his passion for humanitarian work. He credits his future path to a number of "incredible role models and mentors," including Neil Boothby, a former professor in the Terry Sanford Institute of Public Policy. "Professor Boothby facilitated my trips to Croatia and Rwanda," Greitens says. "He was there to help me reflect on that work and the enormous role it played in my life."
Greitens to talk on character and service at Duke Tuesday
Eric Greitens will return to Duke to deliver a lecture on "The Culture of Character: Building Strength through Service and Study" on Tuesday, Oct.30, at 5:30 pm in the Fleishman Commons of the Sanford Institute of Public Policy.
The lecture is hosted by the Kenan Institute for Ethics as part of its ongoing work in moral education and development. It is co-sponsored by the Duke University Honor Council, the Hart Leadership Program, the Fuqua/Coach K Center on Leadership & Ethics (COLE), Duke Athletics, and the Terry Sanford Institute of Public Policy.
For more information about the lecture, contact the Kenan Institute for Ethics at 919-660-3033 or kie@duke.edu, or visit the Kenan website.
When Greitens visited China the summer after his freshman year, he was arrested for speaking out about human rights. In subsequent summers in Croatia, Rwanda, and Zaire, he worked with refugees and recorded his visits through award-winning documentary photographs. "To this day, the experiences I had at Duke continue to shape me," he says. "My service work taught me that understanding is critical and compassion is essential."
After graduation, Greitens continued pursuing his international experience while continuing his education. Selected as a Rhodes and Truman Scholar, he attended the University of Oxford from 1996 through 2000 during which time he continued to work as a humanitarian volunteer, documentary photographer, and researcher in the Gaza Strip, Albania, Cambodia, Mexico, Bolivia, and India.
Not one to limit himself to a sole pursuit, Greitens also sought success in amateur boxing while at Oxford, a sport he'd taken up while at Duke. In 1998 he won a gold medal in the British Universities Sports Association National Championships.
As if that wasn't enough, Greitens then decided to become a United States Navy SEAL officer after receiving his Ph.D. at Oxford. He says he realized that while he had argued for military action in humanitarian crises, he had not himself worn a uniform. He has since been deployed four times, to Iraq, Afghanistan, the Horn of Africa, and Southeast Asia. While on deployment, Greitens continued to feed his love of running, and as of 2007 has completed a total of 12 marathons, coming in first place in two of them.
At 33, Greitens has accomplished enough to last a lifetime, and he won't be slowing down anytime soon. "My experiences in service have taught me that real commitment requires sacrifice and study, and that we have to act with both courage and understanding."
In what Greitens cites as one of his greatest personal accomplishments, he established the Navy SEAL Warrior Honor Program, which draws on the lessons of Ancient Greek warriors to engage young soldiers in discussions about the ethics of war, the role of the warrior in society, and the right and wrong of taking life.
After his recent return from Iraq, Greitens used his combat pay to start the Center for Citizen Leadership, which provides fellowships to returning veterans to engage in public service work in the United States.
When asked what he'd like Duke students to come away from meeting him knowing, Greitens says, "Take time to realize your own power and the power of each person you meet. It will make you stronger. Then, use that strength for good."