Luke Stewart '07
"I feel blessed to have been able to serve Belize and I hope to continue to empower people so they can better participate in this global economy."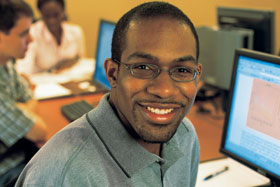 Luke Stewart Randallston, Maryland Double Major: Mathematics and Computer Sciences
Is "dark matter" smooth or clumped up?
Tough question. First, does this invisible matter -- thought to be distributed throughout space -- actually exist? If so, is it like black holes and other massive objects that bend cosmic light traveling past them in deep space, as Einstein's work in relativity predicted a century ago?
Trick question, says Luke Stewart. Assuming dark matter exists, its texture depends upon its location. "By analyzing light from deep space you could predict whether the intervening dark matter is smooth or clumped up, as well as answer many other fundamental questions about our universe."
As a junior, working with his mentor, Professor Arlie Petters, the math and computer science double major helped to develop a mathematical model to examine that effect and presented his work at a scientific conference in Los Angeles. Petters is a leading theoretician in gravitational lensing, the phenomenon astrophysicists use to infer the position and composition of objects such as black holes and stars. Now a senior, Stewart continues to build upon his earlier research and to present at conferences around the country.
Stewart is doing more than math at Duke, especially since an injury last year forced him to rethink his career as a middle distance runner. "I was a respectable runner who was going to have to spend too much time to meet a loftier goal," he says frankly.
On the plus side, he notes, giving up track "freed up at least 17 hours a week for other things, which is pretty exciting." He has spent considerably more time in campus ministry as the president of Cambridge Christian Fellowship and Champions for Christ Athlete Ministry. He also is a resident assistant and is starting an online business with a friend. 
A recipient of scholarship support, the Baltimore-area native is a Mellon Mays Undergraduate Fellow and a Reginaldo Howard Memorial Scholar. In the summer of 2004, he studied neurobiology at Duke through a Howard Hughes Research Fellowship and spent some time at Duke's Lemur Center, studying how lemurs interact in social settings. Stewart, who describes himself as having an entrepreneurial side, hopes to apply his interdisciplinary problem-solving skills in a career as a global business leader who encourages the business world to address social concerns.
His work with Petters, whom he calls "better than Einstein," led him to Belize last summer. In addition to forecasting the AIDS mortality rate in Belize, Stewart directed mathematics and science instruction during the nation's first summer academy for math and sciences. Stewart spent three of his six weeks in Belize leading a faculty of 10, including four Belizean teachers, in teaching 20 students between the ages of 12 and 21.
The forecasting research and the academy were sponsored by the Petters Research Institute, the international organization that the Duke mathematician recently established in his native Belize.
"Dr. Petters is taking some major steps to improve the educational system there. I feel blessed to have been able to serve Belize and I hope to continue to empower people so they can better participate in this global economy."