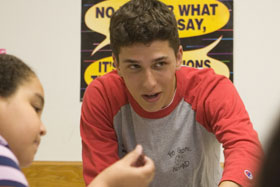 Eric Oberstein Bellerose Village, New York Major: Cultural Anthropology Certificate: Arts Management and Cultural Policy
It should come as no surprise that one of Eric Oberstein's favorite movies is Buena Vista Social Club, the Ry Cooder film about old-time Cuban music and musicians.
That's because it blends his talents (Oberstein is a drummer), his roots (he is the son of a Cuban émigré) and his academic interests (the cultural anthropology major has studied arts and culture at Duke and in New York.
Oberstein analyzes contemporary styles of Cuban music, particularly timba, which combines salsa and jazz in a youthful genre that addresses issues of poverty, race and gender. "It's fascinating because, while it expresses ambivalence toward the government and various elements of Cuban society, it is simultaneously nationalistic," he says.
His experiences in the arts on and off campus, however, appear to be shaping a management career, not an academic one. Next semester, Oberstein hopes to become one of the first recipients of the Arts Management and Cultural Policy Certificate that Duke created last spring. After graduation, he plans to attend graduate school in arts management.
He took the first steps on that path as a teenager, when he supervised his high school music department's student funds and activities. He had a budget of $20,000 for musicals, talent shows, concerts -- the whole gamut. "I think that experience gave me a great grounding," he says.
He spent last fall and this past summer at the Jazz at Lincoln Center program in New York, preparing grant reports and assisting with tasks related to foundation, government and individual giving. At Durham's Carolina Theatre, he worked with Betty Rhodes, the community and volunteer coordinator, in marketing, development and production. He's done much of the same at Duke Performances, under the guidance of Kathy Silbiger, the executive director.
"This all has gotten me interested in arts management as a career. It has me thinking constantly how you reach target audiences week after week. It would be great to do this in a university -- it's such an exhilarating atmosphere," Oberstein says.
His faculty and staff influences include Tony Brown, professor of the practice at the Sanford Institute for Public Policy; Sheila Kerrigan, coordinator of education and community programs at Duke Performances; and Bradley Simmons, who runs Duke's Djembe and Afro-Cuban Percussion ensembles.
As part of Brown's enterprising leadership course, Oberstein and sophomores Young-In Song and Howe Liu created a program called Arts Connect. The program, which began this fall, operates out of the West End Community Center, which is supported by the Duke-Durham Neighborhood Partnership. Several of the 21 Duke student-artists in the program gather each week to teach children from the largely African-American neighborhood. The lesson plans vary, Oberstein says -- "music, visual arts, dance, drama, creative writing or anything that involves personal self-expression."
The program reflects his childhood experience, Oberstein explained recently to The Chronicle, Duke's daily student newspaper. "I have been a musician and an artist since elementary school and I think my personal experience with arts as a child was so instrumental in the development of who I am today," he says.