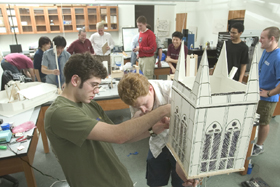 The Duke University Board of Trustees on Friday unanimously approved a strategic plan that will invest $1.3 billion above normal budgets over the next five to eight years in students, faculty, programming and facilities. The plan, called "Making a Difference," seeks to enhance the university's excellence while strengthening the qualities that make Duke distinctive.
Duke President Richard H. Brodhead said "Making a Difference" will focus on enhancing the education of Duke students and on extending Duke's contributions to society.
"Fundamentally, we intend to make a difference in two broad areas," Brodhead said. "First, we'll invest in innovative approaches to how we teach students and how they learn in classrooms, laboratories and other settings, both on and off campus. Simultaneously, the plan recognizes Duke's responsibility to apply the knowledge and creativity of its faculty and students to major public challenges such as improving health care, fighting poverty and protecting the environment."
Duke Trustee Chairman Robert K. Steel noted that Duke's last plan, "Building on Excellence," served as "our blueprint for strategic investment over the past five years. Under President Brodhead's leadership, we're raising the bar even higher, laying out an ambitious agenda of programming priorities and investments to strengthen Duke's excellence into the next decade."
The plan calls for strategic investments in targeted areas ranging from the arts to global health. Under development for nearly two years, it is the result of collaboration among deans, administrators, faculty and students from every school. Its full text is available online.
The plan highlights six enduring themes that define Duke and outlines how the university will pursue them in a world where the Internet and other technologies have transformed learning and where students routinely travel from Buenos Aires to Beijing to explore educational opportunities. The six themes are interdisciplinarity; knowledge in the service of society; the enduring importance of the humanities; internationalization; diversity; and affordability and access.
Against the backdrop of these themes, Duke's plan describes strategies for achieving six academic goals:
1. Create a new Faculty Enhancement Initiative (FEI) that commits $100 million over the next five to eight years to hire, retain and support outstanding faculty at all levels. The FEI will be in addition to normal budgets to help the university recruit top faculty and promote diversity in faculty hiring in a targeted manner across departments, schools, centers and institutes.
2. Strengthen Duke's engagement in real-world issues through interdisciplinary programs that build upon the university's strengths. The programs will seek to develop and apply knowledge in solving societal problems, including new strategic initiatives in global health; earth sciences and engineering; brain, mind, genes and behavior; and imaging. The plan also recommits Duke to "signature initiatives" in fields highlighted in the last strategic plan, from genomics to ethics.
3. Nurture a passion among undergraduates for learning and making a difference in the world. Duke will pursue this through a deepening of the undergraduate experience that further empowers students to become active learners who embrace their own educations, respond to rapid change and contribute to the global community.
4. Attract the best graduate and professional students through increased financial support and stronger graduate programs, and by integrating graduate students more fully into the academic community.
5. Transform the arts at Duke through enhanced programming, curricular opportunities and cross-disciplinary research. Also planned are improved and expanded arts facilities, including a revitalized Central Campus that will house a new arts center and provide new opportunities for Duke and the larger community to interact.
6. Lead and innovate in creating, managing and delivering scholarly resources for teaching and research. This effort will require Duke's libraries and information technology services to provide convenient and efficient access to information and support for innovation. The plan includes developing a new Central Campus library facility that will support the study of visual culture.
Steel noted that many of the plan's goals reflect those Brodhead has articulated since becoming Duke's ninth president in 2004. He praised Brodhead and Provost Peter Lange, the university's senior academic officer, for leading the two-year effort to develop "Making a Difference."
"Even when the university faced distractions, they never lost sight of the fundamental need to focus on Duke's educational and research priorities," Steel said. "They've demonstrated great leadership in articulating Duke's strategic priorities and developing a bold plan to accelerate the university's forward momentum into the coming decade."
Lange said the new strategic plan "seeks to highlight those areas where Duke is both distinctive and where our intellectual endeavors and engagement distinguish the Duke experience from that offered by other leading universities both here and overseas.
"In developing this plan, we are making conscious choices of where Duke intends to make its mark and can make a real contribution to knowledge and society. While serious thinking has gone into the development of the plan, the exciting work of its implementation lies ahead."
The plan emphasizes the importance of collaboration across disciplines with public, private and nonprofit institutions -– locally, regionally, nationally and globally. "'Making a Difference' seeks to promote institutional adventurousness through a disciplined strategy," Lange said. "We want to ensure that our schools and departments can recruit and retain the very best faculty and build outstanding programs in and across disciplines.
"We also seek to attract students at both the undergraduate and graduate levels who will seize the opportunities to engage fully in all facets of the Duke experience, whether it's carrying out research, interacting with the local community or putting their new knowledge to work around the world."
A focus of the Duke-Durham relationship in coming years will be transforming Central Campus into a vital new home for the arts and other activities. Central Campus includes $350 million of the plan's proposed $1.3 billion in strategic investments, with another $248 million targeted for academic programs and $551 million for modernizing facilities.
"The new Nasher Museum has illustrated how Central Campus can become a lively center of activity not only for students and the Duke community, but also for the larger public," Lange said. "Our plans there include a series of new educational facilities along with new kinds of housing that will provide a transitional experience for many of our seniors who now live off-campus. We think it can serve as a culmination of undergraduate student life."
The plan also reaffirms Duke's close connections with Durham, seeking to build upon the success of the Duke-Durham Neighborhood Partnership's collaborative programs with 12 neighborhoods and eight Durham public schools near Duke's campus. It calls on Duke to pursue new opportunities for collaboration in education, affordable housing, health and wellness, and partnerships with nonprofits in partner neighborhoods.
Duke also commits to work with city and community leaders, and with area developers, on the revitalization of downtown Durham, West Main Street and the Ninth Street district, and to expand opportunities for collaborations with North Carolina Central University and Durham Technical Community College.
"Making a Difference" notes the escalating cost of education and financial aid, as well as changes in federal research funding and other trends that pose financial challenges. Duke must maintain and enhance its commitment to financial aid and diversity amid these pressures, the plan says, while also responding to the need for new kinds of classrooms, laboratories and workspaces and to heightened expectations by undergraduates and their families for personal services and co-curricular programs. Simultaneously, Duke must "prepare students for lives of personal integrity and engaged citizenship," the plan says, "infusing ethical inquiry and service-learning in the undergraduate, graduate and professional curriculum."
In other business, the trustees approved the construction of a new athletics facility that will expand the academic center for student-athletes, provide practice space for the men's and women's basketball teams, free up space in existing facilities for student sports activities and make Cameron Indoor Stadium available more often for large university gatherings, including student concerts.
The two-story, 51,000-square-foot Center for Athletic Excellence, which will be located next to Cameron Indoor Stadium and the Schwartz-Butters Athletics Center, will cost approximately $15 million.