Duke Marches to Take Back the Night
More than 750 attend Sexual Assault Prevention Week event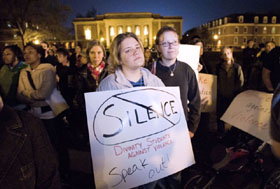 In one of the largest turnouts for "Take Back The Night," more than 750 Duke students and community members gathered Wednesday on the lawn in front of Duke Chapel to share stories of sexual violence and healing.
The event, part of Duke's annual Sexual Assault Prevention Week, began at 7 p.m. with a march from East Campus to the Chapel Quad. Just before 8:30 p.m., several hundred men and women entered the quad, chanting, "Hey, hey, ho, ho, all rape has got to go!" One sign read, "Protect Victims Not Rapists!"
The marchers sat on the damp grass as Jean Leonard, coordinator for Sexual Assault Support Services at Duke, took a microphone and greeted the crowd. She said "Take Back The Night" is about breaking silences and giving voice to unspoken truths.
"Ending violence is about more than one night," Leonard said. "Ending violence is a full-time job for some of us. It really needs to be a full-time job for all of us. Violence will end when each and every one of us, on a daily basis, notices and speaks up about the million and one small but not insignificant acts that create a climate that normalizes and supports the existence of violence."
Duke's Sexual Assault Prevention Week started March 27 amid allegations that three members of the men's lacrosse team sexually assaulted a woman hired as a private dancer at a party attended by the team on March 13. Team members have denied the allegation, and no charges have been filed. Organizers of Sexual Assault Prevention Week began planning the event last summer, and "Take Back The Night" was scheduled before accusations involving lacrosse team members surfaced.
Still, the controversy that has embroiled the university this week drew some people to speak Wednesday night. Among them was Linda Parker from North Carolina Central University Presbyterian Campus Ministries. Media reports have indicated that the woman making the accusations is a student at NCCU.
Parker said many people on the campuses are in pain. "We all are victims here tonight in one way or another," she said. Parker asked the crowd for prayers for the families of the woman and lacrosse team members because, she said, "somewhere, someone went wrong."
For more on the march, see the Durham Herald-Sun.