New Devils 2027: Siddarth "Siddu" Jandhyala
Two days after arriving on Duke's campus to begin his undergraduate career, Siddarth "Siddu" Jandhyala put his brawn to work. He was volunteering with Project Build, an eight-day orientation that helps first-year Blue Devils learn about their new communities by visiting schools, nonprofits and civic spaces like Central Park in downtown Durham.
It was a hot and humid late morning as Jandhyala used a garden rake to clean out a sandbox in the backyard of Children First, a nonprofit preschool in Durham's West End.
An A.B. Duke Scholar and black belt in tae kwon do, Jandhyala was among a dozen or so first-year students tilling sand, shaking brown leaves out of a green arbor, or washing and wiping down toys.
Jandhyala's arrival at Duke in August was a different kind of youthful hoop dream that speaks to the far-reaching impact of the university's storied men's basketball program.
"Duke has been on my radar since I was a young boy watching March Madness," Jandhyala explained. "Right next to my dad. Duke has always been there, and I've always thought it would be such a cool experience to go to such a prestigious basketball school."
He added that as he grew older, he became more aware of the academic resources, and the global footprint of the school that he now describes as a "unique community."
Interested in inequality studies | Phoenix, AZ
Studying: Economics, maybe a double major in statistics
Why Duke: The academic merits, prestige, and the resources that Duke could provide to me.
Looking forward to: Excited to meet more incredible people
Little known fact about me: Spent part of the summer traveling abroad in Portugal and India
"Everybody here is so amazing, so incredibly accomplished, and just the community here has been so helpful in getting me adjusted to college life, and I could not be more thankful to be at Duke University," he said. "It's awesome."
Before arriving at Duke, Jandhyala worked with Project MANDATE, a civil rights initiative in Arizona that would require all police to wear body cameras and to have evidence from the footage admitted in cases of deadly or excessive force.
Jandhyala's interest in civil rights and racial justice was fueled by two incidents, both related to his passion for basketball. He was still in elementary school when the NBA's "I Can't Breathe" movement happened in 2014 following the police killing of Eric Garner, an unarmed man. NBA players like the late Kobe Bryant and LeBron James took to wearing t-shirts with the words, "I Can't Breathe" to protest Garner's death.
Years later, the issue of justice and racial equality emerged again when Jandhyala's high school basketball coach recalled how he was arrested by police during a traffic stop and slammed against the car.
"It had me in tears," Jandhyala said about his coach's story. "It had him in tears. That really sparked my interest in racial equity."
Two weeks into classes, Jandhyala has broadened his perspective of the issue and now wants to study issues of equity and inequality across the globe. "I've been doing a lot of research on India myself lately, and I've learned there's also a bunch of disparities, even if it's not between racial classes, [but] between different social classes. And that kind of inequity is something that I want to help resolve."
Years from now, Jandhyala said he may write about issues of equity and access.
"Equity is not an overnight process," he said. "It's not a choice. There has to be a change in the mindset."
Jandhyala is personable, with a ready smile. His parents immigrated to the United States from India to attend college and graduate school. Mom and dad moved to Arizona eight months before he was born. He has a brother who is two-and-a-half years younger than him. He described his family as his "backbone."
"I cannot survive without them," he said. "And we are a very, very tight-knit group. We are always extremely open with each other, and I feel like that's what I'm missing most about them, because I can't talk to them all the time."
Jandhyala wasn't bothered by North Carolina's humidity and scorching heat while volunteering at Children First. His hometown, Phoenix, endured record-breaking heat this summer with more than 20 consecutive days of 110-degree-plus temperatures that made national headlines.
Ninety-five degrees in Durham sounds downright comfy in comparison to three weeks of triple digit temperatures that left some Phoenix residents with heat-related illnesses, and burns after touching skin-searing surfaces.
"When I left it was 110," Jandhyala explained, adding that he had missed much of his home state's heat wave because he was visiting family in Portugal and India.
"I was kind of thankful," he said about his last big family trip before college that enabled him to miss Arizona's heat wave. "India was kind of cool. It was 35 degrees Celsius."
That's 95 degrees Fahrenheit – relatively "cool" during the hottest summer on record.
Jandhyala arrived two days before move-in and went shopping to stock his dorm room.
"It's been an amazing experience," he said about his first three days on the campus, where nearly everyone he met welcomed him and made him feel at home. "At Duke, I've never felt like a stranger. It never made me feel left out. It's made moving to a new place a lot easier."
"I can't wait to meet more people," he added. "I know I have to create my new friends and although it will take time, I know I'm trusting the process…So it's only a matter of time before I just feel as extremely at home as I did back home."
Two weeks into classes, on a late morning in mid-week, Jandhyala sat in a West Campus classroom taking a course in social problems taught by Professor Maria Febbo. When Febbo asked the class to name one of the pressing social problems of the day, he was the first to raise his hand.
Given the summer's historic heat, Jandhyala's answer made sense: "Climate change."
"I think one of the things I was…looking forward to most in college was taking classes I was extremely interested in, and all of my classes have really, honestly, exceeded that expectation," he said later. "Like my writing class…like food science and food studies, to my decision science class, [and] talking about literally how we make decisions both cognitively and from a behavioral and economic aspect."
Jandhyala said he's also excited by the variety of class offerings he can take over the next four years.
"I'm thinking about an economics major," he said, "but there's a lot more that's up in the air. For example, I was thinking about maybe taking an innovation entrepreneurship certificate, but I'm also considering maybe a double major in statistics; maybe pursuing a finance concentration within economics. There are a lot of opportunities on the table."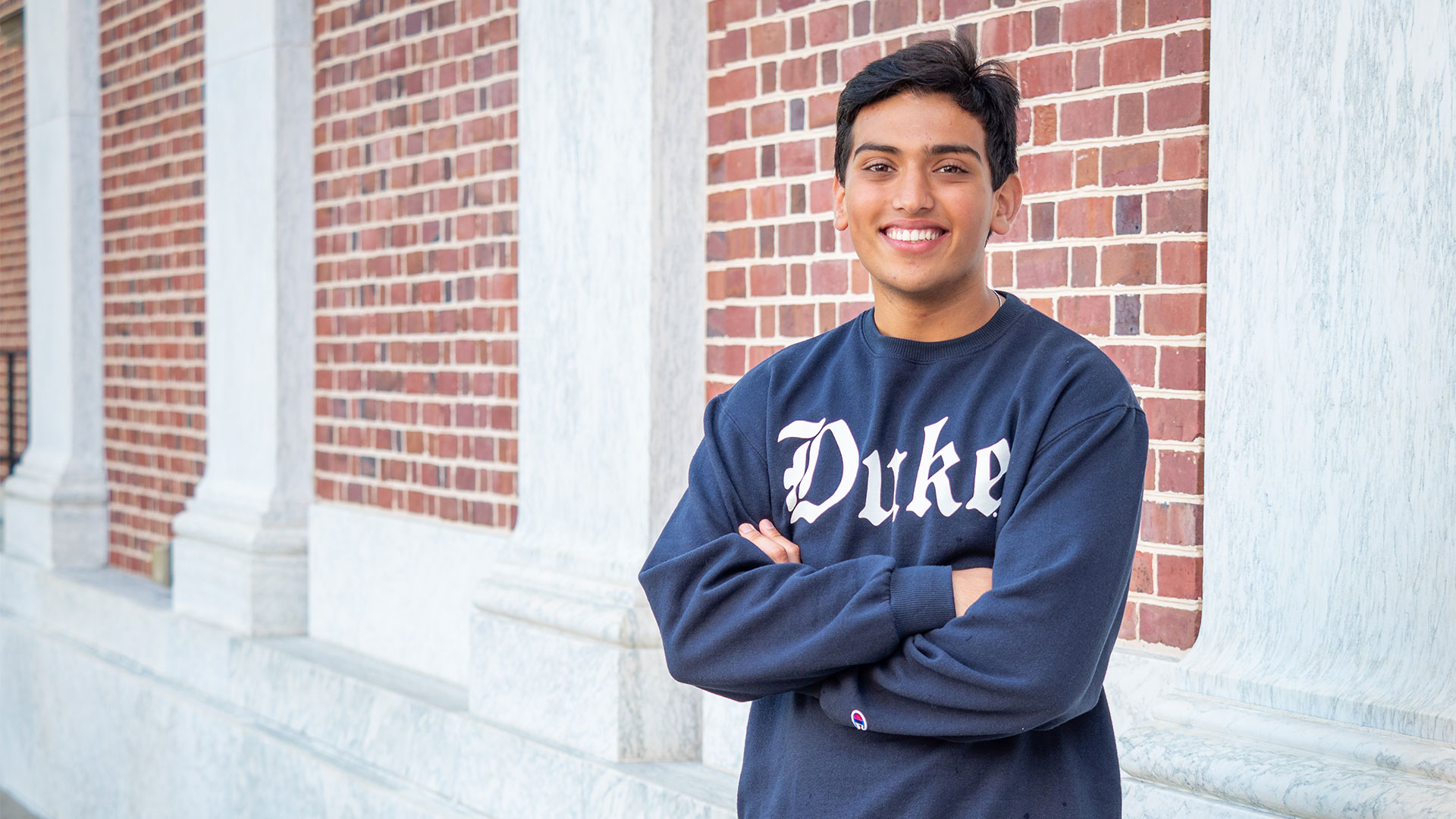 This is the second in a series of stories following members of the Class of 2027 during their experience at Duke.