Duke in Pics: 2023 Duke Football Employee Kickoff Celebration
Check out scenes from an annual tradition featuring football, family fun and camaraderie among Duke colleagues
Image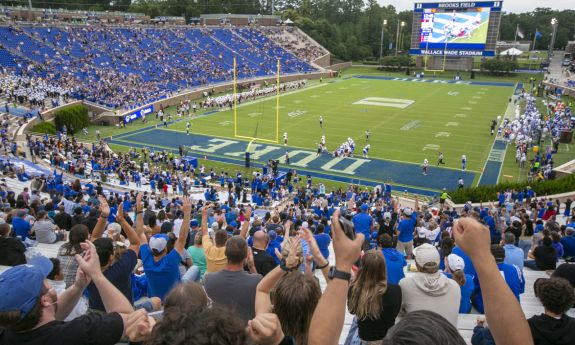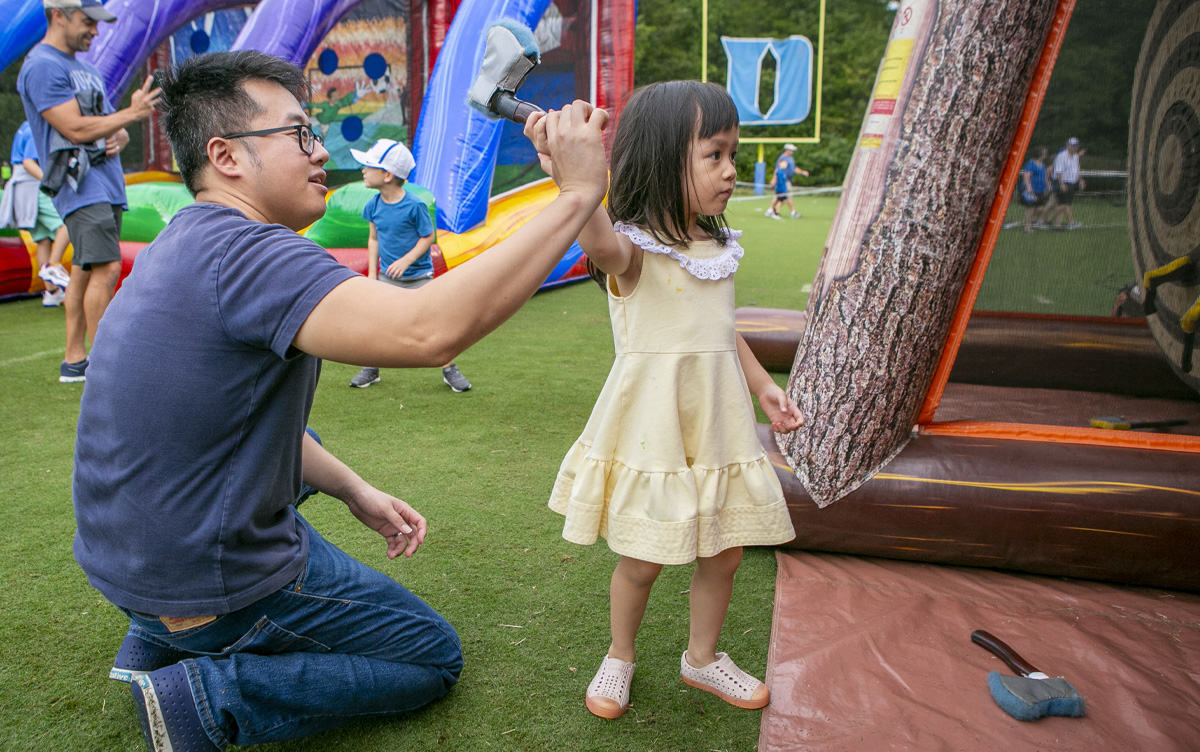 Prior to the game, on the Duke Football practice field, Duke staff and faculty members and their families got to enjoy kid-friendly games and pick up a free meal. Here, Lu Qi of the Duke Quantum Center, helped his daughter Eden, 3, throw a toy axe in one of the many games.
---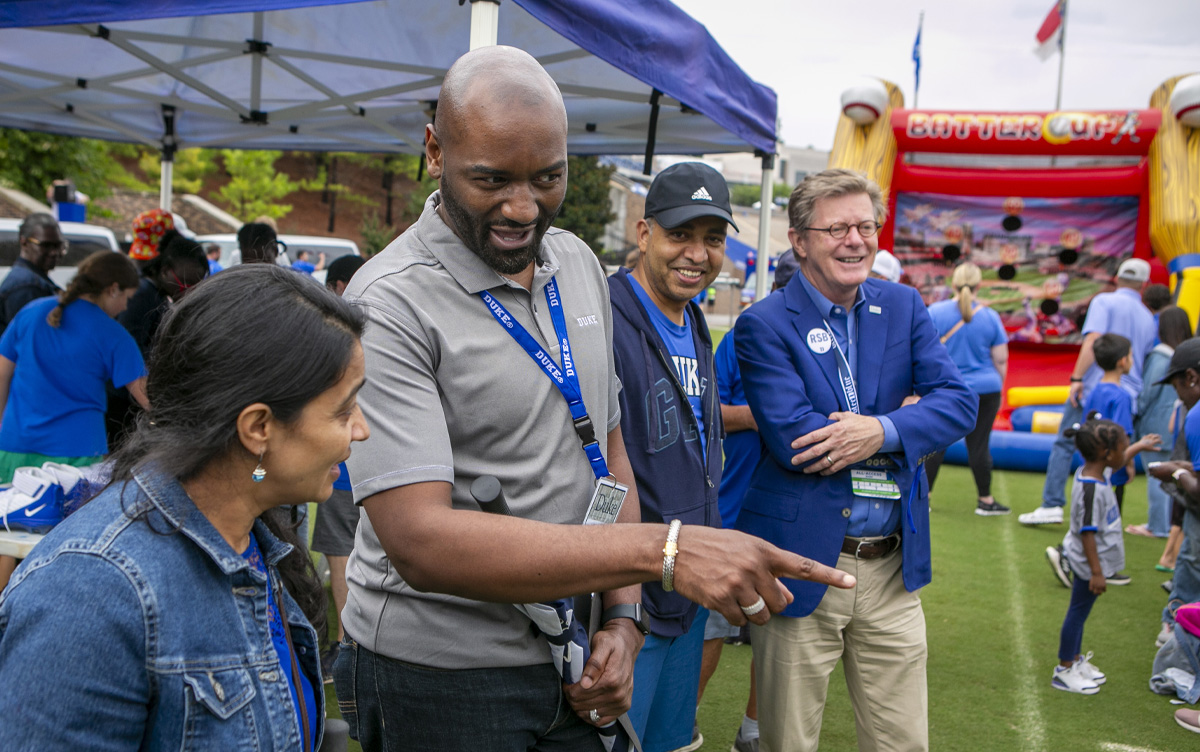 From left to right, Duke affiliate Pabitra Panta, Duke Vice President of Human Resources Antwan Lofton, Duke Radiology Associate in Research Paj Panta, and Duke University President Vincent E. Price, chat during the pre-game event.
"It's always a joy and a treat to meet with employees and their families," said Lofton, who noted that he even met a husband and wife who were celebrating their wedding anniversary with a trip to the game.
---
Gwen Lloyd, Saturday's employee captain and one of many Duke employees celebrating career service milestones, has been a regular attendee of Duke Football game through the years, but Saturday was the first time she'd been this close to the action. With her son, Bobby, and daughter-in-law, Katherine, watching from the stands, Lloyd got to walk out with the Duke team captains for the pre-game coin toss.
"Being a huge sports fan, it was really exciting to be out on the field with the team," Lloyd said. "Those guys are huge!"
Lloyd's name was read over the public address system and her photo was shown on the scoreboard.
"It was a really humbling moment," Lloyd said. "It was very big honor. It was very touching. Very special."
---
In all, 17,481 fans enjoyed the evening at Brooks Field at Wallace Wade Stadium. While it rained in the second half, much of the first half proved to be pleasant. Early in the evening, Patient Revenue Management Organization Associate Vice President Song Betancur, right, snapped a selfie with her husband, Jorge, and daughter Nylie.
---
Less than a week after defeating Atlantic Coast Conference power Clemson in the season opener, the Blue Devils stayed hot, rolling past visiting Lafayette 42-7. Among the stars of the game were running back Jordan Waters, above, who scored a pair of touchdowns.
Duke coach Mike Elko, whose team welcomes Northwestern to Brooks Field at Wallace Wade Stadium on Saturday, said that he was encouraged by the way his team performed.
"I told the guys we are going to always enjoy wins around here, and we are certainly going to enjoy this one," Elko said.
Duke Football extended a special offer for employees to enjoy the game against Northwestern on Saturday with tickets beginning at $15.
---
Plenty of Duke staff and faculty members snapped photos of their own from Saturday's celebration. Some of the colleagues who shared fun moments included, clockwise from top left, Emergency Communications Officer Jason Spriggs, Department of Medicine Clinical Associate Dr. Varnita Tahiliani, Lenox Baker Children's Hospital Clinical Nurse Jo Ellen Peterson-McKee, Social Worker Linda Bazzy, and Associate Professor of Medicine Sharon Suson Rubin.
"Had a great time at the Duke game!" Rubin said. "Hung out with die-hard fans in the end zone even through the downpour!"
If you attended the game and took some fun photos, share them with us at hr.duke.edu/sendnews
---
Send story ideas, shout-outs and photographs through our story idea form or write working@duke.edu.
Follow Working@Duke on X (Twitter), Facebook, and Instagram.