Image
Duke Stars Powered by a Passion for Their Work
Staff and faculty marking service milestones share stories of what's shaped their time at Duke
Amid the new faces, there are thousands of staff and faculty members who have long histories with Duke. These colleagues keep institutional knowledge and workplace culture alive and help pass on Duke's core values to those who follow in their paths.
"These people are our foundation," said Duke Vice President for Human Resources Antwan Lofton. "These individuals are our anchors. When you look at people who have given the bulk of their careers to Duke, we want to pause and acknowledge them. They are what makes Duke great."
Each year, Duke Human Resources honors employees reaching career milestones of 10, 15 and 20 or more years of service. Recognized as "Duke Stars" this year's group consists of 5,424 staff and faculty members, including Professor of Biomedical Engineering Roger C. Barr and Professor of Biostatistics and Bioinformatics William Edward Hammond, who have both hit the 55-year mark.
To honor these employees, Working@Duke spoke to a few of them to hear what they appreciate about their time at Duke.
Barbara Spencer
Case Manager
Duke Regional Hospital Care Management
10 Years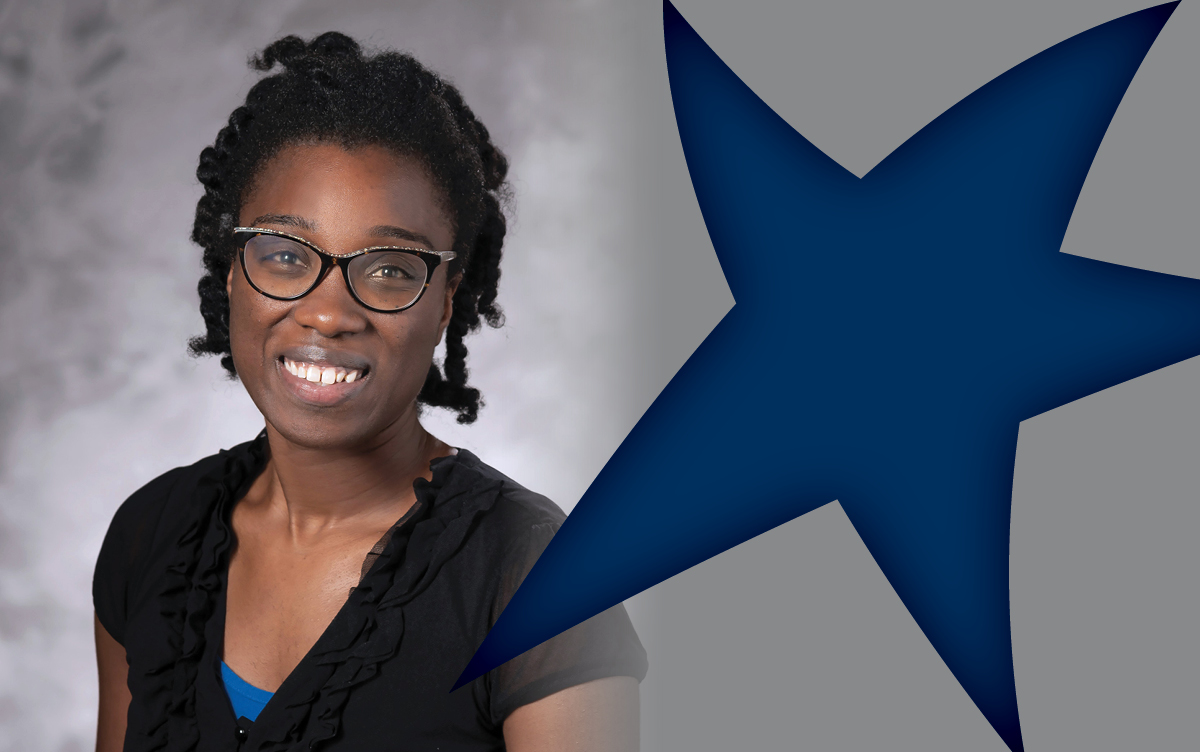 Attracted by excellence in patient care, Barbara Spencer came to Duke University Hospital as a staff nurse on a general medicine unit in 2013. She thought it'd be a short-term career move before moving back to her hometown of Hendersonville.
"I thought I would only stay here two years and move back to the western part of North Carolina where my immediate family is," Spencer said. "Instead, I planted my roots here and have a family of my own here."
Spencer's career has flourished at Duke. She took advantage of the employee tuition assistance program that helped her get a medical-surgical certification to work in the operating room at Duke Regional Hospital starting in 2018. And in 2022, she took another career step, becoming a case manager to help patients transition out of the hospital.
Her personal life has benefitted too. Megan Hatfield, a colleague Spencer met through Duke, is the godmother to her son, Judah, who will turn 2 in March.
"I've built relationships here," Spencer said. "And I have the best coworkers. I've built my career here and I've tried to learn as much as I can."
Artie Hendricks
Senior Clinical Administrative Chaplain
Chaplain Services and Education
15 Years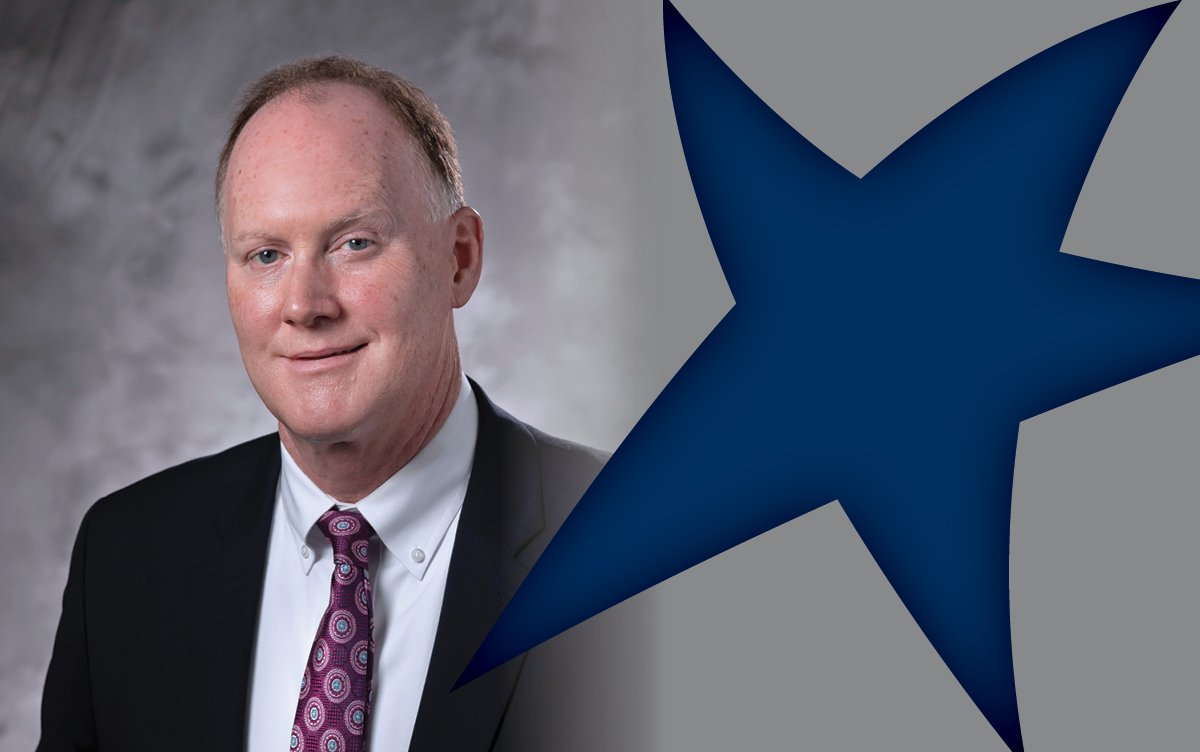 After finishing at Duke Divinity School in 1996 and being trained as a chaplain at Duke University Hospital, Artie Hendricks began dreaming about what it would be like to work full-time at Duke. In 2008, that dream came true.
"I told somebody one time that I could live out my days as a staff chaplain here in this hospital, never thinking that it would come to pass," Hendricks said. "Things worked out that I was able to do exactly what I dreamed about."
Hendricks came to Duke to direct the Duke University Health System Partners in Caring program, which provides spiritual care, case management and housing assistance for people living with HIV. Every day working as a chaplain since has produced plenty of 'pinch me' moments, where Hendricks has to remind himself that he's not dreaming as he now serves as a chaplain resource for palliative care patients.
"Being at Duke as a chaplain is the pinnacle of hospital chaplaincy work," he said. "The reason I feel that way is because this is a great academic and learning institution, so you're around very capable people. You can be proud of the care that's provided by doctors and nurses and teams in this hospital; it's second to none."
Jacqueline Little
Assistant Supervisor
Housekeeping
15 Years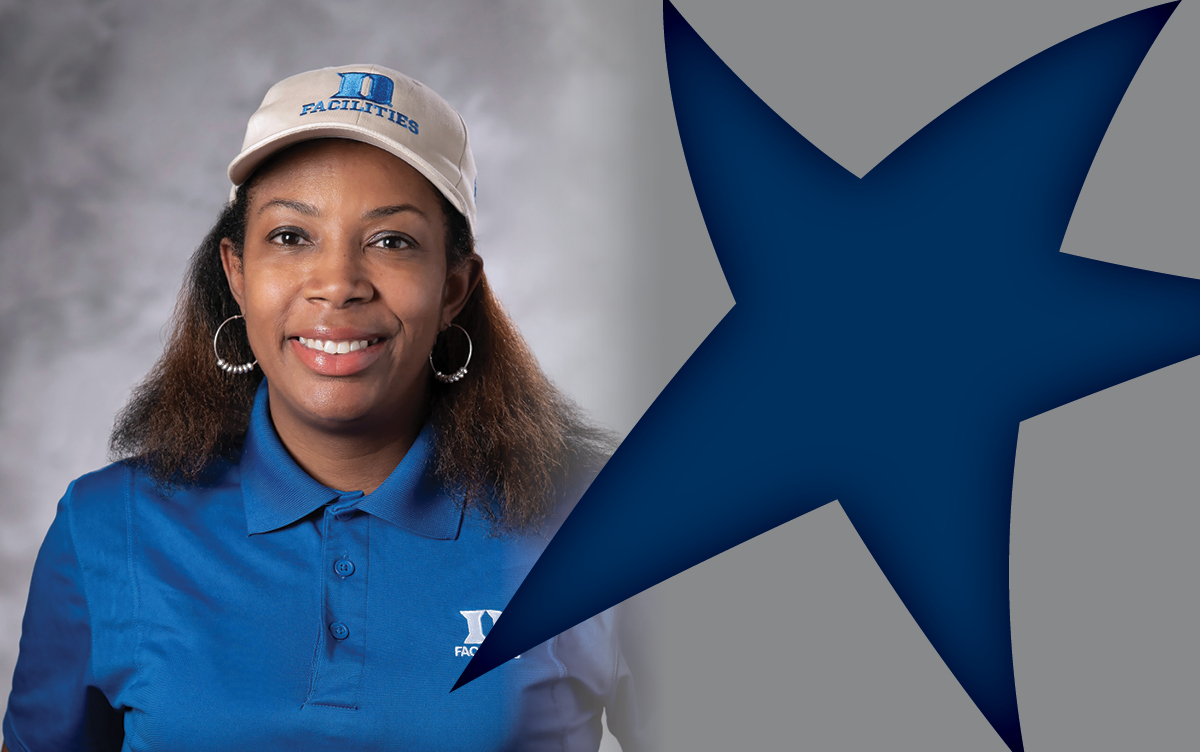 Duke has been there to support Jacqueline Little through every step in her career.
That started with Duke Temporary Services in 2008, when Little, then in her mid-20s, landed a temporary housekeeping job filling in at various campus locations. A few months later, she was hired full-time as a University Environmental Services housekeeper at Smith Warehouse, where she worked 10 years before being promoted to assistant supervisor in 2018.
Little has stayed at Duke because she's been buoyed by the support of Duke resources, including the medical insurance plan and professional development opportunities like the Durham Technical Community College Environmental Services Management certification program, which helped her learn more about how to lead others.
And when she needed it most when the pandemic hit, Duke had her back. In 2020, Little was tasked with leading a team of seven to facilitate daily cleaning and sanitizing for some of West Campus' most well-trafficked buildings, including the Brodhead Center, Bryan Center, Duke University Chapel and Student Wellness Center.
Leadership ensured Little and her colleagues had the proper personal protective equipment to stay safe doing an essential job to keep campus safe. And leaders across Duke took time to reassure Little that no matter what, her job was secure.
"It meant a lot to me because they thought of us financially," Little said. "They thought of their employees not having to worry about this."
Cherre Bethea
Grants and Contracts Manager
School of Medicine
20 Years
Working at Duke is in Durham native Cherre Bethea's blood.
She was born at Duke University Hospital and she spent summers as a teenager working the front desk of the Duke Family Medicine Center, where her aunt, Cherry Martin, worked for 41 years.
Bethea was excited to start working full-time as a grants and contracts administrator in 2003. She wasn't sure where her career would take her, but professional development opportunities offered through Duke have helped her figure that out.
Taking part in Research Administration Academy (RAA) classes throughout her career have helped Bethea stay up on the latest information on managing research funding. And countless Learning & Organization Development courses, like emotional intelligence, leadership and Microsoft Excel – as well as the project management certification she earned with Learning & Organization and Durham Technical Community College – have helped her learn new skills to advance.
Bethea credits colleagues like Denise Wynn, Director of Research Administration, for encouraging her to take advantage of opportunities to grow. Those moments helped Bethea build up to recently being promoted to a grants and contracts manager position where she oversees five staff.
"I took advantage of everything I could possibly take," Bethea said. "I still do. I still take classes right now, just to keep my skills up in different areas."
Scott Holmes
Applications Analyst
Duke Health Technology Solutions
25 Years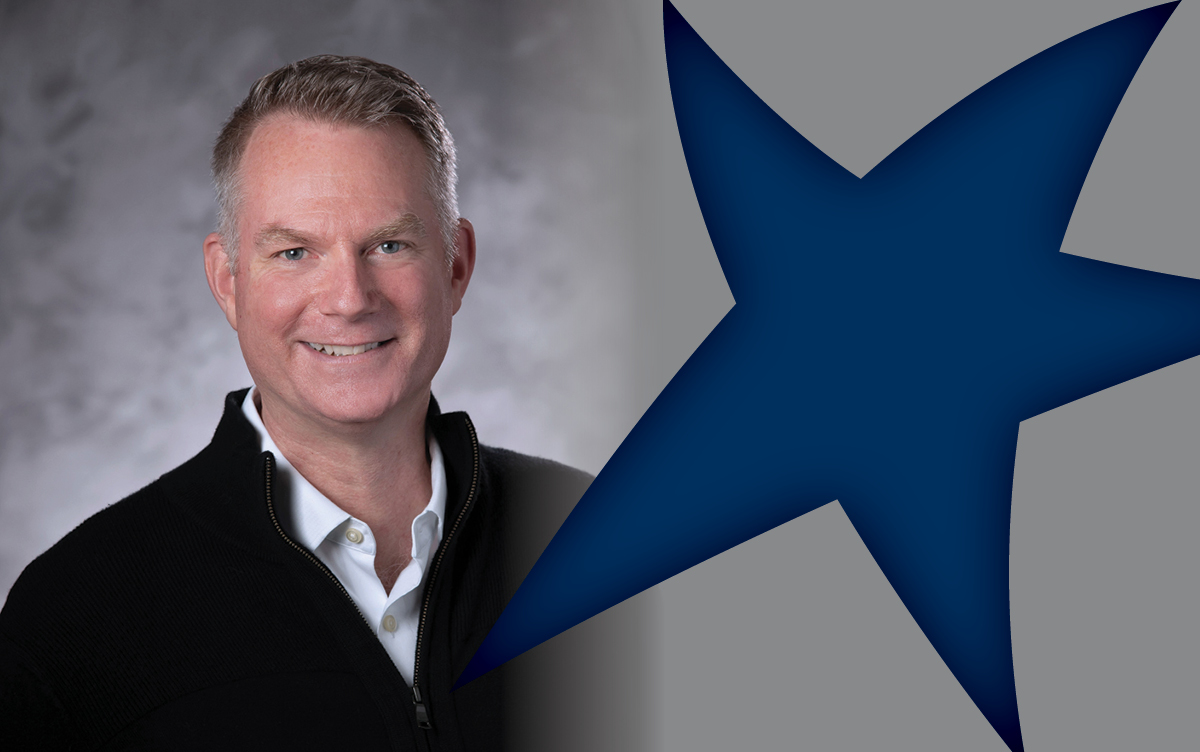 Raised and educated in Canada, Scott Holmes first learned about Duke at a career fair in Toronto. As a recent nursing school graduate, he figured Duke would be a good place to gain experience for a few years before returning to his home country.
After a quarter-century of thriving as a nurse and finding new and energizing professional challenges, Holmes has made Duke his home.
Holmes' path at Duke began in the 3200 unit of Duke University Hospital, followed by an eight-year stint as a nurse on the Life Flight Team, which he described as his "dream job."
In 2013, now with two children at home, Holmes needed a change. He found it in his current role helping MaestroCare, Duke's electronic health record, run smoothly. Holmes said he relishes the chance to solve challenging problems and find new ways to use the sophisticated software tool. And he said the knowledge that his work helps Duke doctors and nurses access the information they need to provide world-class care to patients is incredibly validating.
"When I came to Duke, I quickly realized that the institution where I work is at the absolute apex of the world and there's so much opportunity here," Holmes said. "Throughout my career, I've found that anything I want to try or do or experience, Duke's been able to provide that."
Dr. Joseph Lo
Professor
School of Medicine
30 Years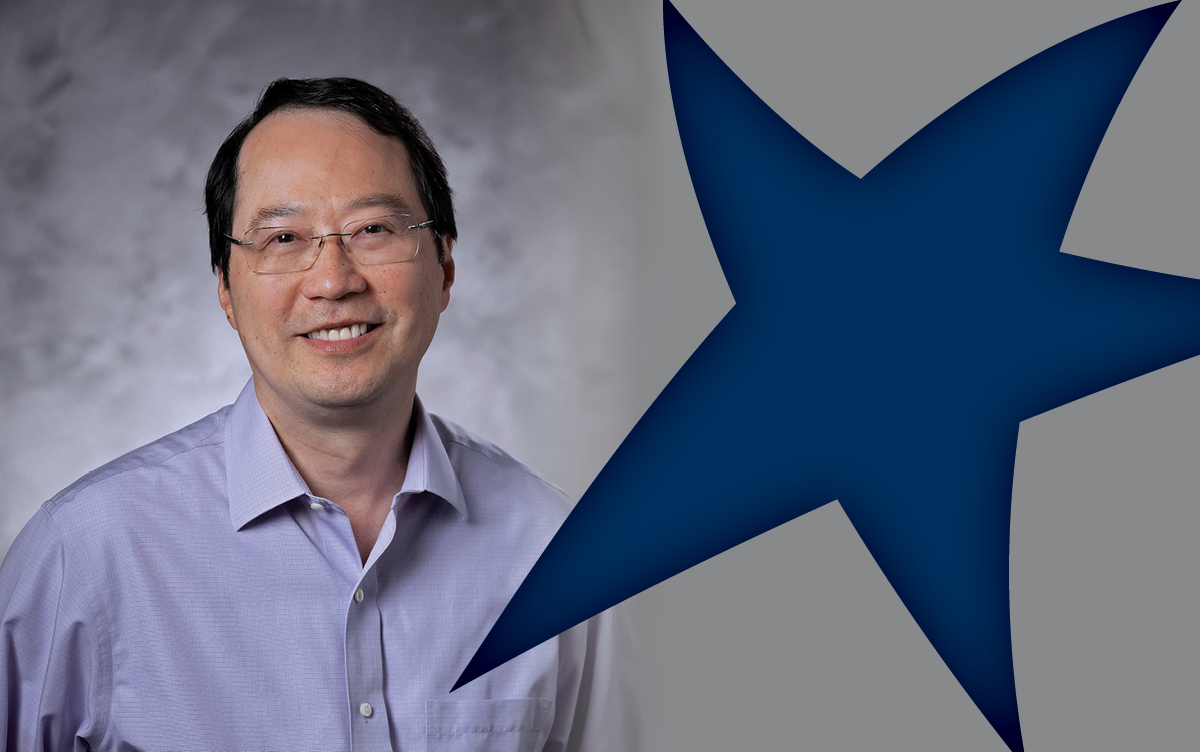 In three decades at Duke, Dr. Jospeh Lo has explored ways to harness the power of computers and machine learning to improve medical imaging procedures such as CT scans and mammograms. By using data from patient scans to create and analyze virtual and physical models, Lo's research could help doctors catch conditions such as cancer quicker.
Lo, who also graduated from Duke with a Ph.D. in Biomedical Engineering, said he's grateful to be able to do this kind of work at Duke, where he feels supported and inspired.
"Learning and working at Duke is a privilege," Lo said. "Over the years, I've entertained offers elsewhere, but each time decided to stay right here. It's more than the academic excellence. This place has become my home, where I feel welcome and nourished."
Annette Barber
Patient Account Associate
Patient Revenue Management Organization
35 Years
When she joined Duke's Private Diagnostic Clinic in 1988, Annette Barber was driven to help people. That desire was forged over the previous few years in which she'd cared for elderly patients at a nursing home and lost her mother, Thelma, to lung cancer.
"I just had a lot of compassion for people who have been sick and had a lot of turns in their life," Barber said.
Working in billing, her role was helping uninsured patients find ways to cover health-related expenses. Over time, her unit evolved into the Patient Revenue Management Organization and Barber's job shifted to helping families of deceased patients untangle the often complicated billing arrangements left behind.
In that role, Barber is an empathetic and helpful voice for people going through some of life's toughest moments. It's a job she cherishes.
She remembers a call several years ago with the upset family member of a patient facing a medical bill they had no way to pay. Barber calmed the caller down and, helped them navigate the insurance hurdles before them. By the end of the call, they'd figured out how to cover the expenses.
A few days later, the family member called Barber back.
"She said 'You don't realize that you saved my life that day,'" Barber said. "She said 'I was ready to take my life. I didn't think I could make it. But now, I have lots to live for.' So no matter what job you have at Duke, we all save lives."
Gwen Lloyd
Administrative and Financial Coordinator
Duke Counseling and Psychological Services (CAPS), Student Affairs
40 Years
Gwen Lloyd said that the start of the fall semester is her favorite time of year on campus. It's when the quiet of summer ends and Duke's sidewalks and buildings are filled with students and their contagious energy.
Lloyd feels a kinship with these students as she's been a learner on Duke's campus for four decades now.
The daughter of two Duke alums, and the granddaughter of a faculty member, the Durham-born Lloyd said Duke has always felt like home. Four decades ago, when she joined the staff as a receptionist for Electrical Engineering, it felt like the where she needed to be.
But she was also ready to embrace new challenges as she took advantage of Duke's professional development opportunities to learn accounting, get comfortable with the latest software tools and figure out ways to effectively manage herself and others.
The led to a spot with CAPS, where over the last 32 years, she's gone from the director's assistant to her current role of Administrative and Financial Coordinator.
"I think I've been in some lucky spots, so when I was ready for a new challenge, there were always opportunities," Lloyd said. "I'm still a learner. Working in a college setting keeps you young. There are lots of activities and opportunities for growth."
Cynthia Peters
Assistant Dean
Nicholas School of the Environment
45 years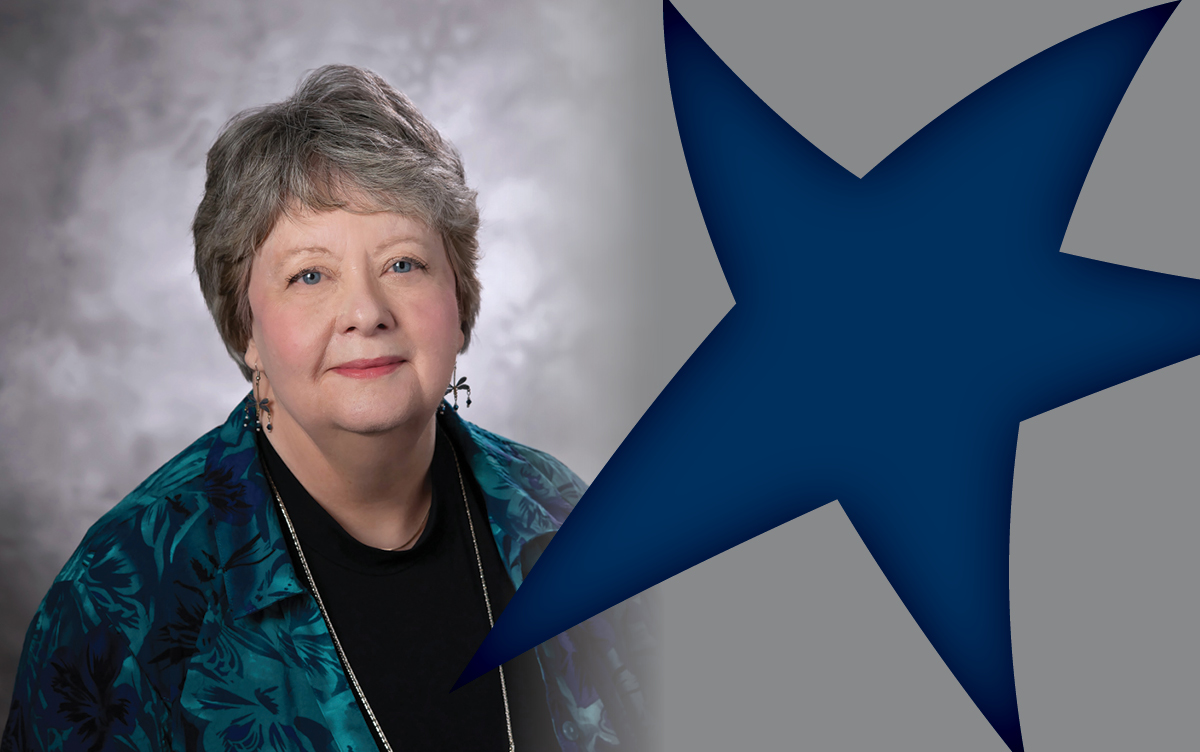 During Cynthia Peters' 45 years at Duke, she's had stops at the Office of the University Registrar, the Trinity College of Arts & Sciencesthe Duke University Law School, the Sanford School of Public Policy, the Trinity College of Arts & Sciences, the Duke University Graduate School and, for nearly 23 years, the Nicholas School of the Environment.
She's seen student course requests go from punch cards to Peoplesoft. She's seen Duke's physical footprint expand with new residence halls and research buildings sprouting up on what had been the far fringes of campus.
But what's remained constant is the joy Peters gets from helping Duke's bright and ambitious students move toward their dreams. With the Nicholas School, she's been able to help students navigate challenges with financial aid, figure out how to align their passions with their course load, and overcome whatever hurdles life and school throw their way.
"I don't know if you'd call it serendipity, but I found my niche at Duke," Peters said. "I love being able to support the students. When I'm able to help them discern a way forward, whether it's through something personal or academic, helping them feel like they have control in their lives, plus knowledge and self-confidence to help them move forward is very fulfilling."
Send story ideas, shout-outs and photographs through our story idea form or write working@duke.edu.
Follow Working@Duke on X (Twitter), Facebook, and Instagram.