Music, Cheers & Hugs as the Class of 2027 Arrives
They grabbed boxes and bags and hauled everything to whatever residence hall room number was written on a Post-it note stuck on the vehicle right before it pulled up, mostly while continuing to shout.
"We want to bring the excitement," said Julia Happel, a junior among the ranks of students pitching in. "It's a really important first impression for them."
"Moving day is pretty stressful, and this makes it so easy," said Rachel Graff, a sophomore. "They don't have to lug everything themselves; all their stuff is in their room."
It wasn't just students doing the lugging. Duke leadership continued the tradition of helping out.
President Vincent Price led the charge, hefting Ikea bags from one of the first vehicles to pull up outside Trinity residence hall, one of dozens of trips he made between vehicles and rooms that morning.
---
Maria Antonio of New Jersey shot phone video as her daughter Nicole walked toward Trinity for the first time, one of countless moms capturing the moment as their children flew the nest.
Antonio said the raucous welcome made a big difference as they arrived.
"We were outsiders, and now it's like we're part of the family."

Maria Antonio, first-year Duke parent
---
"To see this enthusiasm is so infectious," said Provost Alec Gallimore, who was experiencing his first Duke move-in, having joined the university in July, and who has two college-aged kids of his own.
"This would be so reassuring to me if I was dropping off my loved one," he said, "to see students so excited about embracing these new students into the Duke community."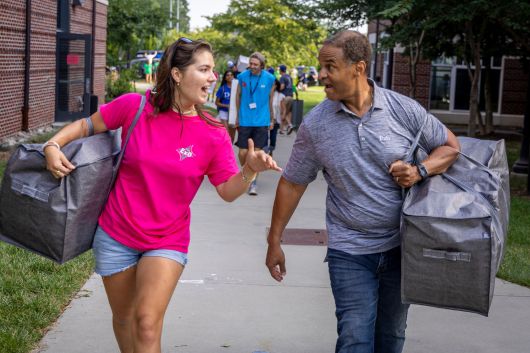 The students seemed to be feeling that embrace long before they even arrived.
"I found the community so welcoming," said Sara Fernandez of Tampa, Fla., recalling her first trip to campus earlier this year. "People just went out of their way to help me feel at home."
Johann Montozzi-Wood, an assistant professor of theater studies, lives at Brown residence hall, as signaled Saturday by his "Faculty-in-Residence" T-shirt.
"The students are so driven," he said after helping a student move boxes. "They like to lead and collaborate. It's great."
---
Move-in is a huge operation that mobilizes hundreds of employees across the university to settle the 1,739 members of the incoming class into their new homes for the year.
"It's a large orchestration," said Derek Plewacki, an events and parking operations coordinator as he helped parents navigate their way back on to the streets after dropping off their first-year children.
Plewacki said coordinating this one day begins in May and continues all summer.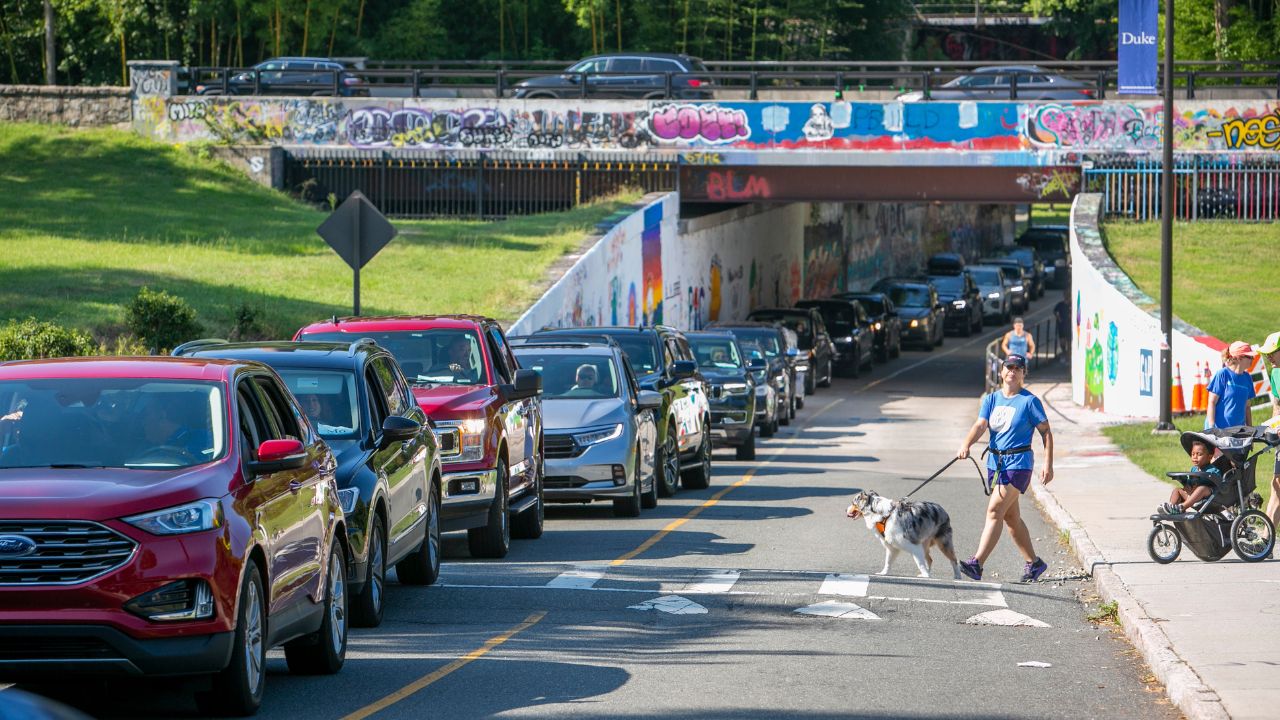 "We have our plans pretty dialed in. It's probably the busiest day of the year for us."

Derek Plewacki, an events and parking operations coordinator
---
More than one incoming student called the whole experience overwhelming, in the best way.
"Not many people get to experience this," said Rylee Lent of Spring Hill, Tenn., as she arrived on East Campus with her aunt. "I'm really happy to be in a new environment, and it's such a great experience to be able to go to a college like Duke."
This was Gary Bennett's sixth time assisting students on move-in day, his first as dean of Trinity College of Arts and Sciences. And he bled for the cause, a shelf dropping on his ankle and requiring some first aid.
"I get more excited about it every year," he said Saturday with a box under each arm. "Every year I wonder if I've worked out enough this year to handle it, but then the adrenaline kicks in."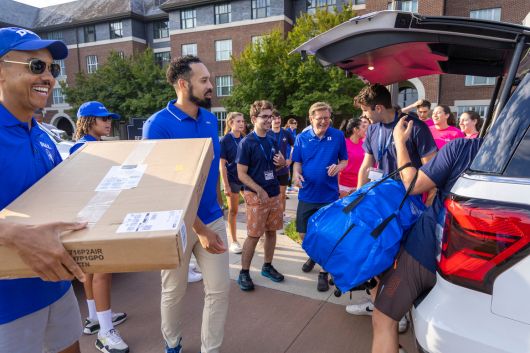 "Every year I wonder if I've worked out enough this year to handle it, but then the adrenaline kicks in."

Gary Bennett, dean of Trinity College of Arts and Sciences
---
Family Farewell event for the class of 2027 in Cameron Indoor Stadium
The celebration continued into the evening with a family dinner in front of Duke Chapel. First years and their families then gathered at Wallace Wade Stadium to receive honorary football jerseys, and moved on to Cameron Indoor Stadium to learn the chants and cheers they'll need to to support the Blue Devils.

Finally, students and families said their goodbyes.