7 Ways Duke's Employee Wellness Program Can Help You
From an in-person run/walk club to chair messages, discover how LIVE FOR LIFE can support your health and fitness goals
Image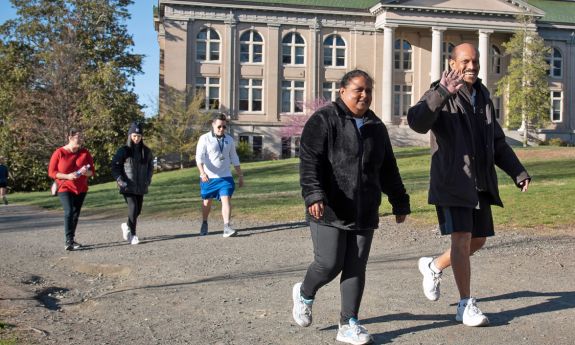 Whether you are in a fitness routine or looking to get back on track — and no matter your work location arrangement — LIVE FOR LIFE can help. Check out seven ways you can connect with the employee wellness program this fall.
Duke Run/Walk Club
Starting Aug. 14 through Nov. 1, Duke Run/Walk Club will meet in-person at 5:30 p.m. on Mondays and Wednesdays each week at two locations.
All fitness levels are welcome.
The East Campus group will meet on the grassy area across the street from Duke Human Resources offices at 705 Broad St. The West Campus group will meet at the Green Zone Al Buehler jogging trail lot off 751/Cameron Boulevard.
"It can help people at various places along their fitness journey, whether they want to get moving, learn to run better or work towards competing in a race or doing a race for fun," said LIVE FOR LIFE Fitness Specialist Lauren Bullock.
Monica Johnson, senior scientific program leader for the Duke Human Vaccine Institute, participated in the East Campus walking group in the spring.
"Walking is something that you can do as long as you can move, so that's important to me," said Johnson, who has worked at Duke for three years. "I sit pretty much all day at work, so I like getting outside and walking, getting some fresh air and seeing some different scenery."
The program, which is free, will also include an independent program, allowing staff and faculty to run or walk on their own and log their activity online.
Participants who log at least 10 sessions — whether in-person or virtual —earn LIVE FOR LIFE Dollars, Monopoly-like money – to purchase items like Fitbits, reusable water bottles and more.
Registration is open.
"Health Matters" Webinars
Held from 12 to 12:30 p.m. one Monday per month on Zoom, Health Matters webinars are designed to help staff and faculty connect with tips about fresh topics related to nutrition, fitness and mental health.
Five live webinars are scheduled through Dec. 18, including the next offering on Aug. 21 that provides an overview of micro gardening for homegrown health, or small-scale gardening techniques to grow vegetables you can eat at home.
Other free sessions include "Savoring Meals without Salt," "Relaxation for Every Day Stress," "Healthy Activities to do at Home" and more.
Presenters will rotate between registered dietitians and fitness and health specialists to help colleagues get to know and connect with the expertise of LIVE FOR LIFE team members. All sessions are recorded and can be accessed later on-demand as well through the website. Sign up to receive monthly calendar invites and reminders for the sessions here.
"We tried to pick topics that are relatable and important," said Health Promotions Manager Brian Zelanko, who joined LIVE FOR LIFE this summer. "That way, if it's something someone's not certain about, they can explore it and learn more."
Health Coaching
From achieving better sleep and eating habits to losing weight and more,
LIVE FOR LIFE offers a free 12-week Health Coaching program.
Duke employees can sign up to be paired with a certified health and well-being coach who will guide you in up to 12 sessions toward making healthy changes through periodic phone calls or Zoom sessions.
"The program is really designed to be flexible for the employee," said Esther Granville, nutrition program manager for LIVE FOR LIFE. "In 20-minute conversations, this person is now partnered with a coach whose role is to really support you in reaching your goals."
Jacobe Douglas, a case manager with the Duke Population Health Management Office, has completed the program twice, helping him establish a consistent workout routine and find healthy breakfast foods to jumpstart his day.
"It was really about getting myself into better shape," Douglas said. "I wasn't in bad shape, but it was to be in a better place, and that was going to happen through nutrition and education."
Benefits-eligible staff and faculty can enroll in the Health Coaching at hr.duke.edu/wellness/health-coaching-programs or call 919-684-3136 and select option 1.
Success Over Stress
As part of an update to the Success Over Stress program, Duke departments and units can now request virtual or in-person tailored sessions with LIVE FOR LIFE nurses for free about stress management techniques from burnout to relaxation, yoga and more.
During the sessions, which last between 20 minutes to one hour, colleagues can ask questions and learn more about connecting with Duke resources to better manage stress.
Individuals can also sign up to receive materials about how to manage stress. Materials include details about how to meet with a counselor from Duke Personal Assistance Service.
"What I love about Duke is that all of these resources are free," said LIVE FOR LIFE nurse manager Jessica Bailey. "A lot of times people don't know what they could potentially tap into and then sometimes people don't even know what it is that they're stressed about."
According to the October 2022 American Psychological Association "Stress in America Report," 27 percent of Americans report feeling so stressed they cannot function most days. Adults also reported that stress is having a noticeable impact on their health.
Through "Success Over Stress," LIVE FOR LIFE nurses design sessions to provide actionable tips for that specific group addressing the stress they're facing.
Find details on "Success Over Stress" here.
Chair Massage
Take a break with a chair 15-minute chair massage every Thursday between 12 and 4 p.m.
Duke employees can schedule time for a massage for $26 at the Orange Zone sub-basement in Duke Clinic at 40 Duke Medicine Circle. Massages can be paid for using a credit card, check, cash or LIVE FOR LIFE dollars.
Massages focus on the high-tension areas of the neck, back, shoulders, arms and hands.
"Treating yourself to a chair massage is a great way to relax your muscles, reduce pain, and enhance recovery," said Zelanko, Health Promotions Manager for LIVE FOR LIFE. "Massaging stiff and sore muscles increases blood flow delivering nutrients and oxygen, improves joint range of motion, enhances performance, and reduces the likelihood of an injury."
Sign up for an appointment here.
Fitness and Nutrition Consultations
If you're looking for support with fitness or nutrition, LIVE FOR LIFE offers two distinct consultation services:
Fitness consultations will help you determine a suitable exercise program that will motivate you to accomplish your goals. Consults can include fitness testing and a body composition, which will provide more details related to your body weight than just the number that you see on the scale and help the fitness professional to provide you with a tailored plan based on your fitness level. To schedule a free fitness consultation, call LIVE FOR LIFE AT 684-3136, option 1, or fill out a request here.
Duke employees working eight hours or more per week can access the nutrition consultation benefit twice per calendar year, free of charge. The service provides a one-on-one consult with a Registered Dietitian to discuss healthy eating strategies and nutrition topics of interest. Dietitians can assist you with nutritional guidance for the following common topics: weight loss or weight gain, weight maintenance, general healthy eating, healthy pregnancy/ lactation, exercise and sports performance, high blood pressure, high cholesterol, and pre-diabetes/ diabetes. Schedule a consult here.
Both types of consultations can be done in-person or on Zoom.
Send story ideas, shout-outs and photographs through our story idea form or write working@duke.edu.
Follow Working@Duke on Twitter, Facebook, and Instagram.