The Hard-Working Wheels at Duke
Specialized vehicles help Duke's workforce get important jobs done
Image
Each vehicle helps Duke staff and faculty members their job. And like the people who operate them, many of the vehicles are uniquely well-suited for tasks.
---
Hard Day's Work
The total number of miles that Duke Forest's modified pick-up trucks travel isn't all that high. Most of the 7,100 acres of Duke Forest are a short drive from campus with the most far-flung corners being about a 45-minute drive away.
But Duke Forest's fleet of seven pick-up trucks – most being sturdy white Ford F-250s – still get their share of work.
"The trucks don't see a lot of miles, but the miles they do see are generally on roads which work them harder than most paved roads," said Duke Forest Supervisor Tom Craven.
Having beefy trucks is a must when it comes to maintaining a sprawling research forest. Duke Forest staff are constantly driving them out into the forest to scout potential research locations, respond to wildfires and tow equipment for maintenance projects such as clearing brush, cleaning roadways and tending to unhealthy trees.
Most of the roads that crisscross the forest are well-maintained gravel roads that see regular use. But to venture deep into the forest, staff and researchers must use more rugged fire trails – which serve as both fire breaks and ways to get firefighting equipment into remote sections of forest in case of a wildfire.
The back half of most of Duke Forest's trucks are filled compartments for a wide range of equipment, such as chainsaws, climbing gear and first aid kits. In the truck bed, there's also a large tank of water, which is primarily for wildfire response but can also come in handy for rinsing gear.
"These trucks allow us to have the equipment that we need to do things safely and efficiently," Craven said. "That's incredibly helpful."
---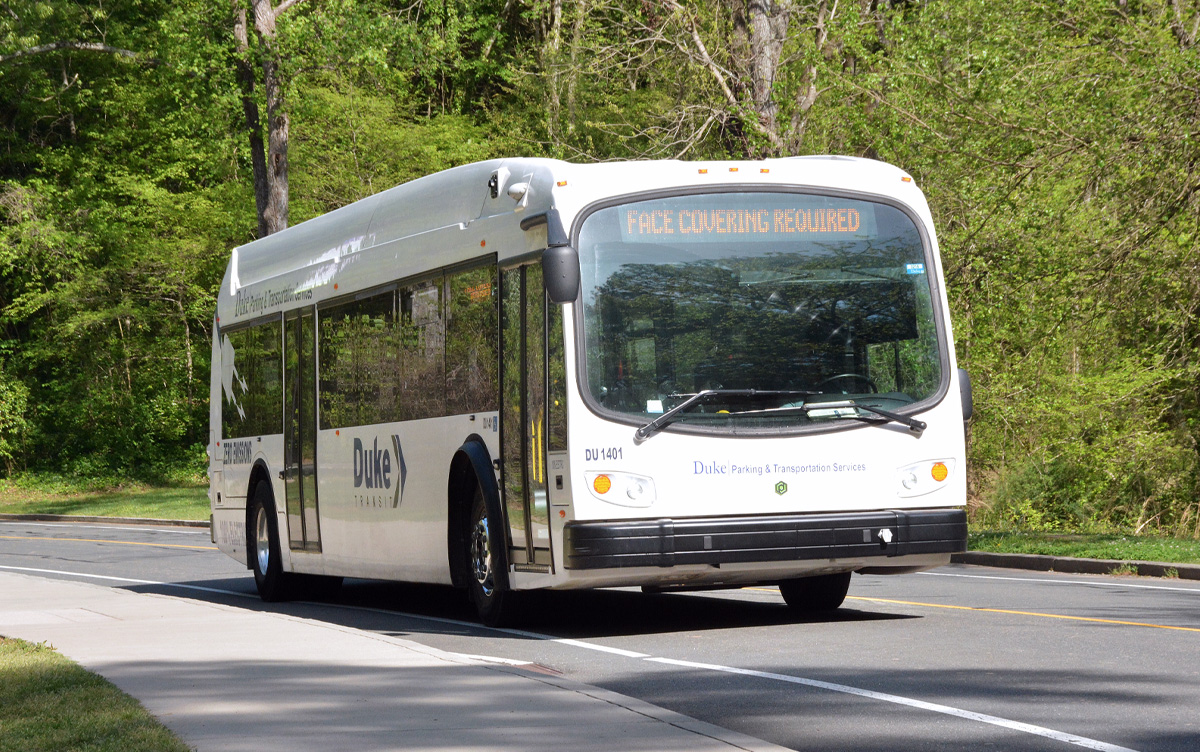 Green Machines
Jose Valencia has driven buses for Duke Parking & Transportation for 15 years, and he begins each shift with a few standard steps.
He walks around the outside of a bus to make sure all lights work, and nothing looks wrong. He also sweeps the floor inside the bus to ensure passengers have a clean place to ride.
"The bus represents you and how you present yourself," Valencia said.
And since 2021, when Duke began adding fully electric buses to their fleet, Valencia finishes his pre-shift routine by unplugging the bus from its charger.
Duke now features four fully electric buses in its 26-bus fleet. Valencia has been a regular driver of one of the 40-foot Proterra fully electric buses on the C1 East-West and Swift Express routes.
"In terms of driving it, it's the same as the other buses, but it's just very quiet," Valencia said.
Duke plans on expanding its use of fully electric buses with the goal of having 14 of them in service by 2027.
"I think most of the students are aware of what Duke is trying to do," Valencia said. "The students care about clean energy. They are concerned about what's happening to the planet and what it means for the future. From the interactions I have with them, they are very happy we have these buses."
---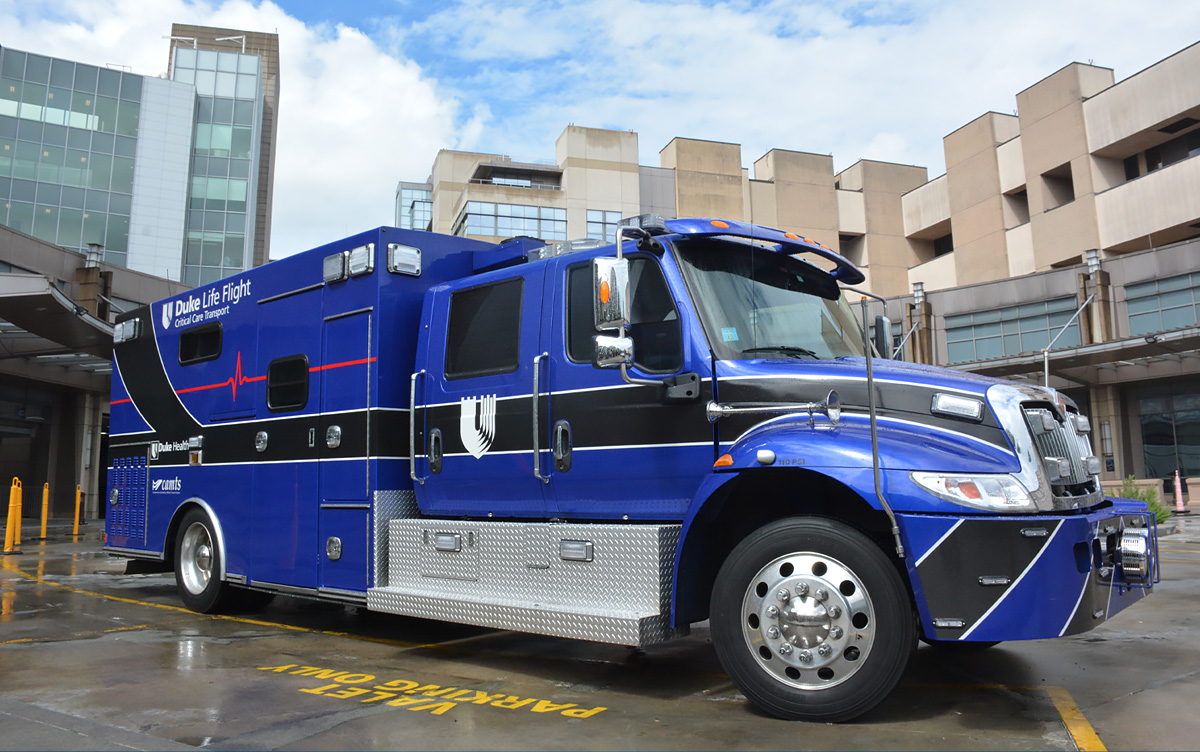 ICU on Wheels
When she talks about working with Duke Life Flight, Respiratory Therapist Natalie Giamundo refers to the familiar saying about being like a duck.
"Ducks look calm on the surface, but they're working like crazy under the surface," said Giamundo, who, along with her fellow team members, regularly transports high-risk patients to-and-from Duke University Hospital in both Duke Life Flight's helicopter and on the road with one of its critical care ambulances. "That's how we try to keep it."
Knowing that she has everything she needs aboard Duke Life Flight's hulking ambulances is a major reason Giamundo and her team can do their jobs while staying cool.
Founded in 1985, Duke Life Flight was the first hospital-based emergency transport service in the state.While Duke Life Flight is best known for its helicopter, which regularly transports patients to the landing pad on top of Duke University Hospital, 80 percent of patients Duke Life Flight transports travel on the road in one of the service's ambulances.
For patients facing the most challenging situations, Duke Life Flight has nine critical care ambulances, each staffed by a team of highly trained emergency medical technicians, paramedics, respiratory therapists and nurses.
At 30 feet long and with an interior large enough to seat six team members and allow them to move easily around a stretcher-bound patient, the road vehicles are considerably larger than standard ambulances.
The ambulances also have robust electrical systems, along with equally sturdy backup power capabilities. They are also filled with sophisticated equipment such as ventilators, defibrillators and an array of monitoring equipment. There's even a customizable lighting system for the patient area of the ambulance. Caregivers can turn the lights up when there's immediate work to be done or have comforting dim lights to help give patients a sense of calm on nighttime rides.
"It's an ICU on wheels," said Tracey Cunningham, a Duke Life Flight critical care nurse. "The most current equipment you can use in an ICU, you can use on here, too. It's pretty impressive."
---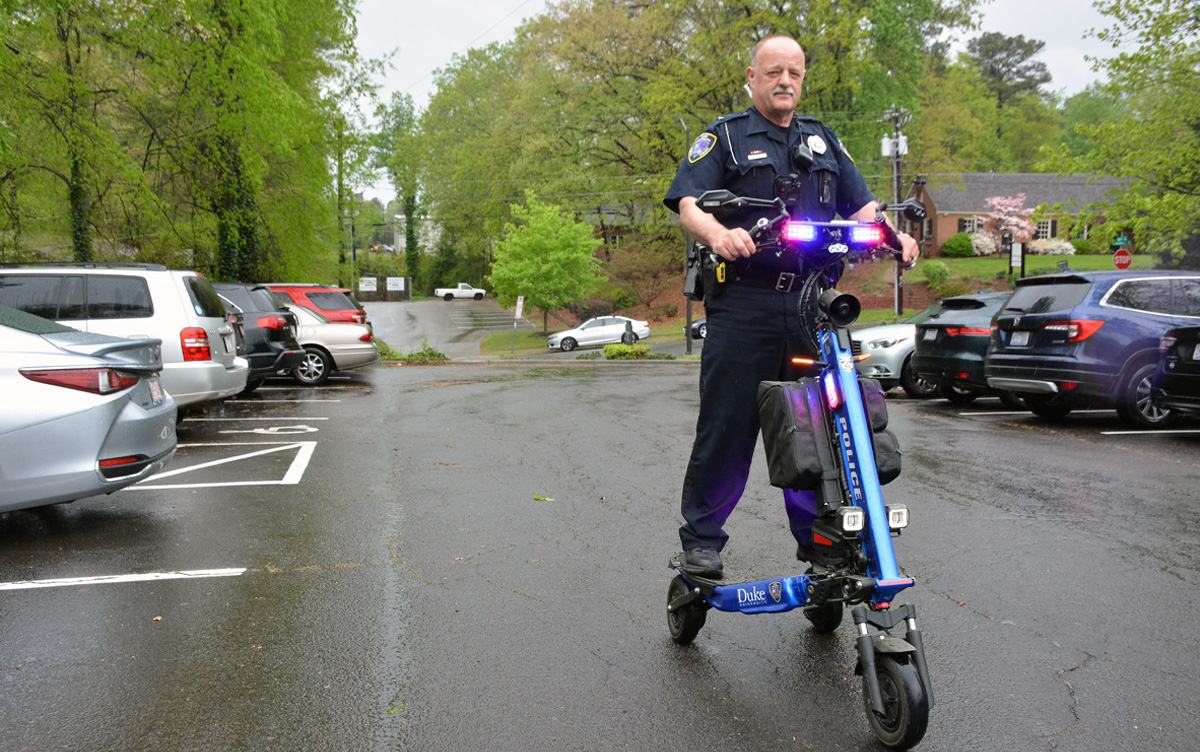 Safety on the Go
The sedans and SUVs of Duke University Police Department's patrol fleet circle Duke University and Duke University Hospital campuses around the clock, allowing officers to quickly respond.
To help move around campus and be even more accessible to the community, the Duke University Police Department has invested in three electric bicycles, a pair of Segways, a three-wheeled scooter, and a moped.
"This gives us everything we need to do our jobs," said Duke University Police Officer Timothy Bradley.
The newest addition to the fleet is a Polaris Ranger utility task vehicle. Acquired by Duke in February 2023 and already bearing the department's blue and yellow color scheme, the four-wheel-drive, four-seat vehicle can navigate tight areas and easily go off-road.
Bradley said the new vehicle will come in handy for emergency calls on the Al Buehler Trail and to navigate campus during special events, especially during the warmer months such as commencement, move-in and early-season football games.
"It's going to be very beneficial," Bradley said. "When it's hot, we can put a cooler in the back with some water and just go around and check on people. If someone needs to be transported somewhere, we have room. I just think this speaks highly of Duke, they give us good equipment."
---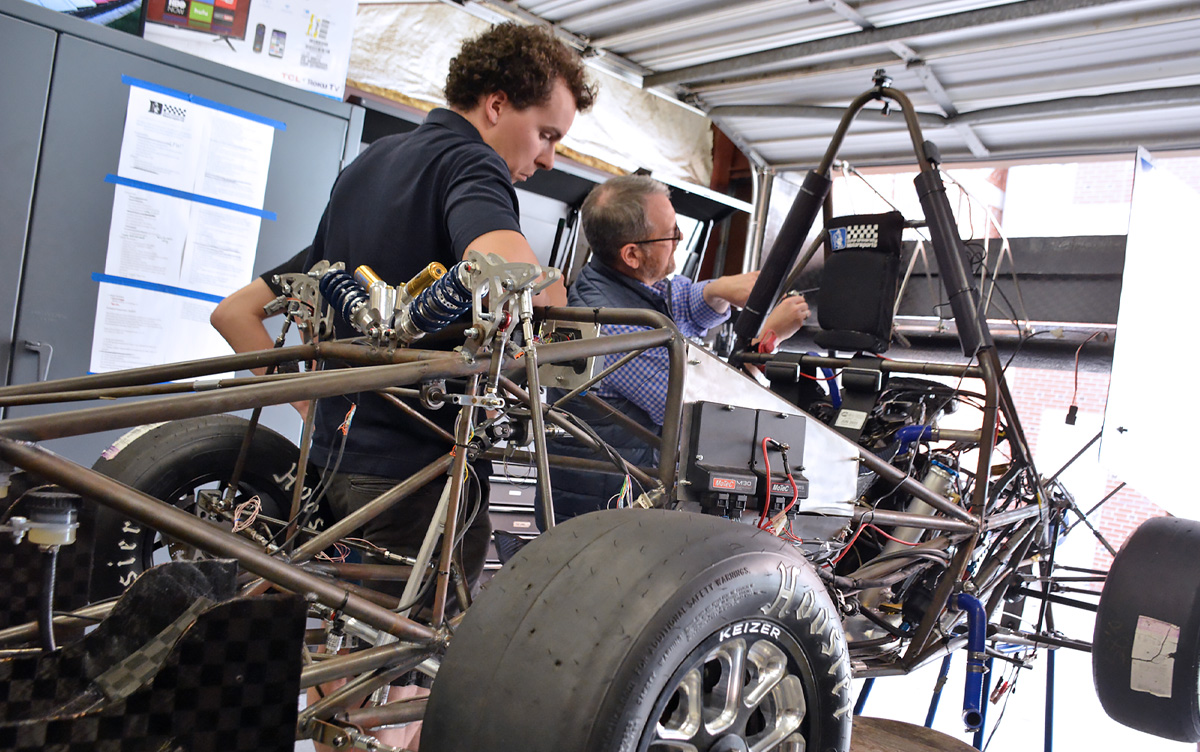 Learning in Motion
When George Delagrammatikas paid a recent visit to Duke University Motorsports workshop, which is tucked away in a small garage in a Hudson Hall courtyard, Duke's student-built racecar was little more than a steel skeleton, four tires and metal mechanical guts.
The car was still a few days away from its first competition and Delagrammatikas, a professor of the practice in the Department of Mechanical Engineering and Materials Science, and the team's faculty advisor, wanted to check the progress. He asked team members how each custom piece was developed, which part of the car they were most excited about, and which ones gave them the most worry.
While not part of Duke's fleet of vehicles, the car is one of the most fascinating sets of wheels on campus. The fuel-powered engine sits just behind the driver's carbon fiber seat. The custom-made pedals have Duke logos milled into them.
Each year, the 50-person Duke University Motorsports team must engineer, construct and drive a car that will compete against cars from nearly 120 other schools from around the world in Formula SAE events. The events consist of on-track tests of acceleration, efficiency, endurance and speed – these cars can reach nearly 80 miles-per-hour –as well as evaluations of each car's design by industry experts.
"This competition is the hardest final exam these students will take," Delagrammatikas said.
Delagrammatikas knows how team members feel. He credits his undergraduate work on the Massachusetts Institute of Technology's Solar Electric Vehicle Team as inspiring him to pursue a career in automotive engineering and design optimization.
"When we can engage students in the learning process like this, it's transformative," Delagrammatikas said. "We know that with certain pedagogies, not only do students learn to engineer better, but they also master project management, technical communication skills, and other professional skills that people don't realize are part of engineering."
---
Did we miss a cool set of wheels? Let us know and share a photograph through our story idea form or write working@duke.edu.
Follow Working@Duke on Twitter, Facebook, and Instagram.