Get A Free Workout After Work
Duke's employee wellness program hosts weekly workouts on East Campus through May
Image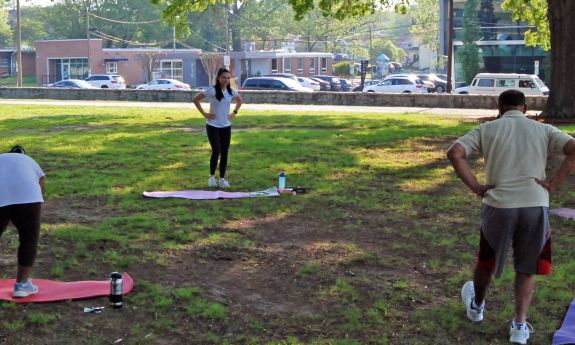 Jayabalan Sundaravelu, a patient services associate at the Duke Children's Hospital and Health Center for five years, said he's missed opportunities to gather for in-person workouts since the pandemic.
He has attended fitness sessions with his wife, Dr. Rama Arumugam, a lab research analyst in Behavioral Medicine and Neurosciences.
"I like the core and strength training because in our sedentary life, we are sitting all day at the computer desk and doing the same thing again and again," Sundaravelu said. "These core exercises are giving us more strength in our body."
Duke staff and faculty who attend sessions earn LIVE FOR LIFE dollars, a monopoly-like money that can be used for fitness related items like Fitbits and water bottles. Participants are encouraged to bring a yoga mat or beach towel to place on the ground during the workout. A towel and water are also recommended.
For more information, visit hr.duke.edu/wellness/exercise-fitness.
Send story ideas, shout-outs and photographs through our story idea form or write working@duke.edu.