Class of 2023: Jonah Perrin on Four Years of Helping Duke Votes
Image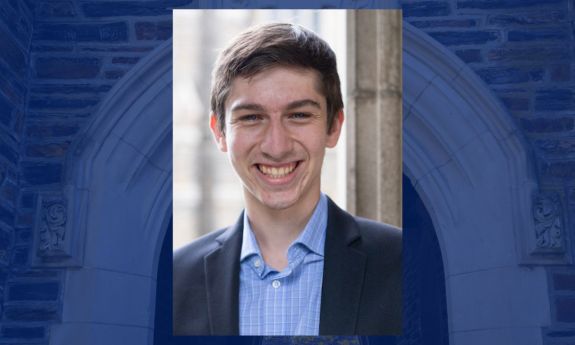 Perrin, who majored in political science with minors in philosophy and Spanish, spent the last four years working with Duke Votes, a non-partisan, student-led organization that aims to register, educate and mobilize the Duke community to vote. Most recently he served as its chair.
"Duke Votes is a special part of Duke, it's a great way to organize everyone who is committed to this cause," says Perrin. "We are lucky to have administration support on this and it's exciting to see the student impact and effort on things that matter so much."
For his efforts, Perrin recently was recognized by the All In Campus Democracy Challenge for going above and beyond to advance nonpartisan student voter registration, education, and turnout efforts in their communities.
Getting students to the polls is no easy challenge says Perrin. Particularly in states where voter access is being restricted.
"It takes a lot of activism and work on college campuses to keep that access open. Every year we fight to keep our election site open because we know that if it gets moved off Duke's campus by the state or county, it is harder for students to vote because a lot of them don't have cars," he says.
While he is passionate about politics, Perrin doesn't plan to run for office.
"I prefer to work behind the scenes. I enjoy the mobilization aspect and policy analysis," he says.
This summer, he plans to go to Baltimore where his family recently moved and relax after four years of hard work.
"I have a real appreciation and love for North Carolina and that's where a lot of my experience has been. I am torn between working here or working in DC. "I'm still trying to see where I can be the most helpful," he says.
As Perrin prepares to graduate, he has this advice for his lower classmen: "Meet as many people as you can. There are a lot of people who can be amazing friends and counselors to you and those connections will be very helpful. Live your life to its fullest in college because it's an amazing time."