Duke Junior Sofia Guerrero Named Goldwater Scholar
Award encourages students to pursue careers in mathematics, natural sciences, and engineering
Image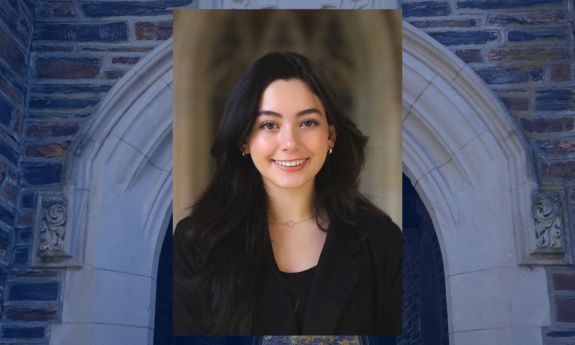 Previously as an Amgen Scholar at UCLA, Sofia worked to create a research tool to better understand how microglia, the brain's primary immune cells, clear harmful debris from brain tissue in the lab of Lindsay De Biase. She also worked as a tutor for Duke GANO, where she provided English lessons to native Spanish speakers in Durham to help them become more confident in their ability to speak and understand English.
Guerrero said she plans to obtain a Ph.D. in neuroscience with the goal of furthering the development of treatments for Alzheimer's disease.
"My experiences in the lab, as well as my incredible mentors, have shaped my desire to specialize in translational research, work in a fast-paced environment, and collaborate with scientists in both industry and academia on a large scale to better understand the underlying causes of Alzheimer's and to develop therapeutic treatments," Guerrero said.
"I am beyond honored to have been named in this year's cohort of Goldwater Scholars," she said. "I am especially grateful to all of my amazing mentors who have contributed to my research journey, including my mentors at Duke, Dr. Gustavo Silva, Vanessa Simöes, and Dr. Géssica Cabral Barros, and my mentors at UCLA, Dr. Lindsay De Biase, Dr. Fanny Etienne, and Katherine Espinoza. Their dedication, wise insight, and support have been invaluable for my continued growth as a scientist."
Silva, an assistant professor of biology, said the Goldwater is a testament to not only Guerrero's "intelligence, analytical and logical skills, but also to her hard work and capacity to perform at the highest level. I have no doubt that she will make a huge impact in biomedical research."
Since its first award in 1989, the Goldwater Scholarship Foundation has awarded 10,283 scholarships worth approximately $71 million. Ninety-three Duke students have won Goldwater scholarships since 1990. Each Goldwater Scholar receives an amount equal to the cost of tuition, mandatory fees, books, and room and board, up to a maximum of $7,500 per full academic year.
Duke students and alumni can receive support for opportunities, such as the Goldwater Scholarship, from the Nationally Competitive Scholarships team at the Office of University Scholars and Fellows (OUSF).
For more information on the Goldwater Scholarship for Duke's student, go to the OUSF website.