The Difference DukeLIFE Can Make
The DukeLIFE Office provides resources and support for first generation and low-income Duke students
Image
"Being low-income in college is just ridiculous sometimes," she said. "You overhear people talking about going to some fancy place for the weekend or wearing fancy clothes. People live so differently and have such different world views and experiences. So in my first year at Duke, having that community was really grounding for me. We were a community and didn't have to worry about all the weird things to navigate."
"Our goal is to help our students navigate Duke and to ensure they have full access to everything the university has to offer," says Sachelle Ford, who has directed the DukeLIFE office since its creation in early 2020. The office grew out of a student organization of the same name; that organization still exists and many of the students aided by Ford's office take part in its activities and hold leadership positions within it.
There are usually between 1,200 and 1,400 undergraduate students on campus who are either first-generation, low-income as determined by the financial aid office, or both, Ford says. Duke's financial assistance is generous; the university meets 100 percent of demonstrated need for its undergraduates, and more than half receive some aid.
But there are still gaps.
"If there is a misperception about Duke, it's about who our students are," says Ford. "Half of our students are aided. But aid cannot cover everything. There are additional hidden costs and that's where our students tend to struggle. These students are no less prepared or qualified than their peers. They're incredibly accomplished, bright and talented students and there are structural barriers they run into. We find it's necessary to remove those barriers that threaten to hinder their academic success."
Ford's office aids students in two primary ways. One is financial; it provides money for myriad academic-related expenses that can slip through the cracks, even for students who receive full financial aid. A few examples: Ford's office pays for individual STEM tutoring, provides money for laptops and textbooks, and a $250 'professional attire' grant for students to buy clothing for internship and job interviews. In February – high time for interviews – Ford's office received nearly 200 applications for that grant and gave out all the money.
"I've had students tell me they've worn the same old blazer since high school and it does not fit anymore. They're worried about going to their internship interviews wearing it," Ford says. "We approve as many of those grants as we can."
But more than just money, DukeLIFE provides critical academic support. One of its major initiatives is ASCEND, a summer program for incoming first-year students. It encourages students to practice both the calculus and collaborative learning skills that support their success in gateway STEM courses. Older undergrads lead the ASCEND program and help the incoming students acclimate to Duke both academically and socially.
"With ASCEND, community building is just as important as math," Ford says. "The students work together on challenge questions and the older students invite their favorite STEM professors to group meetings. This allows first-years to arrive on campus already connected to classmates, teachers, and campus resources."
Supporting STEM learning is a broader focus for DukeLIFE. Ford also advises Project SEED (Science and Engineering Exploration at Duke), one of the experiential tracks created under QuadEx.
Ford says, "While SEED is open to students from all backgrounds, it's built with accessibility and exploration in mind. Our goal is to introduce students to fields and topics that might not have been represented in their high schools. The week sparks new interests and makes students excited about possible new fields of study or even future career paths."
A big part of being first generation is a lack of knowledge. It's not because of anything we have done. It's just that our family has no experience with this. So DukeLIFE helps set us up for success."

Stephany Perez-Sanchez, Duke student
The value of information
And much of what DukeLIFE does is provide information that eases the everyday stresses of college. Wondering about the workload for a class? Uneasy about which meal plan to choose? Curious about which clubs to join? Ford's office runs a peer mentorship program that connects students to each other to share their knowledge of Duke.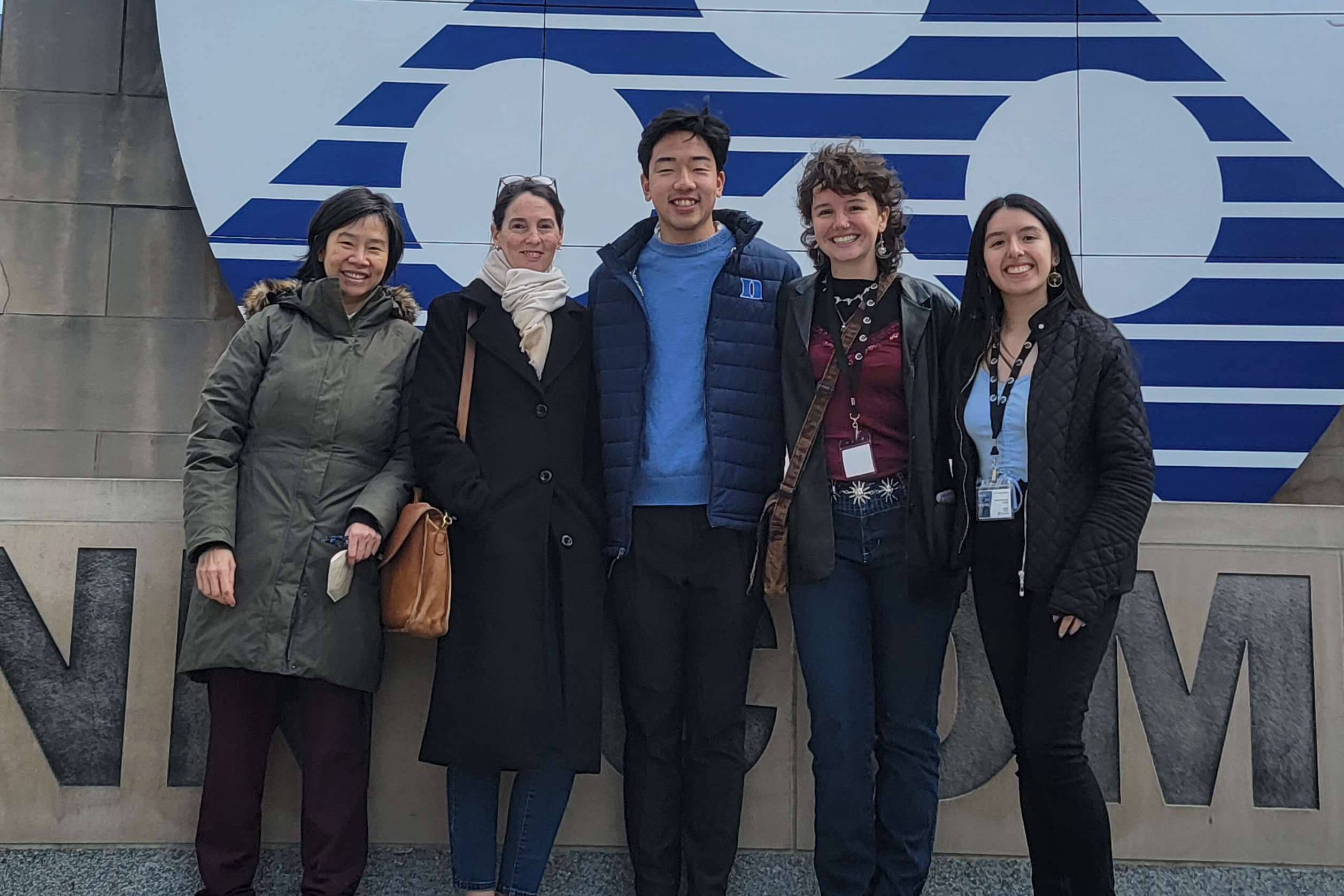 "A big part of being first generation is a lack of knowledge," says Stephany Perez-Sanchez, a Duke sophomore and first in her family to attend college. "It's not because of anything we have done. It's just that our family has no experience with this. So DukeLIFE helps set us up for success."
Soon after arriving at Duke, Perez-Sanchez began attending DukeLIFE events and became involved with the student organization – making friends along the way. This made Duke a little smaller as she would spot friendly faces – people she could relate to – around campus. She was assigned an older student who acted as her mentor – a role she is now paying forward by mentoring three first-year students herself.
"The mentors see a lot of benefit in it," says Ford, the DukeLIFE director. "This is a population of students who are really supportive of each other. A lot of the upperclassmen look back on their first year and what they didn't know. They just want younger students to have a smoother start to Duke than they did."