Securing the Final Frontier: Duke's Space Diplomacy Lab
Lab launched in 2022 aims to ensure science has a seat in discussions about regulating human activity in outer space
Image
A priority of the lab is to make sure science has a strong presence in space policy discussions – as must haves, not merely nice-to-haves, says lab co-chair Benjamin Schmitt, a joint senior fellow at the University of Pennsylvania's Department of Physics and Astronomy and the Kleinman Center for Energy Policy.
The recent emergence of space technology startups that turn low-earth orbit and beyond into a "global commercial necessity" while global military forces assess space as a potential warfighting domain bolster the need for space diplomacy, he contends.
"Given this dynamic, we can no longer view space as a novel foreign policy area," Schmitt says. "In previous decades the space domain was considered a niche area of foreign policy. But it's increasingly central to an array of diplomatic, commercial and national security issues worldwide. This includes the need for urgent diplomatic strategies to mitigate the risks associated with the outsized role that new commercial space technologies have played throughout Russia's war against Ukraine."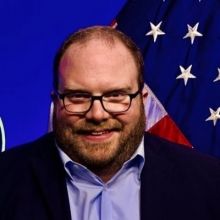 A 20th century Outer Space Treaty was effective for the time when only Russia and the United States were the key players in outer space, Clare Fieseler,a science journalist and Justice Sandra Day O'Connor Fellow at the Smithsonian Institution, said during a lab webinar last year. (Fieseler earned a master's degree from Duke in 2010.)
"But now it's the 21st century, and we have all sorts of actors in space, and we could pretend that that will go away, but it won't. We could pretend war will not come to space, but I think it's highly unlikely, and so I think, similar to what we're doing with oceans, we could (do a treaty) for outer space … for similar reasons."
Fieseler was the featured speaker in one of the lab's webinars that examined ocean diplomacy as a basis for space policies.
The merging of science and diplomacy is much needed, says W. Robert Pearson, a Rethinking Diplomacy Program fellow and former U.S. ambassador to Turkey who co-wrote a Foreign Policy article "The Crisis in Space".
"Science and diplomacy … have not yet learned how to talk to each other effectively," Pearson said last year during a lab webinar. … "The core of what we're trying to do is to marry science and diplomacy together as early as possible, and as far into the future as possible to address some of these issues."
Professor Giovanni Zanalda, co-chair of the lab and director of the Rethinking Diplomacy Program, said the goal is to stay focused on developing policy ideas that involve science – two areas in which Duke has strong expertise.
"Space diplomacy is a very interesting field, because it's a great example of where you need expertise -- deep expertise. And at the same time, you need the policy and diplomatic side in order to make sure that certain treaties, agreements or even rules or behaviors are met," said Zanalda, a professor of the practice in economics and history with the Social Science Research Institute at Duke.
The lab's work is already paying off, he said.
"We are already in dialogue with government agencies, foundations, the media and research institutions interested in our work. Some of our recommendations have been included in reports and discussed in workshops and meetings in other institutions. Given the positive response from students, partners and agencies we are also developing training material that can be used in courses at Duke as well as on-demand training modules. We also started to include and collaborate with Duke students and faculty from different disciplines in space-related activities."
The Space Diplomacy Lab is among a handful of space-related activities at Duke, including a new course on space economy Zanalda will teach this fall in the Department of Economics.
Jonathan Wiener, a professor of law, environmental policy and public policy at Duke, has taught courses on "Laws of Mars" and written about regulating "back contamination" -- the risk of bringing microbial life from space back to Earth. Wiener also co-directs a new Duke Climate Commitment project titled "Planetary Engineering and Planetary Ethics," which is based in the Duke Center on Risk.
He co-led a Bass Connections project in 2020-21, "DECIPHER: Going to Mars - Science, Society and Sustainability."

"The project goal was to investigate the key issues that such a nascent society would have to navigate. In the near term this means addressing the science and engineering challenges of keeping our astronaut explorers alive -- meaning both physically but also mentally healthy -- in the face of the daunting challenges of inter-planetary space travel as well as living day-to-day on Mars," says Bass team co-leader Tyler Felgenhauer, a research scientist with Pratt CEE, and director of Climate Research with the Duke Center on Risk.
That Bass program inspired a need for the now defunct Duke Space Initiative, which exposed students to a variety of space-related topics, says Ritika Saligram, a senior majoring in political science who was on the Bass-Mars team her sophomore year.
"A few of us working on that (Bass-Mars) project felt that Duke needed more opportunities for students to get involved with space issues, so we started the space initiative," Saligram says.
The initiative gave her the opportunity to present a lecture on human exploration of space to a class at Duke's Osher Lifelong Learning Institute.
"I think it was just a great way to get deeper into something that's been an intellectual guilty pleasure for me," she says. "I grew up watching 'Star Wars' and thinking about going to space and it was really wonderful to return to those ideas in a more complex, academic fashion."
Before coming to Duke, Wiener helped negotiate the first climate treaty – the Framework Convention on Climate Change – and he teaches courses on climate negotiations.
He says diplomacy is critical in today's uncertain space age.
"Diplomatic efforts on space are essential to foster cooperation rather than conflict – avoiding space debris collisions in Earth orbit, preventing contamination of Earth and other planets by space missions, and managing ventures to mine resources and even settle humans on the Moon, Mars and beyond," he said.
"The proliferation of multiple governments and private companies active in space makes cooperative diplomacy all the more complicated and urgent."