Image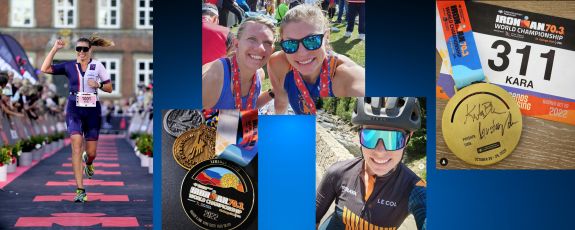 Kara Bonneau: From 3-Mile Jogs to IRONMAN World Championships
The Duke Run/Walk Club, now underway, helped Bonneau realize her full potential
Participate in Run/Walk Club
The fitness program organized by LIVE FOR LIFE continues through May 31.
"I was like, 'That's crazy!'" said Bonneau, 43, director of the North Carolina Education Research Data Center, part of the Sanford School of Public Policy Center for Child & Family Policy. "I can't run 10 miles."
But each day, she ran a little further and a little faster until she built up enough stamina to get through race day with no problem. She finished fourth in her age group, completing 10 miles in just under an hour and a half.
Today, Bonneau has completed 13 marathons, over 40 half marathons and dozens of triathlons, including three IRONMANs and 22 half IRONMANs.
During her journey, she has traveled the world to compete – from Utah to Switzerland – and credits the Duke Run/Walk Club, organized by LIVE FOR LIFE, the employee wellness program, with helping her get started on her journey.
By running with colleagues in the Duke Run/Walk Club, which continues through May 31 and is open to staff and faculty at all fitness levels, Bonneau learned how to train for longer races and got plugged into a community of other runners.
"It's really helpful to have people to keep you accountable," Bonneau said. "I heard that when you first start running, most of your running should be at a conversational pace. If you can't talk, you're running too fast. If it feels terrible and too hard, it is unlikely that you'll stick with it.  Having someone to talk to helps ensure that you are not overdoing it and will make it much more enjoyable, which in turn makes it more likely that you will keep going."
Bonneau now participates in the independent offering of the Duke Run/Walk Club, which allows her to keep track of the activity she's doing already to train for races. Bonneau's experience is an example of how the program can help colleagues at Duke reach fitness goals.
"If your goal is to socialize and get out and have fun and have some accountability, then you can do that," said LIVE FOR LIFE fitness program manager Stacy Rankin. "But if your goal is to be serious with it and follow the program and make yourself into a runner who can do races, then it's tailored to those people as well. There's plenty of options, no matter where you are starting from and where you want to be."
After her first race in 2007, Bonneau was tempted by the idea that a half marathon was only about three miles further. In 2008, after her first 13.1-mile race, she trained to improve her time. After the second half marathon, she wondered whether she had it in her to complete a full marathon.
The following year, she called her family to tell them that she'd signed up for the Outer Banks Marathon, which she predicted would be her only race of that length. She finished a few minutes shy of qualifying for the Boston Marathon.
"I was like, 'Oh, I'll do one more and see if I can qualify for Boston,'" Bonneau said. "And it snowballed from there."
Each year, since she turned 30 in 2010, Bonneau has set a new fitness goal, setting her sights on something new or challenging.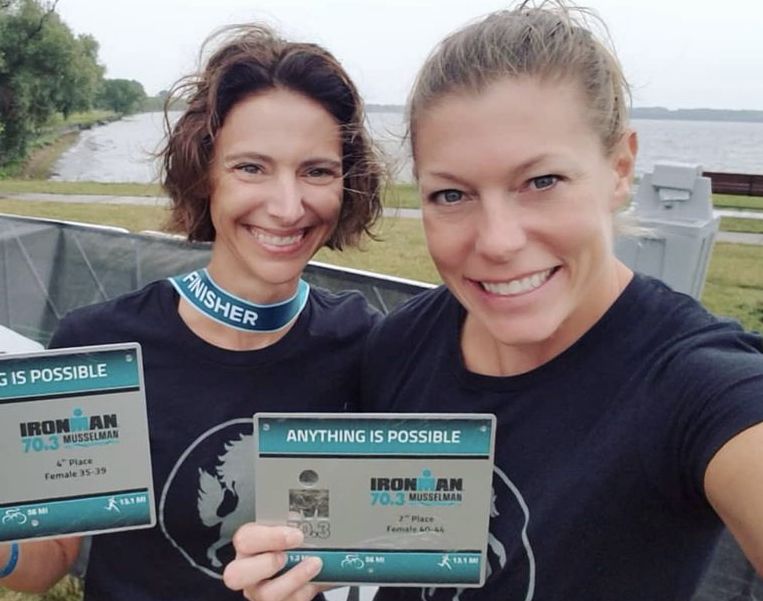 In 2012, Bonneau ran the Marathon de Paris, which remains her all-time favorite race. A few years later, she tried triathlons, driven by the challenge and added difficulty of, on average, swimming half a mile, biking 12.4 miles, then running 3.1 miles.
By 2013, she worked her way up to completing her first half IRONMAN, a 70.3-mile triathlon — 1.2 miles swimming, 56 miles biking and 13.1 miles running. In 2015, she moved up to her first full IRONMAN. An IRONMAN can take all day, pairing a 2.4-mile swim with a 112-mile bike ride, then a full marathon of 26.2 miles.
By 2019, she qualified for the IRONMAN 70.3 World Championship in New Zealand, which she'll compete in next year.
This year, she is shifting to cycling with the goal of competing at the USAC Masters Road Championships in Augusta in September. At each step in her journey, she's learned that no goal can get in her way.
"If you really put in the work and set reasonable goals, you can accomplish anything," Bonneau said. "I've said, 'I could never do that' so many times and then I've done it and done it again. It's shown me I can really do whatever I set my mind to."
Send story ideas, shout-outs and photographs through our story idea form or write working@duke.edu.