Cirque De Sore Legs. Cath Us If You Can. Get Moving Challenge Team Names Inspire
A look at Get Moving Challenge 2023 team names
Image
"It's not just sweat and tears," said Baker, whose team has averaged 526,430 steps so far and takes a weekly walk together around West Campus. "We're having fun."
In this year's competition, which began in January, 145 teams and 1,895 participants across Duke are tallying their steps, minutes exercised and weight lost over 10 weeks. The 2023 challenge ends this week on March 17, after which awards will be given to the overall top team and individual competitor.
Here's a look at some team names in this year's challenge.
---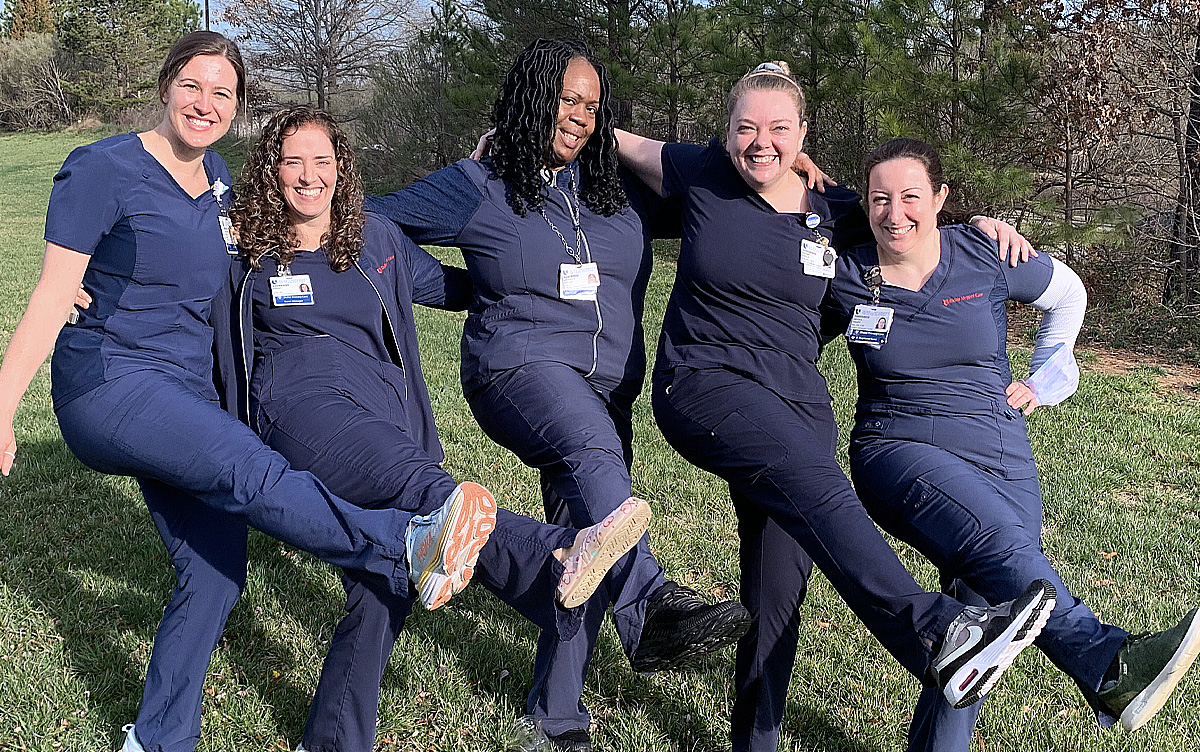 Brier Creek Hellbenders
On a motivational whiteboard located at the nurses station of Duke Urgent Care Brier Creek, each team member has a small Duke blue salamander cartoon icon with their name on it.
Each day, staff members can move their icon on the board to correspond to how they're feeling that day, which prompts team member who may need some extra support for the day. The aquatic animal depicted on the icon is called a Hellbender, a giant salamander species that can be found in local rivers and creeks in North Carolina. While Hellbenders are endangered in the state, the animal is known for being deeply loyal to its home habitat of fast-moving rocky waters.
The clinic staff identified with their office mascot with being extremely loyal to their home clinic and the need to quickly adapt in a fast paced environment.
When it came time for colleagues to pick a team name for the Get Moving Challenge, they decided to use the creature that represents their office and dedication to serving patients in their community while having a fun way to encourage self care with regular exercise.
In the competition, team leader Dr. Laura Hardin-Lee, Practice Medical Director for Duke Urgent Care Brier Creek, said the name is helping them stay motivated to keep ahead of another team, Holly Springs UC, which is a team at their sister location, Duke Urgent Care Holly Springs.
Each day, checking in to see which team member has tallied the most steps of the day has helped colleagues remember to take breaks to go for a walk outside the clinic.
"It has been fun to check our rankings in the challenge but also fun as a group support each other in taking care of ourselves," Hardin-Lee said.
---
Cirque De Sore Legs
Drawing influence from the acrobatic group that delights audiences, the Cirque De Sore Legs team in the Duke Patient Revenue Management Organization has entertainment at the center of its goals.
Each week, team leader Bobette Haley replies on an email chain with a mix of fun memes and motivational quotes, helping remote colleagues stay connected with colleagues across North Carolina and one in New York. The daily messages motivate colleagues to get in steps during breaks and other times.
"We have a pretty great team and a great spirit," said Haley, a revenue integrity analyst team lead for PRMO. "Half the battle is stepping up and getting involved. Baby steps turn into bigger steps, and getting into a routine, it's all important."
---
Cath Us If You Can
At first, "Cath Us If You Can" was a joke among staff in the Cardiac Catheterization Division of the Duke Heart Center.
But over time, the name grew on them, as both a play on words and a nod to their work as clinical research coordinators. For the challenge, the name reminds them that every step throughout the day counts.
A majority of the team's steps come from walking the halls of Duke University Hospital to monitor studies and check on patients. The challenge has also prompted team members to walk to their car instead of taking the shuttle at the end of the day.
"The challenge adds a level of fun and competition to what we normally do as a part of our day, which in turn, can make the little things seem more exciting," said team leader Megan McKinnie, a senior clinical research coordinator for the Duke Heart Center.
---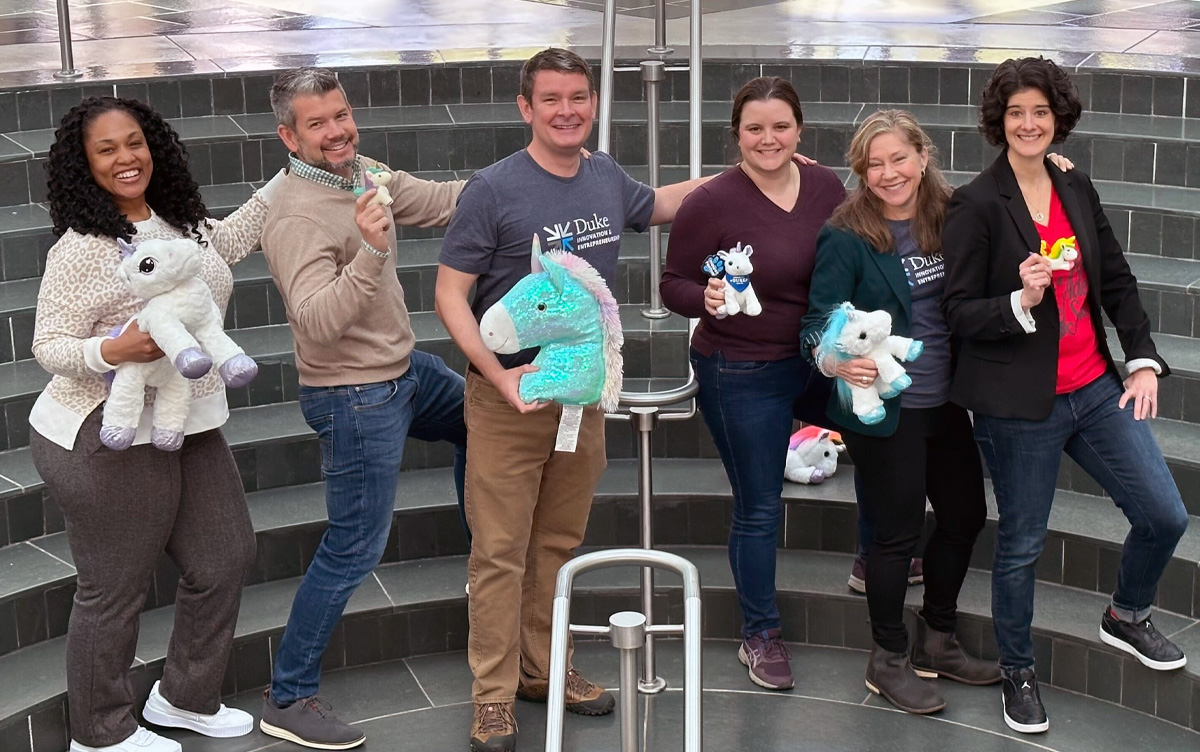 Duke I&E Unicorn Parade
What does a unicorn parade look like? At Duke, it looks like colleagues bounding across campus together each week.
So far, the team has compiled 2,750,549 steps in the competition, many while walking together around the Fuqua School of Business and West Campus.
Duke Innovation & Entrepreneurship settled on the Duke I&E Unicorn Parade team name with a whimsical and mythical unicorn because it's the informal mascot of the office. In entrepreneurship, a unicorn describes a startup company that is valued at over $1 billion.
The team name fit for another reason, too.
"In Celtic lore the unicorn symbolizes healing, happiness, and vibrant life – goals of the Get Moving Challenge," said team leader Erin Gasch, senior director of external relations for Duke Innovation & Entrepreneurship. "And who doesn't like unicorns on parade?"
---
See the leaderboard for the top 20 teams and their names.
Share your exercise pictures on social media using #HealthyDuke or submit them here.