2023 Hart Fellows to Partner With Communities for Research and Service
Image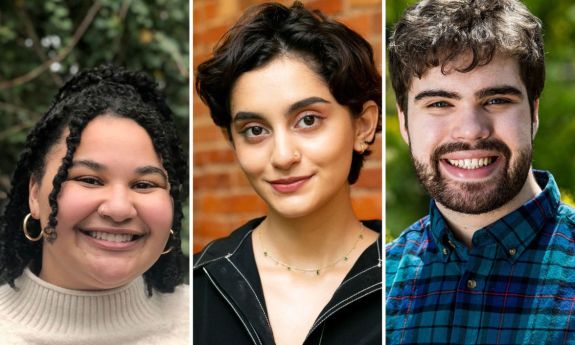 Sophia Chimbanda (T'23) will graduate in May with a self-designed Program II major in Social Movements and Social Justice. She is planning to conduct her Hart Fellowship in Durham, doing historical research to understand and share the stories that paved the way for the first-ever march for queer liberation in North Carolina, just a few blocks from East Campus.
Through delving into the archives at the Durham County Library and recording oral histories from queer activists in the Triangle, Chimbanda hopes to use her fellowship to highlight "the nuances and sociocultural understandings that both fostered and inhibited communities and coalitions" in the 1970s and 1980s. On campus, she is co-director of Sexual Harassment and Assault Prevention and Education (SHAPE). In her spare time, she enjoys baking, crocheting, and reading.
Ayesham Khan (T'23) will graduate in May with a double major in public policy and visual art. They are a passionate artist who has done extensive work in multiple media, including puppetry, theater, drag, spoken word, weaving and painting among others. During their Hart Fellowship, Khan plans to bring their artistic voice and storytelling experience to "advocate for the reproductive and health care rights of gender-marginalized communities."
On campus, they cofounded and served as president of Jummah 4 All Collective for Queer & Marginalized Muslims.
Quinn C. Smith (T'23) will graduate in May with a major in public policy and minors in visual and media studies and history. A citizen of the Chickasaw Nation, Quinn has a long track record and continuing investment in advocating for the rights and interests of Indigenous communities. On campus, he is the president of Duke Native American/Indigenous Student Alliance (NAISA).
Smith will spend his Hart Fellowship working with Indigenous communities to advocate for Indigenous land guardianship, based on a philosophy and set of practices that "the flourishing of people and the land should not be considered separate pursuits," he said. "People depend on the land, and the land should be able to rely on people."
In his spare time, he is interested in a variety of artistic pursuits including screenwriting, film and documentary production, songwriting and musical performance.