Image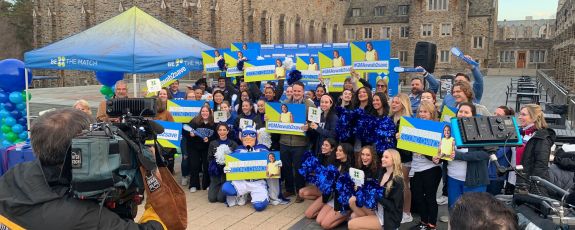 Good Morning America Comes to Duke to Highlight Bone Marrow Donation Effort
National broadcast features student chapter
Morning drizzle gave way to pale sunshine as a cluster of students and volunteers periodically cheered and whooped for a series of live linkups with the show's studio in New York. Former men's basketball coach Mike Krzyzewski stopped by for a brief interview with Robin Roberts, the show's anchor back in the studio, who received a bone marrow transplant in 2013.
Peter Eschenbach, a Duke sophomore from Chicago and part of the Duke chapter, received a lifesaving transplant himself at 10 years old. He's spoken to student groups across campus as part of the current drive, but doesn't start with his own story. Instead, he talks about the people currently in need of transplants, about half of whom won't get one through want of a matching donor.
"Doing this is just a small way I can pay it forward," Eschenbach said. His story helped fuel the resurgence of the Duke chapter. Taylor Nguyen, a junior from Cary who is the chapter's current president, said the Duke arm of the organization was down to one student when she joined up as a freshman during COVID.
"We wanted to do something after COVID, feeling so helpless, and this was our thing," Nguyen said. "And the biggest thing was the freshmen who came in after us, Peter and his story, that was a big motivating factor for us to keep going."
Amanda Cooley, the Be the Match liaison for the students, said the Duke chapter, still numbering less than a dozen members, is nonetheless one of the organization's most active. Since January, the group has swabbed or added more than 460 people to the registry.
"That's an amazing number," Cooley said. "Our goal was 300, so they've blown that right out of the water."
The national bone marrow registry came about in part from the congressional testimony of Caron Myers, whose daughter Brandy died on Mother's Day 1987 from an aggressive form of leukemia at just 10 years old.
"This is her legacy," said Myers, who was at Duke for Tuesday's event as her husband, Danny, has been diagnosed with mantle cell lymphoma, a rare and aggressive form of cancer. He begins treatment at Duke this week and could benefit from the registry his wife created, and that students at Duke are working so hard to expand.
"He starts chemotherapy tomorrow," she said, "and they're talking about a transplant."