Image
Get Help Deepening Your Understanding of Equity and Inclusion
Duke's Office for Institutional Equity offers educational opportunities for individuals and units
In addition to Duke Institutional Research for support parsing the data, Facilities turned to the Office for Institutional Equity (OIE) for a deeper understanding of microaggressions, implicit bias and other topics to further Duke's racial equity work.
First, the Facilities leadership team took part in a tailored session of OIE's "Building Blocks Workshop." Next the training will be offered to the rest of Facilities 514 employees, beginning with the department's 54 supervisors and managers.
"We have a diverse group of employees, from engineers to groundskeepers," said Michelle Carter-Jenkins, director of Human Resources for Facilities Management. "We are working to figure out the best way to make these trainings available to help our entire team grow in awareness and understanding."
Duke community members have various ways to connect with OIE's educational opportunities led primarily by Shannon Ashford, director of Diversity, Equity and Inclusion and Leigh-Anne Royster, assistant vice president for Diversity, Equity and Inclusion.
"We are committed to support everyone in the Duke community who wants to engage with our educational offerings," Ashford said. "It is our hope that these offerings equip faculty and staff with the tools and language to feel confident to incorporate DEI into their day-to-day work. Here's how you can engage with OIE's offerings:
Scheduled workshops
On March 1 and March 28, OIE will host "DEI Building Blocks" workshops focused on the foundational concepts related to diversity, equity, and inclusion and skill building toward culture change.
Starting March 14 through May 9, OIE will offer a series of in-person sessions to dig into areas that faculty and staff could face in their work. The sessions cover topics such sexual orientations, romantic orientations, gender identities, and gender expressions on March 14 and March 22, as well as "white supremacy culture" on April 11 and the basics of microaggressions and implicit bias on April 5.
"Each session isn't designed to be applicable to everyone," Royster said. "They're created to have a broad reach, but also delve more deeply into some specific topics."
Learn more about the topics, including registration, here.
Tailored sessions
Schools, departments and units can request consultations or trainings that go deeper on specific topics. Groups are invited to reach out to OIE for education or consultations, which can be in-person or virtual. After an initial conversation, OIE will tailor sessions to the needs of a group.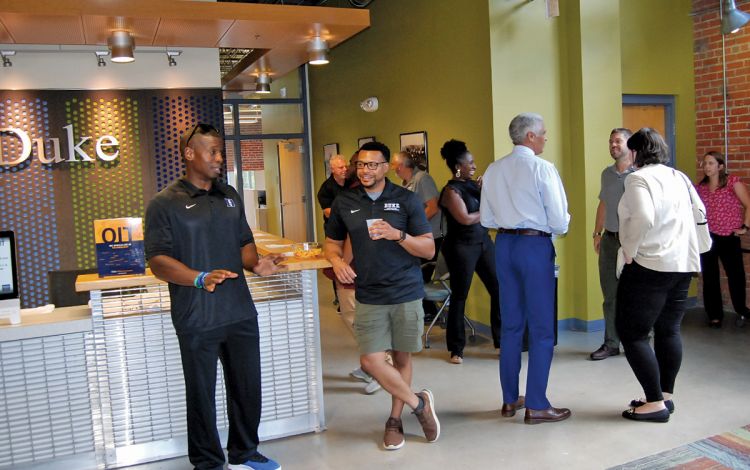 DiversifyIT, a staff-led initiative for Duke's IT professionals has been working to create a more inclusive climate across IT spaces at Duke. The group reached out to OIE for help focusing efforts of its leadership group when its community membership increased rapidly in recent years.
Shannon Ashford helped DiversifyIT maximize long-term planning sessions and refashion its mission statement, values, and long-term goals.
"What we desperately need are people who are particularly skilled in tending to equity and belonging in this space," said Laura Webb, DiversifyIT co-chair. "Shannon not only provided that to us, but she has experience that helped us be innovative and creative and really well supported."
Evergreen opportunities
OIE has a list of resources to confront racism, including articles, guides, videos and other information, to help educate Duke community members about equality.
The website and resources are accessible on-demand, open to all, and updated periodically to include racial equity resources and updates.
"We want to create inclusive and equitable spaces, so our team's priority is to give folks access to the resources to know how to do it, and how to do it specifically at Duke," Ashford said.
Send story ideas, shout-outs and photographs through our story idea form or write working@duke.edu.