Duke Leadership and Management Academies Celebrate 2022 Graduates
46 employees complete year-long programs to sharpen leadership and communication skills
Image
Join the Duke Management Academy Class
Applications are now open for the 2023 Duke Management Academy . The deadline to apply is Dec. 21. The academy is open to managers from the university and health system who have worked at Duke for at least three years.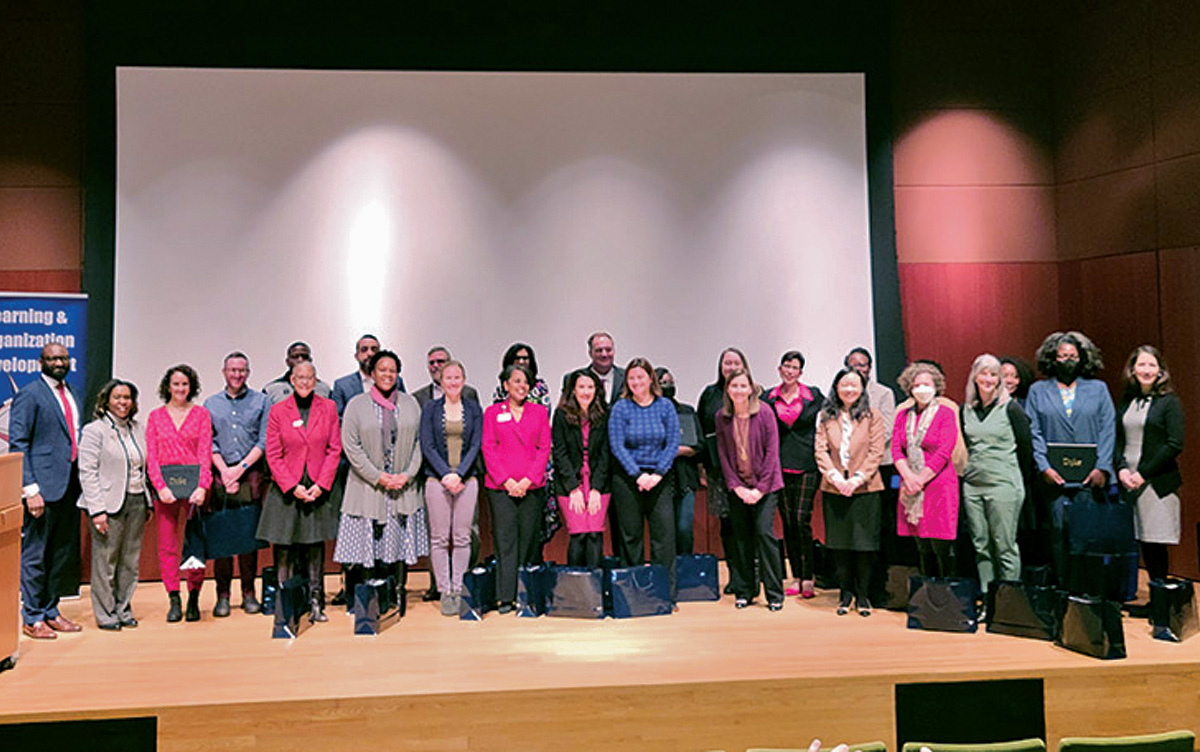 Duke Leadership Academy
Based on ideas from the Fuqua/COLE Leadership Model, the Duke Leadership Academy drew emerging leaders from across Duke. The program provided them with detailed analysis of their leadership style, opportunities to learn from senior leaders, individualized coaching and the opportunity to collaborate on group projects.
The topics of projects, which were chosen by the teams, involved finding real-world solutions to issues faced by Duke and its students and leaders.
The 2022 Duke Leadership Academy Team Projects were:
The Blue team of Jemeca Dupree, Donna Hubert, Pamela Keels, Alaina Kleinbeck, Stuart Shapiro, Kevin Smith and Rebecca Wilusz explored the challenge of recruiting and retaining hybrid workers in a post-pandemic environment.
The Purple team of Jung Choi, Susan Gordon, Matt Hutter, Kirsten Khire, Sheri Matthews and Lindsey Spangler looked into factors shaping how Duke recruits, motivates and engages with its workforce.
The Red team of Charlene Canteen, Mark Hill, Shana Lassiter, Helene McAdams, Morgan Pope and Marcy Romary provided ways to improve the food security of students in Duke's graduate and professional schools.
The Yellow team of Carolyn Gerber, Cherisa Williams, Evan Widney, Laura Brown, Lenora Abu Sweilem, Laura Panebianco and Michael Howard, focused its project on ways to develop talented mid-level leaders.
"To me, what stands out about them is the timeliness of their topics, and how much data and information they brought for us to think about ways to shift and pivot during these times," said Duke Assistant Vice President for Learning & Organization Development Keisha Williams. "Their focus was truly on the environment as it is right now, as we push through COVID, and as we need to figure out figure out ways to help everybody move forward."
Duke Management Academy
Twenty staff members from across Duke gathered in the Nasher Museum of Art to celebrate the 2022 cohort of the Duke Management Academy, the fourth class since the academy started in 2019.
Created for mid-level managers, the Duke Management Academy is part of Duke Learning & Organization Development's commitment to develop leaders at all levels within Duke University and Duke University Health System. The 12-month program features courses in leadership and communication, coaching sessions with leadership experts, a 360-degree leadership assessment, and group projects.
"Before we leave today's ceremony and move on from this experience, I invite everybody else in the cohort to join me in reflecting on how much you've grown as part of this program over the last 12 months," said Samira Wellemeyer, graduation speaker for the cohort, during her speech. "What new self-knowledge or abilities do we possess and how will we integrate that into our futures at Duke? "
During the academy, the class of 20 employees worked deeply on research projects related to workforce recruitment and retention issues affecting Duke and other institutions in the wake of the pandemic:
The "Sapphire Summit" group included Lori Apicella, Jennifer Edwards, Megan M. Churchill, Halley House, and Samira Wellemeyer. The group conducted a case study on professional growth as a retention strategy.
The "Squad of Joy" included Nikita Adams, Morgan Hendrix, Laura Lipps, Stephen Pardue and Sharon White. They focused on employee benefits and other retention strategies for areas experiencing turnover.
The "Synergist" team of Carmella La Bianca, Andrea Long, Seth Avery, Jillian Ream and Elizabeth McDermott studied new employee recognition efforts for positive work culture.
The "Team of the Rising Sun" —Erin Bartels, Sarah Dunn Phillips, Erica Kitchen, Dalia Mack, Nancy Madenyika and Graeme Stewart — examined diversity, equity and inclusion training and how workplace diversity breeds success.
During the graduation ceremony last week, Antwan Lofton, interim vice president of Duke Human Resources, encouraged the class to continue making a difference at Duke.
"For you, today should serve as the day that you rekindled your commitment to your own professional development, while finding the magic and serving others," Lofton said. "I also hope that you will find and realize there is much work to do at Duke, and we can only accomplish it because of each of you."
For Erica Kitchen, director of the Duke Health Development and Alumni Affairs, the academy helped her gain a new sense for how Duke functions — from finances to how the institution is structured and ideas on the minds of other managers. She also thought deeply and evaluated her skills, and how she can continue to grow.
"It's an opportunity to learn about your strengths and weaknesses and work on using your strengths in the best possible ways," Kitchen told Working@Duke. "I don't think that in any other capacity at Duke you are likely to do such a deep dive, but to have it within a year in so many ways is a special opportunity."
2022 Duke Leadership Academy Class
Alaina Kleinbeck – Director of Educational Programs, Divinity School
Carolyn Gerber – Special Assistant to the Vice President, Public Affairs & Government Relations
Charlene Canteen – Senior Sourcing Manager, Procurement & Supply Chain Management
Cherisa Williams – Business Manager, Continuing Studies
Donna Hubert – Departmental Business Manager, Durham & Community Affairs
Evan Widney – Manager of Accreditation, Office of the Provost
Helene McAdams – Registrar, The Graduate School
Jameca Dupree – Departmental Business Manager, Duke University Libraries
Jung Choi – Senior Director of Wesleyan Formation Initiatives and Co-Director of Asian House of Studies, Divinity School
Kevin Smith – Assistant Dean of IT & Facilities, Nicholas School of the Environment
Kirsten Khire – Associate Dean of Communications & Marketing, Sanford School of Public Policy
Laura Brown – Assistant Secretary to the Board of Trustees and Director of Board Operations, Offices of the Secretary and President
Laura Panebianco – Assistant Director of Benefits, Human Resources
Lenora Abu Sweilem – Senior IT Analyst, Administrative Systems Management
Linsdey Spangler – Assistant Dean of Research Facilitation, Office of Scientific Integrity
Marcy Romary – Executive Director of Development for Volunteer and Constituency Engagement, Duke Health Development & Alumni Affairs
Mark Hill – Senior Director of Admissions, Law School
Matt Hutter – Assistant Vice President of Development for Duke Science and Technology, Alumni Engagement and Development
Michael Howard – Managing Director for Facilities, Recreation & Physical Education
Morgan Pope – Director of Development, Duke Health Development & Alumni Affairs
Pamela Keels – Senior Business Manager and Division Administrator, Department of Surgery, School of Medicine
Rebecca Wilusz – Assistant Director for Game Operations, Championships & Events, Athletics
Shana Lassiter – Assistant Director, Sanford School of Public Policy
Sheri Matthews – Administrative Director, Duke Global Health Institute
Stuart Shapiro – Senior Director, Marketing & Communications, Alumni Engagement & Development
Susan Gordon – Senior Director, Career & Professional Development, Alumni Engagement & Development
2022 Duke Management Academy Class
Andrea Long, senior IT manager for Population Health Analytics in the Duke Health Technology Solutions and Population Health Management Office;
Carmella La Bianca, director of Employer Relations in the Sanford School of Public Policy Career Services;
Dalia Mack, associate director of Maestro Care for Research in the Duke Office of Clinical Research, within the Duke University School of Medicine;
Erica Kitchens, director of Stewardship for Duke Health Development and Alumni Affairs;
Erin Bartels, director of Communications and Donor Relations for the Fuqua School of Business Development and Alumni Relations;
Graeme Stewart, director of Finance for Ambulatory Finance in the Duke University Health System
Halley House, director of Strategic Initiatives & Regional Director of Development for the Duke Law School Office of Alumni & Development;
Jennifer Edwards, manager for DukeWELL Complex Care Management in the Duke Population Health Management Office;
Jillian Ream, senior executive director of Development for Duke Health Development and Alumni Affairs;
Laura Lipps, associate director of Continuing Education in the Nicholas School of the Environment;
Liz McDermott, Health Center administrator for the Department of Psychiatry and Behavioral Sciences;
Lori Apicella, senior director of Duke Children's Development in Duke Health Development and Alumni Affairs;
Megan Churchill, strategic services associate for Duke Imaging Services;
Morgan Hendrix, director of Admissions Operations for Duke Divinity School;
Nikita Adams, nurse manager operations for the Duke Eye Center;
Samira Wellemeyer, director of the Office of Duke-NUS Affairs;
Sarah Dunn Phillips, associate director of Education Initiatives in the Duke-Robert J. Margolis, MD, Center for Health Policy;
Seth Avery, associate director of Enterprise Imaging in the Duke Health Technology Solutions;
Sharon White, senior director of Leadership Annual Giving for Duke Health Development & Alumni Affairs;
Stephen Pardue, manager for Strategic Site & Clinical Initiatives in Duke Health Technology Solutions.
Send story ideas, shout-outs and photographs through our story idea form or write working@duke.edu.