Duke Officials Monitoring Path and Effects of Tropical Storm Nicole
Rain and wind gusts of 20 to 30 mph are possible across central NC on Friday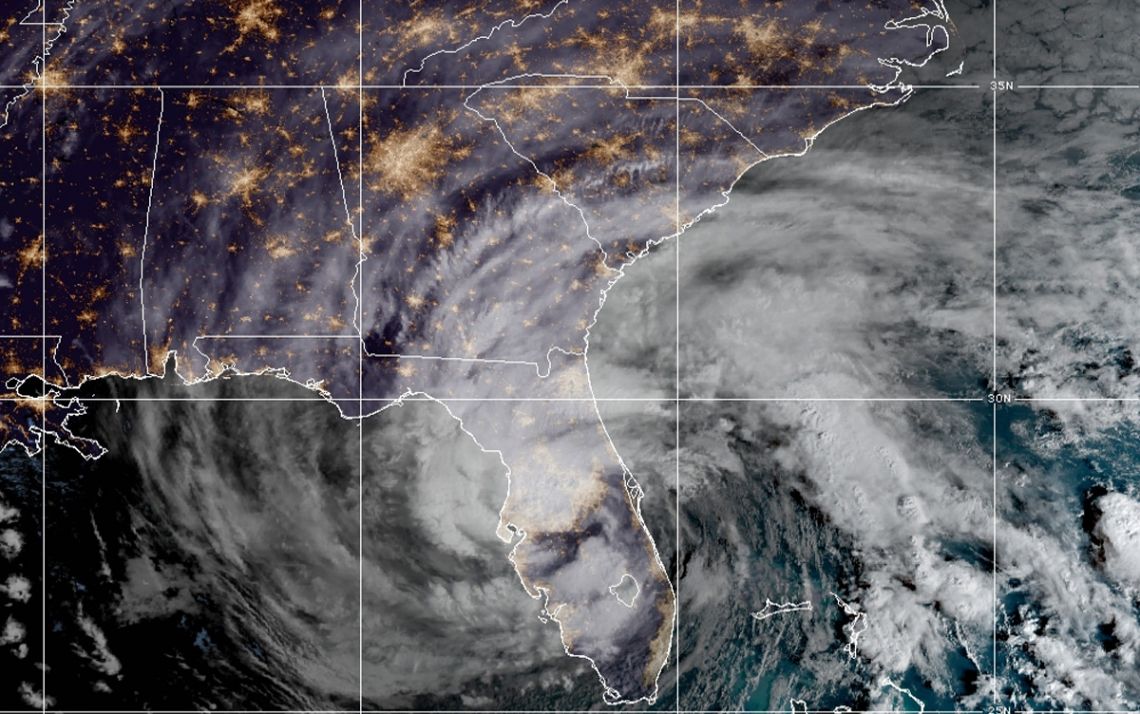 [Updated: Friday, Nov. 11, 2022: 2:30 p.m.]
The tornado watch for central North Carolina was canceled by the National Weather Service. 
[Updated: Friday, Nov. 11, 2022: 10:15 a.m.]
All clear in the area of Duke main campus. You many resume normal activity.
A tornado watch remains in effect for central North Carolina until 3 p.m.
[Updated: Friday, Nov. 11, 2022: 9:58 a.m.]
A tornado warning was issued that includes Duke's main campus in Durham. The warning was issued for a severe thunderstorm capable of producing a tornado located over Durham, moving north at 35 mph.
[Updated: Friday, Nov. 11, 2022: 9:45 a.m.]
The tornado warning that was issued for Northwestern Durham County does not affect Duke's main campus in Durham. It is for a severe thunderstorm capable of producing a tornado located 8 miles east of Hillsborough, moving away from campus.
[Updated: Friday, Nov. 11, 2022: 6:20 a.m.]
The National Weather Service has issued a tornado watch for most of central North Carolina, including Durham and Wake counties, until 3 p.m. Friday. A tornado watch means conditions are favorable for the development of tornadoes in the area.
During a tornado watch, the weather service suggests that people should be on the lookout for threatening weather conditions and listen for later statements and possible warnings. For more information about Duke's emergency response plan for tornados, visit the DukeALERT website.
In the event of a tornado warning, which indicates a tornado has been sighted or indicated on radar, Duke officials will send a text and email notification to students, faculty and staff.  If the warning area includes Duke's main campus, the sirens will also be activated along with text and email notifications to direct individuals to seek shelter immediately.
[Original Post]
Duke officials are closely monitoring the latest forecasts for Tropical Storm Nicole, which was centered over central Florida on Thursday morning with a projected path up across the Carolinas before the storm is absorbed into a cold front on Friday.
Rain is expected Thursday evening through Friday evening with the heaviest rain likely during Friday morning and again Friday evening. Up to two inches of rain is possible. Wind gusts of 20 to 30 mph are possible across much of central North Carolina during the daytime Friday and into the evening hours.
Wind gusts could lead to downed trees, fallen limbs and power outages. While most of Duke's electric lines on campus are underground, there are some houses on Central Campus where lines are above ground.
In the event of any downed trees or power lines, contact Duke Police at 919-684-2444.
For any power outages for Duke facilities on or off campus, please call Facilities Management customer service 919-684-2122.
According to the National Weather Service, scattered tornadoes resulting in localized pockets of intense wind damage is possible. This will be possible mainly south and east of the Triangle late tonight, and anywhere across central North Carolina on Friday through Friday evening. Here's what to do in the event of a tornado.
Here are other campus updates at this time:
Campus crews are clearing drains of leaves and are ready to respond in the event of any downed trees or other concerns.
Duke Transit passengers should expect minor delays and are advised to check TransLoc for real-time changes and modifications to schedules and routes during the storm.
Duke Athletics is monitoring weather conditions, but scheduled events are expected to go on as planned, including the women's soccer team hosting Radford in the opening round of the NCAA Tournament on Saturday at Koskinen Stadium.
For other campus events, check with event organizers and the Duke Event calendar.
Duke does not expect to activate the severe weather policy, however employees are encouraged to review Duke's severe weather and emergency conditions policy to ensure they understand what to do if the severe weather policy is activated. If the severe weather policy is activated, the announcement will be made through the various DukeALERT channels, including email, text message, and Duke's emergency website. A message also will be recorded on the severe weather/emergency conditions telephone line at 919-684-INFO (4636).
This story will be updated as conditions change or circumstances warrant. Please follow Working@Duke on Twitter for updates as needed.